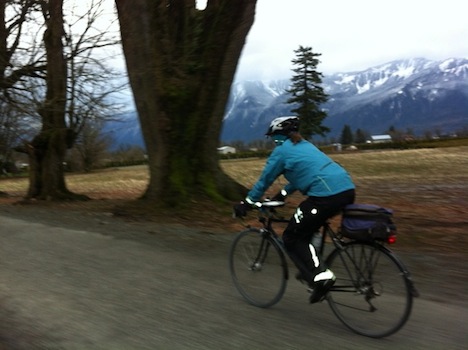 February Flatlander
Permanent # 18 Report - Fraser Valley Flatlander
Michel Richard

We had to get on Feb Permanent done on the last weekend in spite of the weather. It was a cold and extremely windy day. The wind was from the south meaning that with our East-West-East-West route we were going to battle cross winds all day. And battle we did.
At about the 25 km point, as we entered the open Sumas Prairie, we debated whether we should turn around and go home. Our speed was dropping below 15 km/h at times and was never above 20. We decided to press on until Birchwood Dairy and reassess. Well once you reach the dairy one has too much invested in the ride to throw it all away, so we kept going. We continued battling the winds along Zero Ave anticipating the turn onto 272nd St and the tailwind north, but it was not to be as we also had a crosswind on that stretch. Nothing one can do.
We made to our turn around in Fort Langley with perfect timing. As we were sipping our chai lattes and eating our pastries an intense hail storm let loose outside. Feeling rejuvenated by the sit down stop, we saddled up once more and pushed on. It was a fairy uneventful journey until we reached our easternmost point at Popkum. The southerly wind definitely had a western component to it as it was a struggle on the last 20 km back to Chilliwack. And to add insult to injury, a diesel pickup truck driver deliberately blew a large cloud of black exhaust into our lungs along Old Yale Road. Check out this link on YouTube:
( http://www.youtube.com/watch?v=ZdDxjge5hmY&feature=related ).
Oh well, just another story to tell I guess.
We finally made it home after 11h14m. In those conditions, I'm proud of that time. We were a little beat up, but still grinning from ear to ear. What a strange bunch we are.
---
Go to: Permantent Results
March 11, 2012
---