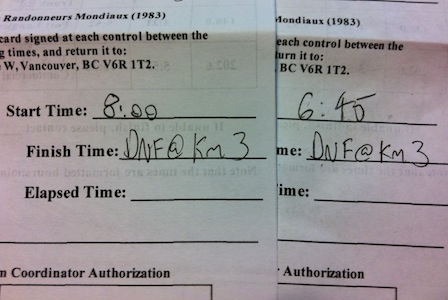 Ben's double DNF paperwork
DNF @ km 3
or: The Joys of Winter Cycling
by Ben Coli

On Friday I planned to test-ride a new permanent route I'd invented. The route starts at a cafe a few blocks from my house in East Van, it crosses Coquitlam and rambles through the back roads of Pitt Meadows, Mission and Langley. The route was awesome, and the forecast was for a high of 5 and sun; it was going to be a perfect December 200.
I rode to the starting control in an ice fog in the dark. My idea was to get there 15 minutes early and enjoy a coffee before getting started. It turns out that the Commercial Drive Waves Coffee doesn't work on rando time; it doesn't open until 7:00 and I wasn't going to stand around freezing my butt off for a quarter of an hour, so I signed my own control card and set off into the ice fog 15 minutes early.
Incidentally, nothing highlights the absurdity of this sport like signing your own control card on a permanent. With no witnesses, it's just a long bike ride. Why all the paperwork? The answer: you'd never be able to convince yourself to go on a 200 km ride in December without the paperwork. You might do 80, but then you'd go home and get some hot cocoa. 80 km is good, but you don't feel the same way you do after riding 200, and to get that feeling you need paperwork.
I rolled down Victoria Drive, enjoying the drama of the frosty roads, the thick fog and the darkness. I love riding in the early morning darkness. I can't see my speedometer and I can't really see where I am, so distance and speed don't matter. I'm all alone in my own world with my headlight and my steady exertion, patiently waiting for the sun to rise.
Before I left home Environment Canada told me that it was -5, and that's down at the airport. Two summers ago I was on a tour on Vancouver Island and my wife said, "you know it's hot when you're grateful for a headwind." Well, I'd like to add that you know it's cold when you're looking forward to a hill, and I was looking forward to the climb up into Burnaby.
At Adanac and Nanaimo I waited for the light and when it changed, my back tire spun on the icy road and I lost my balance and laid the bike down on the road. With stopped motorists watching, I ran across the road and gingerly mounted my bike on the other side.
Three blocks later I found a cycle commuter standing in a roundabout with his bike laying on the road. "You okay?" I asked.
"Yeah," he said. "Black ice."
I carried on down Adanac, noticing that the roads were getting icier with even this minor increase in elevation. It was going to be even worse in Burnaby. At the rate I was going, I'd be lucky to make it to the first control inside the time limit. And what was the Barnet Highway going to be like in rush hour with a layer of ice on the shoulder?
I made it as far as Renfrew. The road was like a black skating rink. I stopped, wrote "DNF @ km 3" on my control card and went home.
An hour later I was back at Waves, having a coffee. I got the barista to sign my new control card and I hit the road again at 8:00.
I have no idea why I thought the roads would be any different an hour later; it was still well below freezing out. I made it exactly as far as I had on my previous attempt, Adanac and Renfrew. I got off my bike and I could barely stand, it was so slippery.
I wrote "DNF @ km 3" on my control card and went home. I had another cup of coffee and a second breakfast, and then at 10:30 I hit the road again. I went for a very nice ride, but this one involved no paperwork, so I didn't ride 200 km. That night I dreamed of studded tires.
---
Go to: Permanent Results
December 11, 2011