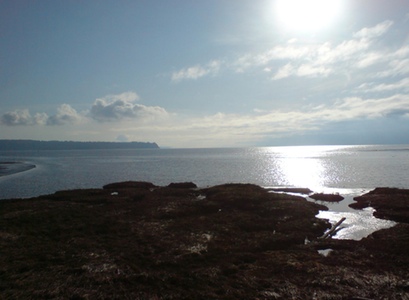 Boundary Bay looking across to Cresecnt Beach
Happy Elephant
Permanent #74 Report
from Chris Cullum

Here's an e mail message from Chris. I thought others might like to see it. Chris said that was ok with him. Note the route problem with 80th Street near the Boundary Bay airport - go straight on 72 Street to Hyw. 10 (no right on Churchill). [EF]
Hi Eric,

I did the Happy Elephant today. [Dec 8]
I was inspired by your AGM permanent [new permanent #93], in that I wanted to kill 2 birds with one stone. I had a custom porteur rack for my 650B bike that I had shipped to Point Roberts. I was waiting for a nice clear day during the week that I had off. From my house to Point Roberts is about 65km, so 130km return via the Alex Fraser. I figured if I might as well make it a permanent that went through Tsawwassen and then make a detour over the border to pick up the rack. Unfortunately it took about an extra hour and half to get down and back with the busy holiday season and the time it took to install the rack down there. I wasn't exactly setting a searing pace either so it added up to a long day. I had more than my share of bonus k's in there as well.
For future reference 80th St past the Boundary Bay airport is closed off because they are making a big overpass. It seemed like everywhere in Delta they are making big overpasses and major thoroughfare roads. So much for the quiet farmland roads there. It still seems lightly populated. Are they planning some major suburban development of agricultural land out there?
As an aside, Surrey is just nuts. The bike lanes stop, start, go on the sidewalk. It seems like there is no actual plan there. The drivers are definitely less courteous as well. At Holland Park there were kids lighting a huge stockpile of firecrackers. Another group smoking up. A lady came up to me asking if I was security (I was wearing the PBP vest) to tell be there was a vagrant passed out in the corner in sub-zero temperatures...
I wish I read your ride report first because I had a real issue trying to find the Telegraph Trail to get on the the Golden Ears Way bike path. The bike route is not terribly well marked and passers-by didn't know what I was talking about.
All in all, a nice route on a nice December day.
| | |
| --- | --- |
| | |
| There is a big crane on top of this house I had to go back to see if it was real or not. Nice old house too. | With brand new porteur rack picked up at around the 55km point. The Carradice was transferred from the saddle on to the rack. |
---
Go to: Permanent Results
December 11, 2011