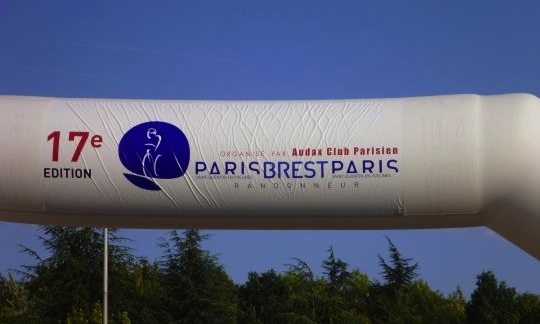 PBP 2011 #1 of ?
by Jim Runkel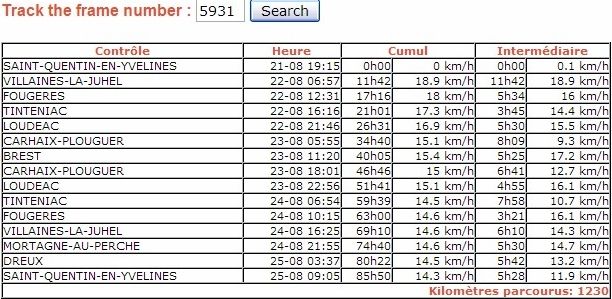 Well, we did it. So do you want to come back in 4 years and do it again? Both Philip and I, with muscles and other parts down below aching, both considered this question within minutes of finishing PBP and the answer was YES! Rando-nesia had not even had a chance to set in yet so we made this decision with all our weary sleep deprived faculties about us. That speaks to power of this event. It is something special to be a part of, something you want to be apart of again (as many of you have done 5, 6, 7 times). So from the end, lets go back to the beginning.

For Philip and I this started last year, getting our first 1000 done. All the chatter about quota's for this event had made that necessary. In the end, no one was turned away as under 5000 actually started the ride. Then this year we worked our way through a HELL week from hell, and another 1000. This 1000 was particularly useful because we tried riding it as we would need to ride during PBP, pushing through the 400km barrier without stopping (LOUDEAC is at 449k). We continued riding brevets on the island and so arrived in France with over 3500km of Brevets done since April.

Many unknowns face a first time PBP rider and I will try and touch on some of ours.

Travelling with a BIKE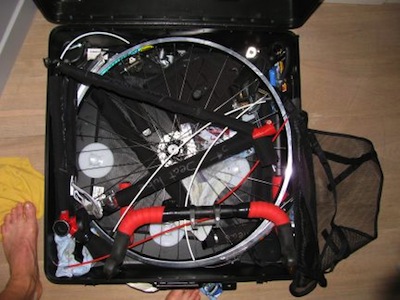 Both Philip and I have bikes that break down and fit into "suitcases", but actually seeing that case come down the luggage belt at CDG in Paris was such a relief. We took a direct flight with Air Transat from Vancouver purposefully avoiding any connections and the chance of lost luggage...no bike no PBP! Air Transat has a very clear and well laid out bike policy and so that was another reason we chose them. And I can say it was a very positive flying experience both ways. Of note though, because my bike suitcase is so compact, it came out with the regular cases at both CDG and YVR. We also needed to store the bike and some other bags at CDG in Paris. There is a very good "LEFT LUGGAGE" depot in Terminal 2 (Bagages du monde). Its not cheap but we had 3 hours to catch our flight to Venice and so this was great.

After returning from Venice, from CDG we needed to navigate by trains to downtown Paris. We took the RER B line from CDG to Gare de Nord. This is a main train hub. We then took 2 metro lines to our stop, near the apartment we had for the week (while we rode our families had fun touring Paris). Bikes are not allowed on the Metro but are allowed on the RER. Mine was still in its suitcase so that was not an issue. The RER trains also have marked doors usually at either end of the train for assembled bikes. One thing of note is stairs...navigating the Paris train system requires that carry your luggage(bikes) up and down stairs...lots of them...elevators and escalators are few....This was Thursday.

Bike Check and Prep

We now had Friday to assemble the bikes and get them ready for the bike check on Saturday. At the time of registration there was no information about the Canada/BC group picture and so not knowing about this, we chose 10 am for our bike check thus missing the big photo op.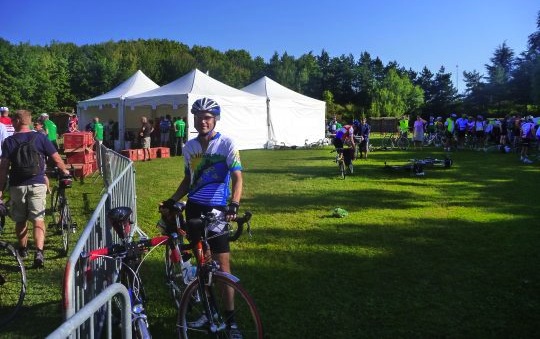 And because we chose to stay in Paris we needed to get home and prepare for Sunday so we could not wait around all morning (I would recommend as most of you did, staying close to the start). The most stressful part for me was the unknown of taking trains from Paris to St Quentin. Originally when we booked the Paris apartment the RER C line was a direct train ride to St Q. However, between July and AUG 20! the RER C line was closed. It did open on time and we were able to take it to the start on Sunday (thankfully). So on Saturday, for the bike check, we took the RER B to St Remy, and then cycled 15kms to the start. It appeared that they did not really care about the time you were given for the bike check, as we met other riders who had afternoon times and came early to get it done. The organizers gave the bike a quick check over for mechanical issues and then wanted to make sure you had lights and backups. After the bike check was done, you went to pickup up the paperwork and the all important CHIP and Control Card. You did need to show ID (a passport etc). We decided instead of cycling back to St Remy we would go to the main train station in St Quentin and find out if there was a direct train into Paris. There was, but to a Station with no RER connection (Metro lines do not allow bikes!). Fortunately a nice Finnish Randonneur was also heading in on the same train and knew the route to nearest RER station. He cycled us to this station down side streets and we got to ride on the famous Paris cobble stones. By 1pm we were safely back home and could relax a bit and get the bikes packed up. There was also a bit of time for seeing the main sites in Paris...

Sunday and the start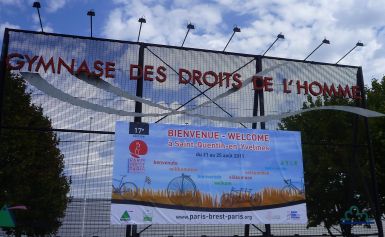 What to bring...that was the BIG unknown. The weather was looking variable with rain and cooler temps promised for Brest. Sunday was hot and very sunny. We were not supported, although I heard that around 1000 campers were expected to support riders. We also did not use a bag drop. We did what we knew best...brought everything with us we thought we might need. For me clothing is the big consumer of space. So I packed for different conditions including rain. Because the first official food stop (not a control on the way out) was 140 km into the ride food and water for that night stretch was also needed. On Sunday, with our bikes packed in Paris we headed for the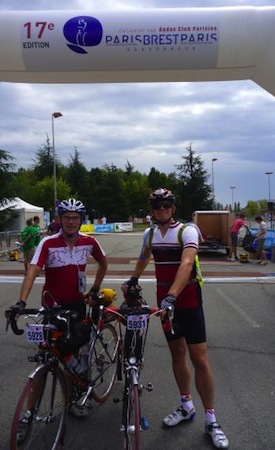 RER B line at Gare de Nord (a 10 min ride). We took that train to Notre Dam, and transferred to the RER C line which was now running, and that took us all the way to St Q. We arrived early and headed for the start area. While wondering around, a realization hit me...I had left my hydration pack, including my all important reflective vest and other clothing items I had placed in this pack, somewhere on the RER line...it was gone... I was in a panic. I raced around to the Bike Vendor I remember seeing during the bike check...paying way too much I bought a new genuine Camel Bak (my lost one came from MEC). Then I went in search of a new reflective vest. At first the organizers were not willing to give (I asked to buy one)me a new one but after a bit of negotiation and language corrections a very nice organizer gave me a replacement. At least I had the essentials to start. Along the ride, at other vendors at controls, I would get the rest of what I lost.
With this mini crisis behind me, Philip and found the lunch spot and used our prepaid ticked to get a good meal. This was around 2pm, and we would not eat a good meal until the first 140 km was behind us, late in the first night. Again, the unknown of how to line up for our start, meant we waited from around 4pm in the hot sun in a line. Others were smarter and as we found out, a line from the side closer to the staging area cut in and so those people could get in an earlier wave. The staging area was on the track surrounding a sports field. Once into this area half the line was shaded while the other half stood in blazing hot sun...we were in the sun...the only bonus being our side moved faster. The processing of the riders involved moving all riders through 3 tents where volunteers would verify and stamp your control card. After that you were sent to the road where you assembled in a pre start area.

Once the wave in front left you were moved to the start area. We finally crossed the mat, and our chip recorded our start time as 715 pm on Sunday...what a feeling of excitement and relief to finally be on the road...all the preparation and stress ... the dream of riding PBP...was now a reality. Off into the setting sun we road.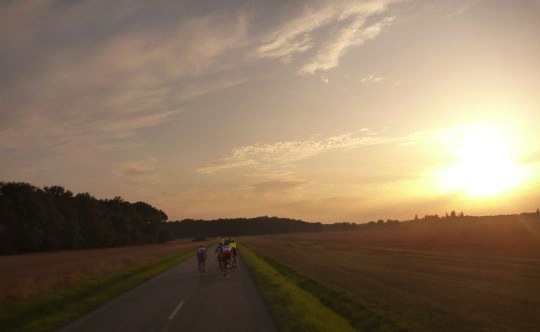 Once we cleared the city the French countryside greeted us. It was overwhelmingly beautiful, with rolling hills and villages. As night set in, at one point we came up onto a rise and as we looked down into and past the valley, it was a long continuous snake of solid red that we saw as likely a 1000 bikes stretched into the night in our view.

The Ride

Two big unknowns for Philip and I were: routing (following the route sheet/not getting lost) and food (how controls were setup). So on into the night we rode. And it was in this first section that another unique aspect of PBP became evident. Local people would be found along the route at all hours, and sometimes in what appeared to us as remote locations (ie not in a town) cheering the riders on, and also providing much needed water and sometimes great food too (for free).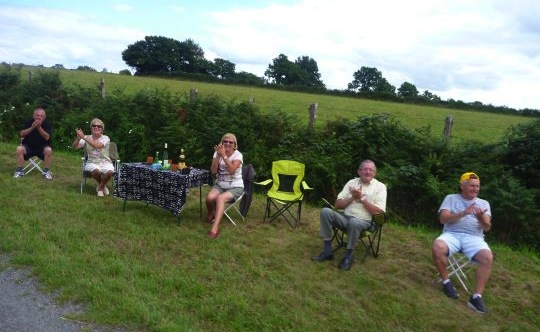 It was a change from Vancouver Island where instead of getting food from locals, you could be food for local bears and cougars! We did not need to stop at these spots often, but because of the long wait to start and hot conditions we had used up some of our water and so we did stop and "chat" with lovely local townsfolk and get a refill of water. The question of provided food by the organizers was also answered soon. We arrived in the town that was to have the food (not a control on the way out). Everyone was pulling into this square that has a restaurant. So we thought this must be the place...I bought water and went looking for food...they had none!...and so we found out this was a private business and the PBP stop was just up the road. And it had food...plenty of it, and good too. Everything was well organized and we were eating a hearty, healthy vegetarian meal in very little time. The choices of hot food and cold food was extensive, and desserts and drinks were plentiful. We left that place well fed and a little less worried about food...and if you need to supplement the available food, between controls, there were so many towns that had something available. We headed for the first official control now. Having heard "stories" of long lines at Controls we were nervous...but to our surprise we walked in, over the mat that recorded our chip, and were greeted by a sea of volunteers who then stamped the Control Cards...no lines. Controls were well setup with many extras too. Bike vendors had many useful things for sale (clothing...I bought arm and leg warmers which I had lost when I left my hydration pack on the train; tires, tubes etc and repair facilities for broken spokes etc). The only negative note was the lack, at some spots, of sufficient toilets to accommodate the many GI issues some were having (we had none!) Our initial thought was to push through to Saint-Nicolas-du-Pelem(km 493). Because Loudeac(km 449) in the past had been such a bottleneck, they put this extra sleep stop in. As it turned out, we were caught in a storm of rain, wind, thunder and lightning about 10 km from Loudeac, and we had been delayed by an issue I had with my rear tire(I ended up using my spare tire and all my tubes were used up). So in a storm we pulled into Loudeac. We checked through the control, then found food and ate. I was table napping. Philip thankfully had energy to go and find out about sleeping facilities. So in the end, there were lots of cots available, and we decided to let the storm subside. We slept at Loudeac for 2 hours on nice beds and by the time we got moving again, the rain had stopped and no more lightning! So that was the next big surprise...this place know for being a bottle neck was not. I also bought a new spare tire and three new tubes (not needing any of them for the rest of the ride!!!). The other unknown as I said above was routing. Although I had the route sheet, and checked it often, it was certainly not necessary as the PINK BREST arrows took us out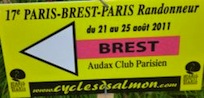 and the BLUE PARIS arrows brought us back.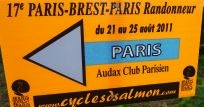 These were plentiful and well placed, making getting lost almost impossible. We did see a big group blow by a turn as they were speeding along in Peloton style and did not pay attention to the arrows!

MORE Riding

Days and nights become one as you progress through the KMs. Some Controls stand out, others I cannot picture in my mind. Sleep was something that was in short supply. During the last night (and before) in particular, it was like a scene from some horror movie as bikes and bodies were lying on any grassy spot in the villages we passed through. I remember looking over at an ATM machine inside a building and sure enough there was a sleeping cyclist on the floor. We took advantage of the ground a few times and used a few stone walls to sit against and catch a nap. I think it would be much harder if rain was constant(2007?) because then these "outdoor naps" would be much less appealing. In Quedillac (another Food/Sleep stop only) I took note of their nice soft mattresses and so we headed there for an hour of blissful comfortable sleep on the way back. In total we likely got about 5 hours of sleep, but it was enough. We took advantage of official sleep stops at Loudeac x2 both going to Brest and coming back, at Quedillac, and at Dreux.

There were a number of SECRETS, but they were so well marked and staffed you COULD NOT miss them...unless you were lost I suppose. Weather was variable to be sure. Hot sun, thunder and lightning with heavy rain, overcast, cold ocean fog and mist. But unlike coastal BC, when rain comes and stays for months, nothing lasted long and soon you were dry and warm. It was good to have the right clothes though. And Hills...there were many. Don't let anyone tell you its a flat route. I recorded 11868 M (38900ft) of climbing with a max incline of 9% (3% average). Two climbs stand out in my mind. The first is between Carhaix and Brest (and back), and the second is between Mortagne and Dreux. And one other nice thing about the way towns were built back in the 13th Century; they were usually way up on hills for defensive purposes, making riding into them, a climb! At least you always had a big grand church in the centre of the village to take your mind off the climb you just did and say a little thank you for your safe passage so far.

SOME SMALL DETAILS

Good shower facilities were available along the route at the various controls and we took advantage of them twice over the course of the ride. There is something that happens to a tired body when you shower, and you leave feeling very refreshed and ready to tackle the next leg. We also brought three full clothing changes (shorts and shirts). Maybe for some this is excessive, but for us it was so nice to shower and change into clean clothes also helping us feel better. Chamois cream...lots of it and frequently, especially toward the end. I can tell you it was sore to sit down on those last 200 kms...I have ridden two 1000 km brevets with no real sitting issues so it surprised me that this extra 200 kms made such a difference. It was truly uncomfortable... but bearable. Good lights are a must. We had one guy ride with us because he had used up all his supply of batteries and so need to follow me as my hub powered light lit the route. I also got a new helmet mounted light that came in very handy to illuminate the reflective arrows at night. Some of the controls are in big towns/cities.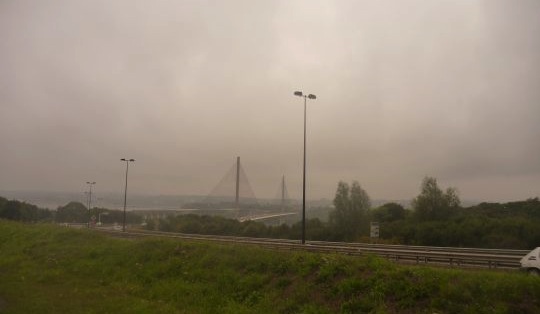 Traffic was very heavy especially in Brest, Fougeres, and at the end coming into St Q (it was morning rush our!) so one must have your wits about you to navigate. Knowing French certainly was not essential. I knew how to say hello and thank you. Being polite and courteous, especially to all those wonder volunteers, went a long way to bridge the language gap. We were appalled by some riders from a certain unnamed country who were rude and ignorant to the volunteers....BUT before I go again I want to be able to talk a bit more, especially to those people you encounter on route who give out water etc, and to be able thank all those who help at controls. Everyone of them wanted you to be successful and this was so apparent when sleeping as they were so diligent in waking you on time and getting you going! My computer also recorded that the distance we actually rode (and we never got lost) was 1245km...

This was an amazing experience. I shared it with an amazing friend, Philip...who started me on this adventure in 2009 with my first Populaire. We did this with the support of our fabulous families who helped us get to PBP and helped us recover afterward. We did this knowing our friends who tracked our progress were interested in our success. We did this with help of the wonderful volunteers, PBP organizers and the French people cheering us on...BON ROUTE! We did this with the helpful advise given us by some of our BC Randonneurs who had been before us

We did this in 85hr and 50 min....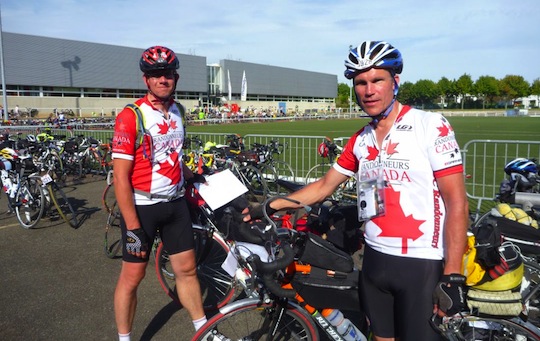 For all my pictures:
https://picasaweb.google.com/109609309253051668133/PBP2011
---
Go to: BC PBP Results
Go to: BC PBP Photos
September 16, 2011