Recording Popualire History
by Harold Bridge
I am not a Samuel Pepys, therefore my diaries tend to contain "bare bones" information.
That is okay for 3 or 4 years, but does mean that research back beyond that point relies on memory & a bit of guess work.
I remember the first Populaire - 1986-April- 20. Rain was diagonal stairs rods. That so many actually started was remarkable. I volunteered to be part of the organisation. With ACP regulations ingrained by that time, I was concerned that the big loop East on Marine Drive to the Queensboro' Bridge & back on River Road, should have a control & tried a set up a "secret" on the approach to the Bridge. What a laugh that was!
The event was notable in that it was the introduction of one of our mainstays to the
Randonneurs, Deirdre Arscott. She had been persuaded by her workmate, Peter Stary, to ride. But the weather was too bad for him to get out of bed!
I do know when I rode the event by the fact I recorded my times in the diaries.
1988: 4:06, '89: 4:50, '91: 5:00, '92: 6:00 with my Daughter, '94: 5:00 and now 6:05 in 2009.
At other times I have taken photos or help staff controls.
But as a result of living in the centre of the Lower Mainland as I do, and seldom having need or desire of go into Vancouver, I became quite parochial. The increase in traffic snarls further dissuaded me from venturing west of Coquitlam Centre. But I felt it time to update my experience of the Populaire.
If one must drive into Vancouver then early Sunday morning is the right time to do it. In the wagon at 07:03, I was at Riley Park before 08:00. It was suggested I could leave early to help set up the 25km route turnaround at Spanish Banks at 09:15. I was at Spanish Banks by 08:50 & finally left at 09:50 without seeing anyone who looked like they were setting up. Wrong Spanish Banks obviously.
I had arranged to wait for Brodie & Fletcher there. But changed my mind & decided it made more sense to wait for them at the top of the climb from Spanish Banks. Standing around for an hour beforehand was no help on the climb. Never saw Brodie until the finish. But I had waited for Fletcher at UBC & we rode the rest of the way together, arriving at Woodward's Landing right on the 12:40 deadline.
The previous week's ride in the Sannich 100 had been ruined by the new chain on worn sprockets. It didn't help that I had failed to mount the Ortleib bag so I could read the route sheet as I rode. I made sure to take that handlebar bag into Vancouver.
I was doubtful about going on this ride. I had started a cold, or was it just that start of allergy season? But by the Sunday morning I seemed in good enough shape.
As April 5 was such a nice day I hoped to enjoy riding a naked "Tony Hoar Custom" while I waited for Marioni to send my new sprockets for the Mariposa. After all, it is only a "100" & the 32 inch bottom gear (34x28) should get me over what lumps this ride has. But the murder of Wendy Ladner had closed SW Marine Drive & the team had done some heroic late night route revisions ready for Sunday morning. So, my home made route sheet was replaced by the official sheet. Under the circumstances I will not complain about having to drag myself up Col de Dunbar at such a late stage in the proceedings.
We were clocked in with a 6:08 time. This morning I am definitely suffering a cold.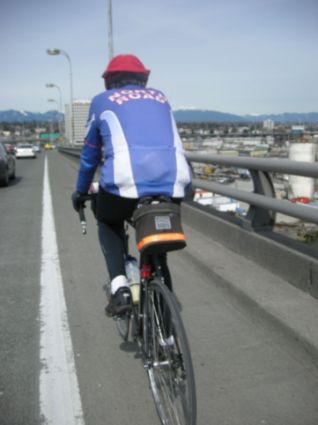 Harold Bridge on the Arthur Lang Bridge
Pacific Popualire 2009
April 6, 2009