The well-concealed road caused a stir last spring when it was discovered by confused concert goers looking for the Rose Garden parkade after a Schumann recital at the Chan Center. It was later learned that this unique roadway, and engineering marvel, had been commissioned by former UBC President Martha Piper as her "secret batcave entrance" to the laboratory and billiards lounge in the catacombs deep beneath the UBC President's official residence, more regularly accessed from South West Marine. Incoming President Stephen J. Toope has made the welcome decision to open the road up to the public. "The road offers a spectacular view of the Strait of Georgia, Howe Sound and the mountains beyond" said Toope in a Province interview in October, "...and students and faculty alike will enjoy the exceptional bungee jumping off some of the steeper sections south of the students' residents blocks."
"It's an exciting opportunity for us to run the 100 km route on the new road", gushed Pacific Populaire organizer Danelle Laidlaw at Wednesday's news conference. "Cyclists may wish to use wider tires, for the 2007 event... Despite the impression given by some of the pictures we've released, we're confident that road is at least as safe as old route, though we're warning cyclists to keep their eyes on the road, and not to dwell too much on the scenery... especially along the Wreck Beach section where "clothing optional" bungee jumping has become the latest thing... We'd really like to emphasize that our event is NOT clothing optional. Riders are expected to be fully lycraed. If you need BC Rando cycling clothes, see me after."
The Pacific Populaire has been run every spring since 1986 and has been the main event for introducing Lower Mainland cyclists to the sport of Randonneur Cycling, often called Marathon Cycling. In addition to the classic 100 km route, there is a 50 km route, and a 25 km family-friendly route. More information on the Pacific Populaire web pages.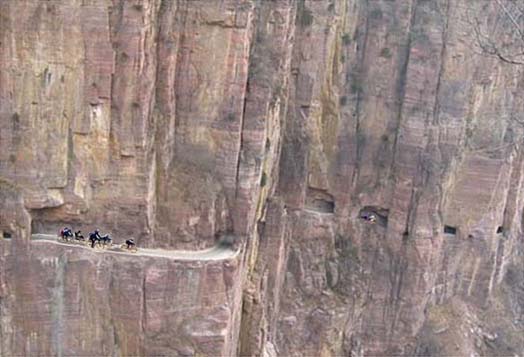 December 21, 2006
Related Articles:
Smells Like Trouble: Route Scandal Threatens Eau de Hell Week Plans
Route Scandal Broadens: More Leaked Photos Implicate Interior Hell Week Organizers