Unlike their Vancouver Island counterpart Ken Bonner, the Interior Hell Week organizers have been more forthcoming. "We've been more forthcoming," boasts co-organizer and route designer Roger Holt at an emergency press conference Thursday. "Yes, we're very concerned about the leak and an internal investigation is already underway... But following the leak we decided to come clean with our plans for the 300. The route uses the lesser-used old Route 3A from Princeton up to Manning Park. That's what you're seeing in the leaked photos. From there we head down to Hope on beaver trails... It's a lot safer than it looks in the photos. We lost only two of the five riders on the pre-ride in October... It's true that the surviving three are still in intensive care, but this is just a precaution - one of them is expected to make a full recovery, and with a little luck the other two should be able to live relatively normal lives at an assisted living facility."
The Interior Hell Week consists of four brevets (300, 200, 300, 200) over four days. It's intended to be an intensive training camp for riders preparing for PBP 2007. According to co-organizer Ali Holt, there is another purpose for the event: "We've only booked 40 rooms in France for BC Randonneurs riding Paris Brest Paris, and it looks like many more than 40 riders will be qualifying... Our routes should help keep the numbers down."
The Interior Hell Week is scheduled for August 3-6, 2007. Survivors will be awarded a small piece of painted metal stamped with the words "Hell Week".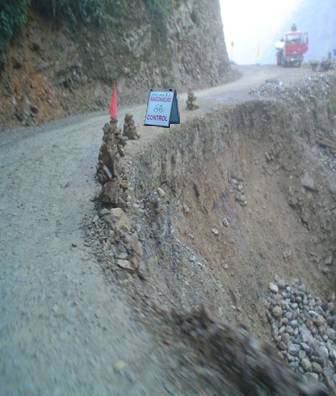 December 14, 2006