Here is a more detailed account (than here) of Ken's 4th 2005 1200 km. He sent this e mail message to me and Cheryl after returning home form Colorado. [Eric F]

Ken's Colorado Last Chance 1200
(an e mail message from) Ken Bonner
Cheryl and Eric:

Here is the link to the results of the 2005 Colorado Last Chance 1200. I held the previous course record of 59h 05m, which I set a couple of years ago (with Stephen Hinde's excellent support!) after riding a 1000k from Abbotsford to Boise, Idaho ... immediately driving on to Boulder, arriving at 8 pm the evening before the 3 am start the next morning. Needless to say I was a little tired and so I felt I could ride faster than the 59 hours.

This year with a lot more sleep before the ride, I achieved my goal .... finishing 1st and set a new course record of 54h 46m.

http://www.rmccrides.com/lastchance2005riders.htm

I had planned to ride right through the entire 1200k without sleep (as I did at the BMB), however by the time I reached the 1000k point (Byers, Colorado) at 10:30 pm after 43 1/2 hours without sleep, I started to experience the presence of non-existent citizens floating alongside me in the dark! Fortunately, I had booked a room at a motel at this point in the ride (just in case) and so with a quick 1 1/2 hour sleep I was on my way again.

I had to sign out at the ride control letting them know when I left. When I looked at the sign-in/out sheet, it looked like Mike Sturgill from Phoenix, who had been about 2 hours behind me, had left about 15 minutes before me at 12:15 am, so I quickly got under way and rode hard for the next 30 miles (50k) expecting to catch up to him. I finally gave up chasing him down .... either he had stopped for food somewhere, or he was far out ahead of me. It wasn't until the finish that I discovered that I had misread the sign in/out sheet ... Mike had signed in (not out) at 12:15 am and was having a peaceful and deep sleep back at Byers,while I rode hard thinking I was chasing him down!

Experienced moderate day-time temperatures (23-29degrees C), but the night time temperatures became quite chilly (3.8 degrees C). On the last morning, I had to wait for a few minutes outside the convenience store control that did not open until 5:00 am ---- I was experiencing uncontrollable shivering until I got inside and had some hot chocolate. Still, with the hot chocolate and winter clothing, I was still cold to the core as I rode the last 80 k to the finish .... however about 8 am, the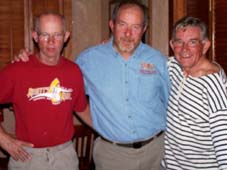 temperature rose dramatically to 26 degrees C ... I continued wearing my winter clothing because I had no where to store it .... felt like 38 C by the time I finished!

Three of us completed the Last Chance 1200 as our 4th N. American 1200 in 2005. Kevin Main from California, Dan Clinkinbeard from Missouri and myself. This was my 23rd life-time 1200k.

Mike Sturgill, Phoenix, Arizona; Paul Rozelle, Bexley, Ohio (a young newbie) and I rode together for about the 1st 250 k. Mike felt strong at that point and quickly became a speck in the distance. Paul drafted me for a about another 15k, then he felt strong and also became a speck. At the 400k control (Atwood, Ks.), they were both leaving the control as I came in. It was just getting dark. I caught up to them again about 50k down the road. They passed me again (strongly). I passed them again about another 50k down the road at Norton about midnight. At about the 500k mark I was in the lead, and stayed there until the finish (except for my little anxiety incident at Byers!)

Still working on the UMCA mileage challenge. I think I have about 15,000 miles under my belt, including 93 imperial centuries.
September 21, 2005
---
Don't forget to check on Ken's current UMCA "Year-Rounder" Century Challenge stats & standing.