BC Randonneurs
Cycling Club
Next--->
Island 400 (Victoria-Union Bay) Notebook
Mike Poplawski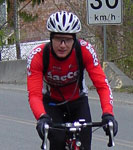 This is long. You now have the option of doing this ride or reading about it.
Ahh, so you've chosen a rambling piece, rather than a piece to ramble.
Okay, the Island 400 km Brevet of May 11 started from Victoria with the familiar odd couple of Ken Bonner and your humble narrator, wanna-be Mike Poplawski.
Ken starts out at his own pace, and I try to hang on his wheel as long as I can, which some day might pay off for me--I was hoping today would be the day. After about 20 some minutes, on the first Malahat climb, I realized that I wasn't going to stick with him much longer, and I turned my effort down to my comfort level, which left me behind. Considering what happened the rest of the day, I have to wonder if it made any sense to hang on as long as I did?
The Malahat was very dark--a new moon, so lots of stars out (and one well up the road by this point), a reasonable number of trucks, no yahoos spotted and a pretty view of Sidney's light show before the sun came up!
I didn't have to share my descent into Bamberton/Mill Bay with any drivers, which was great! The shoulder coming down the Malahat is not good, while the regular road surface is, and I practiced my hands-on-the-tops descending. As I put my chin on my computer, I was none other than the Falcon, Paolo Savoldelli! Well, okay, I'm merely dressed like a Saeco rider, and 62 km/h is not exactly a blur. Damn.
My first stop of the day was between Mill Bay and Cobble Hill to put on a set of liners under my thermal gloves. I checked my computer to see that my stop only took two minutes. NB This is blatant foreshadowing.
Upon arriving in Duncan, I did what any sensible randonneur would do who wanted to get out of the cold for a few minutes, fuel up and replenish supplies--I stopped at a randonneur-approved establishment for soup, hot chocolate and a biscuit. Yes, none other than Tim Horton's! After 2:20 riding (I still had hope for a good ride time, you see, I made note) I would stop in for 15-20 minutes, have a good feed and get rolling.
This is where the adventure starts.
I had my first experience of losing body heat while eating warm food--no matter how many spoonfuls of broccoli & cheese soup I ate, or how close to my core (read: crotch) I placed my hot chocolate, I could not stop shivering. I tried to dry my supposedly moisture-wicking synthetic turtleneck, but I think it must really work only when it can wick moisture into another fabric layer. Something like that, because the washroom hand-dryers were making almost no headway. Finally, after almost an hour of shivering, it occurred to me that my longsleeve cycling jersey was safe and dry on my bike, and that putting it on might do the trick. It did, and at 6:30 (and over an hour off the bike out of 3:30 event time), I was on my way again.
(Actually, this reminds me of the halfway point of the Fleche I rode in 2001, only when the 2001: A Fleche Odyssey team reached Marblemount, WA for breakfast, there were no dry clothes to change into, and the restaurant we were eating at must have had A/C that turns itself on when it rains outside. I hit the road shivering that day.)
Things were uneventful up to Nanaimo, except for my blundering at a traffic signal entering Ladysmith (I was gawking at some early-morning cyclists heading for Chemainus Road) and running a red light. Oops. I kept my head down and was relieved to see no flashing lights. I was watching my computer and noticed that I still had a shot at reaching the first control around 8:00 AM, which is the time I made the previous two times I've done this route. I arrived a little later, about 8:15, and picked up some food at the 7-Eleven--some Carnation Instant Breakfasts and the obligatory banana.
Here's a bit of delicious irony: after asking Ken about Carnation Instant Breakfasts at the start of the ride, he recommended them, since he felt they tasted better than the Boost or Ensure drinks that I've tried in the past. Well, I got to confirm Ken's opinion twice--both on the first can, once each way. Sorry, I had to say it.
So here I was, 108 km into the ride, and experiencing the precious novelty of becoming ill during a brevet. I took some deep breaths, sipped some water, mixed some more Hydra Fuel and like any bold randonneur would, I pointed my bike north. The sun was out, and I was going to ride my bike all day, knowing that I was writing a good story.
The rest of Nanaimo was cool winds and stop lights, but it ended soon enough and it was back onto the newish highway for some cruising. It really was a beautiful day to ride, and the winds behaved themselves--nothing too harsh either way. The mountains were gorgeous.
Thinking about getting some food in me again, I stopped at the Subway in Parksville for a small sandwich a Mountain Dew and a cookie, and hoped it would stay down. Satisfied after the short stop, I admired a local (some dude who walked with a cane, unnecessarily) and proceeded once again, food staying down but dogging me with about 20 minutes of hiccups. Loads of fun--I haven't had hiccups in how long?
The stretch through Qualicum was beautiful, as usual, and I made good, steady progress. It does help to know the route! As I sensed my supplies running low, I stopped in at Bowser for the first time ever at a grocery store. I can't remember the name of the store, but it was popular, and it was no secret why--it was a local cold beer & wine outlet.
After a brief scare (empty toilet paper dispenser) and immediate relief (rolls on the toilet tank) and a refill of water and a little bite, next stop was the the turnaround control at Union Bay.
I'm not sure where the 160 km mark on the route is, but that's where I saw Ken heading the other way, moving as smoothly as a Swiss train moving along to the next Hof. I immediately tried to think of ways to put a positive spin on being over 80 km behind the champ...
Union Bay was simply glorious--again, the view across the strait was simply amazing, and the Union Bay market has a wonderful ice cream cooler filled with goodies chilled to a perfect temperature. Not really needing to, but just enjoying the moment, I put on some more sunscreen, enjoyed an Oreo Bar and a few other things while laying on a patch of grass outside the store enjoying the wonderful sunshine and temperatures of the early afternoon.
If you haven't been to the Union Bay market, it has all kinds of quirky decorations. The one that stuck out for me this timewas a large urn with an ash tray on top. Painted on the urn is Bugs Bunny (copyright infringements abound here) smoking a cigar, and the urn is emblazoned "Ash-Hole". Little things like that make these rides worthwhile!
Back on the road, my suspicions were confirmed--I had been riding into a headwind for about an hour into Union Bay, and I had the wind working for me on the way south. This was especially comforting, since my 2001 ride felt like I was pulling a parachute, and I distinctly remember not shifting into my large chainring for several hours.
So, with the friendly winds, I had a delusion that after a 10-hour trip north, I would have a negative split on my ride and have something like the sub-19-hour ride I had in 2000. A randonneur full of hope!
I was back in Bowser for another fill-up in seemingly no time, and to my surprise I saw the house opposite had a bicycle hanging on the front gate. Whoever lived there advertised some kind of bike museum, and if only I had I been making Bonner-time on my ride, I would have checked it out. Next year, eh?
On my way through Qualicum Beach, I stopped like I had the year before--last year just to lie down and wait for winds to die down, this year to fix a slow leak that came on after a series of railroad crossings. (I found I had a snakebike puncture, so I'm guessing that's what it was.) The fix of my front tire was quick enough, and after a brief stop at a public washroom, I was on my merry way again, but I was noticing that I was not riding particularly fast. My body just wasn't taking to water and food the way I liked, but I never felt like I was in any real jeopardy of finishing the ride.
My riding was, like I said, not my best, but I found I was able to stand often without any cramping problems, so I felt very good about that. I felt good that I could relieve the pressure of the saddle well and keep my momentum up pretty consistently. My average speed on the bike was staying right around 26.5 km/h all day.
It was starting to cool as I made it to Nanaimo and its series of traffic lights. Unfortunately, strip mall hell is no place you want to stop over and over again to admire "scenery". The third control came at 5:32 PM, after 294 km, and I had about 109 km to go, including the Malahat. I knew I'd be using my lights!
The air became a little cooler every hour, and I made a few stops for clothing adjustments, which got a litte annoying, but I did feel good about the breathers. This was a survival ride, and the Sour Patch Kids I was using as Happy Food were probably not helping my stomach in the long run. I found I wasn't really drinking a lot of water or sports drink, but I kept on going, which was the important thing.
My last stop was my traditional one in Cobble Hill for my Coke and nacho chips which I so savour...I was glad to have made it to the store by 9 PM, since they close then. My appetite had left me, so I left some of each goodie behind, and it was on to tackle my nemesis--the climb out of Shawnigan Lake.
Battling drivers who don't turn off their brights (I gave a happy nod to those that do), I felt good about my ride up the hill, which in the past has left wondering why I do these rides at all. This time, with only a minimum of 30 x 27 riding, I was up and out of there in what seemed like no time, and back to the familiar comfort of the darkened Malahat descent. Time to bundle up!
The ride down was no problem at all, until I approached Goldstream Park, when it hit. Okay, *they* hit. I ran over what seemed to be two pieces of lumber or branches (I was moving over 40 km/h, and it was quite dark), and thankfully, they were perpendicular to the roadway or else I might not be writing this story. After bringing my bike to a stop about a km later, with only a flat tire the apparent damage, I walked to a clearing I knew was up ahead just across from the Goldstream Park parking lot entrance.
When I arrived, there was a couple waiting for me in their truck to help me out, for which I'm grateful--I even sent a note to the Victoria Times-Colonist thanking these anonymous people for stopping to help, and explaining just exactly why a) someone is riding the Malahat at 10:00 PM and b) why they won't accept help when their bike doesn't work. I'm glad I had a nice night and some power left in my halogen headlamp to make a simple rear tire change. The wheel banged against my brake pads, though (turned out I had a dented rim), so I had to limp home with only a front brake for the last 15 km. Both bike and rider, battered and weary, made their way out of the park and on the way home.
At 11:30 PM I reached the finish, and after my longest-ever 400 at 20:30, I was done, but I knew that this had become a 2-day adventure, as I wouldn't get home until after midnight. What a day to be a randonneur, though, with the beauty of this ride (I estimate about an hour of five off the bike was due to how nice the day was), and the residual thought of improving my speed and efficiency to enjoy all of this in the daytime some day! But as a mere mortal who can't ride a 400 and be home in time for dinner and dancing, I'm glad I have a pin from this ride, and a story or two to tell (I've probably forgotten something good). Fantastic stuff!
_