My Rocky Mountain 1200 Tour 2002
by Michael Koth
In the beginning of 2002 I planned to go second time for BMB but when I learned from friends that they are going for RM1200 I changed my mind. After a few e-mails with Danelle Laidlow (she organizes the RM1200) I get the permission to start and my boss confirmed my vacation request.
Because of my late decision to fly to Canada I only get a business-ticket, so I have to use all my German Lufthansa bonus-miles. Therefore I fly from Cologne via Frankfurt to Vancouver and with AirCanada to Kamloops. On the way back I can fly to Duesseldorf.
After I get myself ready for the 1200k through the Canadian Rockies with several brevets in Germany, Belgium, France and UK, the 8-day ride Paris-Nice and the "Jotunheimen-Rundt" in Norway I drive with a friend on Sunday, 21. to Cologne airport and check in. The short flight to Frankfurt is just up in the sky and down again. From Frankfurt I fly in a B747 Jumbo-jet. Luckily I sit in the first row and enjoy a calm flight. While approaching Vancouver my seat-neighbour (he is from here) offered me his window-seat and explained Vancouver a little. Shortly after landing the luggage arrives and not long after that my bike box also arrives. The immigration procedure takes only a few minutes and since I have three hours to spend I visit the AirCanada lounge, take a shower and eat a little. During the flight to Kamloops, operated with a small propeller plane, I can enjoy the wonderful scenery of the mountains below us. The first thing I register in Kamloops is the high temperature of 31°C at 6:30pm. The luggage from the few travellers arrives within minutes after landing and with my bike box and my travel bag I find immediately a taxi to downtown Kamloops. Arriving at the motel I only check-in, bring everything to the room, eat something and fall asleep after a 22hour journey.
The next morning, after having breakfast in the restaurant next to the Motel, I assemble my bike. While doing that I feel the rising temperature, of which I have heard in the weather forecast. Afterward I start to a first test ride. With the town-map handy I ride to the Visitor-Info and realize that Kamloops is not flat but has some steep ascents of 8-10%. After I bought some postcards and in the shopping mall next door some stamps and souvenirs I easily ride 65kph on the way down to the Thompson-River. I spend a few hours strolling through town but afterwards I have to climb up the hill to the motel. There I use the pool, which is a good choice at this temperature.
Tuesday morning after breakfast I set out on a trip to find the "Balancing Rock" which I saw on a postcard. The first hurdle on the way out is a roadwork unusable for cyclists due to a no longer existing road. The following bike-path guide parallel to the highway until it goes onto the highway. First stop this morning is the viewpoint over the lake Kamloops. A few kilometers later I reach Savona and ask at a gas station for the "Balancing Rock". I'm told that it's somewhere between Savona and the viewpoint I passed on my way to Savona. So I ride back to the viewpoint but cannot find any sign. I decide to ask someone else but they are tourist and don't know the area well. It's lunchtime and I decide to stay for a while, eat and drink something and read my book. I have just decided to go back to Kamloops when another rider appears from Savona. He asks for my direction and as we are heading both to Kamloops we ride together.
On the first downhill part I pull my brakes permanent and he is pedalling all the time until I release the brakes and run away. Climbing the next hill he is back again and we start chatting. It's Kent Petersen, he comes from Seattle by bike to take also part in RM1200. We stop at a gas station for quenching our thirst with some cool drinks. While sitting in the shade I look a little bit closer on his bike and be astonished about his "fixed gear" bike (one gear, no freewheel). That's the reason why he was permanent pedalling downhill, while I rushed easily away. We ride to Kamloops together and Kent take a room at the same motel.
Peter Noris from Florida arrives with the other guys from Seattle while I'm sitting at the pool. I met him last year at BMB and this year we share a room at the Sagebrush-Motel. At the evening we have dinner with the guys from Seattle in downtown Kamloops.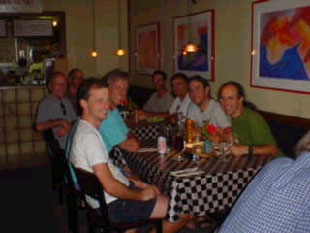 Dinner with the guys from Seattle
Wednesday morning Peter and I start for a tour towards Savona but that day we find a way around the roadwork area I found the day before. On the way back we meet a touring-biker, which we accompany. Due to a flat tire on Peters bike we have to stop again and change the tire. After returning to the motel and having lunch we pack our drop bags. Everything else we pack in my bike box and give it to the reception desk. Peter takes a nap but I cannot, perhaps I'm too nervous although this is my third 1200k ride. At around 7pm we check out and ride with our drop bags downtown to Peter's Pizza where we meet some other riders.
Registration and bike inspection starts at 8pm at Heritage House in Riverside Park. It takes only a few minutes and so we spend the rest of the time until 10pm with strolling around, talking with other riders and taking some pictures.

Bicycle Inspection
-


The German contingent
Wolfgang, Winfried, Michael, Karl, Frieder
We start after last minute instructions at 10pm with a very slow pace. I'm astonished, I thought it starts like a race as it was in Paris 1999. Nevertheless, during the next hours I loose contact to the group and cycle by myself.
Sometime during the night my headlight breaks, the bulb is burned. I know the problem from BMB last year, so I just swap the bulb with a spare one and can go on.
It is very warm during the night, I ride with my short-sleeved jersey but my water bottles run dry, so I am happy to reach the first checkpoint. By about 3:30 in the morning after 133k I reach the 1st Checkpoint in Clearwater. In front of "The Windmill Bed & Breakfast" I get some sandwiches, drink some cups of ´Gatorade´ and refill my water bottles.
While sun rises tiredness comes to me. I think I fall asleep one my bike for a few seconds or so and I'm happy as another cyclist catch up with me. It is Wim Kok from Fort St. John and we start an interesting conversation, which kills my fatigue. On the way from Avola to Messiter Summit we pass a roadwork and have to pay attention to the road, as there is a lot of gravel on it. Endless appearing kilometer later, on which we swallow a lot of dust, which is swirled up by roadwork vehicles, we come to the 2nd Checkpoint in Blue River at km 229. We quickly check in and disappear instantly in the Husky Service Station to escape the hostile mosquitos. During the good breakfast we meet some other riders. After the enlarged break we go out again. We rush to get on the bikes to escape the mosquito harassment.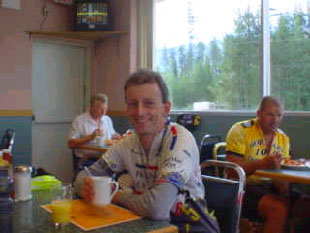 Breakfast in Blue River Husky Service Station
We reach another summit and stop for a pee but continue soon because the mosquitos are very aggressive. After 339k we reach the 3rd Checkpoint in Tete Jaune Cache at 2:45. Meanwhile it get warm again and the volunteers move with their table into the shade. We have a good chicken-noodle soup at the restaurant to power up for the next stage. I wash my arms and legs refresh my sunscreen then we go on again. Suddenly my back wheel lurch and I find a flat tire. I tell it to Wim and we stop at a parking space. I get my tools and a spare tube, take the wheel off and change the tube. Wim detects a tiny little piece of wire in the tyre. We guess it was from a shredded truck tire.
At the Mount-Robson-National-Park we have to pay a fee of $CDN 3.00 but now we can stay until the next day 4pm at the national parks. We meet Barb Henninger and Ron Himschoot and ride together towards Jasper.
We can't find the Yellowhead Pass. There is no ascent for a while but we also don't see a sign for the summit.
At about 8:45pm after 443k we reach the 4th Checkpoint in Jasper. We find our first drop-bag with new clothes, towel and shower gel. I get a notice from Peter at the check-in. He made a room reservation at a hotel nearby.
There we try to change the room from a 2-bed to a 3-bed room to get Wim also in. It's no problem, so I ride back to the checkpoint to get Wim but can't find him so I leave him a message at his things. Previous to having an absolutely necessary shower I eat the pizza Peter brought for me. After the refreshing shower I go to sleep but at 2am the alarm clock ring merciless. We check out and ride to the checkpoint for breakfast. I make out Foster Renwick, a friend from BMB last year, which is sleeping in the dark corridor. I point with my finger in his direction but Peter misunderstood this and flung his drop bag on him. Foster, who arrived two hours behind us, wakes up but makes "good face to bad games" and decide to come with us after breakfast. However in some way Foster disappear and so we start without him at 3:15. In addition to the chilly morning it starts to rain after a while.
In the cloudy first light of the day we see a female deer with her young quiet standing at the side of the road, our only encounter of "wildlife" on the tour except a few ground squirrels.
56k later we reach Sunwapta Falls restaurant and stop for another breakfast. I give my unused windbreaker to Peter to warm up a little bit since he carries no warm clothes. It's not his size but for the moment it's OK. We sit at the fireside and Peter can persuade the waitress to make a fire. It didn't help much since the firewood burnt out quickly and the room is huge.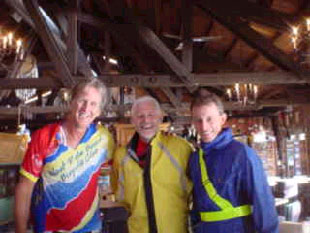 Breakfast in Sunwapta Falls Restaurant
On the remaining 49k uphill the sun come out.
The last few kilometers into Columbia Icefield Center at 548k are stretching out like chewing gum and in the end I'm searching for the entrance to the parking lot and the 5th Checkpoint in the Icefield Center. After checking in we go to the restaurant to eat something. It's cold there since all windows are open on a mysterious reason.
As we are heading off my front wheel lurch and I detect the second flat tire on the tour. At the inspection again we find a tiny little piece of wire as reason for this defect. So I change the tube quickly and we can go on towards Sunwapta Pass.
We climb up the steepest part at walking speed before it goes slightly downhill to go uphill to the 2035m high Sunwapta Pass again.
I achieve a new top speed of about 82.7kph on the descent that could have been higher if I haven't looked on the speedometer at that pace. The try to stop at this speed at a parking lot to take some pictures succeed shortly before the end of it. I take a picture and zoom down again to catch Wim. Peter shows me his speedometer afterwards, which shows 108kph as maximum speed. This is without a doubt the reason that Wim and I see him again at the next checkpoint.
On the way to the Bow Pass another rider overtake and I ride for a while with him before I let fall me behind him to cycle again with Wim. With a cold wind blowing against us from the pass we reach the 2065m high Bow Pass late in the afternoon. We pull over our windbreaker to not feel the cold downhill. After 676k we reach the 6th Checkpoint in Lake Louise. At the Recreation Center we take some refreshments while at Peter's bike the gearshift wheels have to be changed. We stretch our exhausted muscles again before we climb on our bikes again to go on towards British Columbia.
I have to stop again to change my sunglasses with the clear glasses and pull over my long shirt. We cross the border between Alberta and B.C. and the Kicking Horse Pass and descent for a long time. This is the ´recumbent revenge´ and Peter is gone immediately in the distance. Not many kilometers prior to Golden we see warning lights at the roadside and a cyclist standing in the headlights of a pick-up. It is Peter, his bike has a mechanical problem, which is not to fix at the roadside. We load his bike on the pick-up, Peter jumps in and Wim and I ride in front of the car cause the driver don't know the way. Just before midnight after 760k we arrive at the 7th Checkpoint in Golden, our second stop for a longer rest. While we have our meal and go to sleep hardworking volunteers repair Peter's bike and bring him back to the spot where he abandoned. Thereby Peter has of course a significantly shorter sleeping break than we have what one can see at breakfast.
The first part after Golden is flat but we have to climb up, then it goes downhill before we have to climb up the steep ascent to Rogers Pass. On our way up to Rogers Pass we see a sign to "Heather Lodge", we decide to stop for a breakfast and turn off the highway. At "Heather Lodge" we are turned away since there is a wedding party this afternoon and no other guests are served.
We go-on on our way towards pass, later we hear from other riders that they had their breakfast at "Heather Lodge" without any problems.
On the last k's to the Rogers Pass (1330m) we pass some tunnel, I stop behind the first to look for my ´Oropax´ to protect my ears from the noisy traffic. On Rogers Pass we stop at the "Best Western" and allow us a good breakfast at the buffet. Karl, Frieder and Winfried have the same idea and join us. Following we ask the waitress to take a photo from us. Leaving the "Best Western" the shop girl of the souvenir shop says "Auf Wiedersehen" to me and I ask how she knows that I'm from Germany. She clarifies it and I remember that I have bought some postcards and stamps to Germany from her during our breakfast.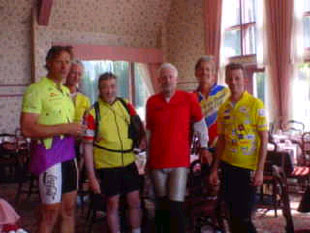 Breakfast on Rogers Pass
Winfried, Frieder, Karl, Wim, Peter, & ich
The next 66k from Rogers Pass, with light and ´Oropax´ through some tunnels, are almost downhill to Revelstoke where we stop after 908k at the 8th Checkpoint. After having lunch I have to grease my chain and also do some stretching for the tired muscles. In front of the Knights of Columbus hall we set up for a photo from the tour photographer.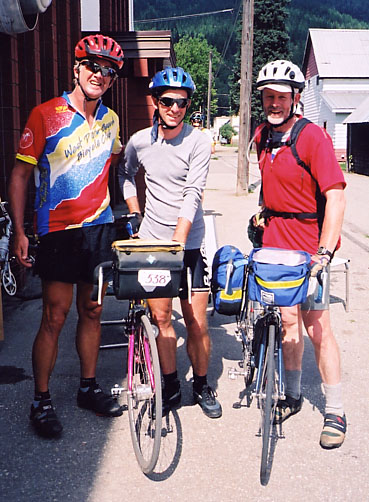 At the Revelstoke Checkpoint
Then we go on but only a few streets. Peter would like to have an espresso so we stop at an Italian shop nearby which he saw on the way in. Unfortunately they don't have espresso and Peter says that he is from the ´Son's of Italy´ and they have to take down the Italian flag if they don't have espresso. Doesn't help a lot, they don't have espresso and so we drink ´Mountain Dew´ what in fact also consists only caffeine and sugar.
On our way through the heat of the day Peter pull out and reach the next checkpoint 14min. earlier than we.
On a quiet back street (Solsqua Road) we encounter some kids playing with their dogs on the road. As the dogs see us they run barking between us and bother our progress. On my courageously "Out!" they stop scampering between us and with an awesome thrust of adrenaline we continue our ride. After 1012k we pull in to the 9th Checkpoint in Salmon Arm Community Center. I meet Karl, Wolfgang and Winfried again. Karl will go on, Wolfgang decides to join him but Winfried will abandon. He doesn't want to ride in the night again. Wim and I want to sleep here for a few hours before we go on towards the last checkpoint. Peter want to stay for a nap and go on again.
After I have eaten a portion spaghetti with tomato sauce and waffle with blueberries and whipped cream I ask for a place to sleep but decide to take a shower after all the hours in the saddle first.
I ask for the showers and on the way upstairs I see a sign "Pool". I inquire for the pool but my question is refused. The pool is closed. We pass the pool, which is the local swimming pool, and the showers belong to it. After the shower I "must" go for swimming, then I go downstairs to sleep. The night is over at 1am and after having breakfast Wim and I are heading into the night. Peter set out earlier. It's a pretty ride on tranquil roads without any traffic and the air is pleasant. Unfortunately our ride comes to a stop just after an hour due to a flat tire on Wim's back wheel. With the light of our torch we change the tube and go on again.
In the early morning we come at a secret control. After a short rest we continue on until I think we are wrong but after careful consideration we ride on and find a street name, which is on the cue sheet. The final k's to the 10th Checkpoint in Vernon (Pleasant Valley Road), at 1087k, seem to take no end. Finally we arrive at the hostel and have breakfast. We let all our needless stuff back in the drop bags and Wim and I start again for the last 117k. For the last part I have send my RM1200 jersey to Vernon.
After about 2k we were attacked by a little dog, which suddenly comes barking from on of the dooryards. Since he don't give way and delay our ride we use intense methods. Like an agreement we grab our water bottles and stop him with water shots. Pretty scared he runs away and we go on laughing. We hope he learned his lesson and don't attack riders any more. Shortly afterwards a car drives by and a woman ask us if we have seen her dog. We ask us if she thinks that we have her dog hidden on our bikes.
On one of the last climbs we meet Peter again. Shortly afterwards the chain on Peter's bike jump off the largest RITZEL and stuck between RITZEL and spokes. Together we solve the problem too.
We stop one last time at a gas station in Falkland. We have only 73k to go to Kamloops!
Unfortunately Peter gets a flat tire on a really bad railroad crossing and have to change the tire. He is using sew-ups. Wim pull on so not to get cold. Shortly after Peter and I ride on I have to let him go, because I become hungry and I'm also bold of the everlasting strokes from the bad roads and all the terrific traffic. I stop again at the roadside to eat and drink something.
Finally approaching Kamloops after 1200k and arrive a bit later the finish line at Riverside Park with 87hours and 50 min. on the clock. I'm warmly welcomed with applause and I'm happy to manage a 1200k ride once again. At Heritage House my time is recorded, I get my medal and a wooden board for a personal souvenir which has to be made with my name and my time. I'm congratulated from all sides.
Wim is here since 45min. but is waiting for his van, which he has given to the support team for the period of the ride. We walk through the park having a drink. Peter came in just 15min. prior to me but he is already at the motel. I ask Sharon Street how to go to the motel without using my bike and she organizes a ride with her husband Roger for me. With the bike on the car I'm easily at the motel, get the room key and find Peter there. After a refreshing shower we have to go again, now by cab, to be in time for the Barbeque. There are a lot stories to tell during the BBQ and the general tenor at goodbye is: "see you next year in Paris". For all of us Paris-Brest-Paris in 2003 is on the calendar.
Next morning, it is Monday I wake up at half past eight with golfball-size bags under my eyes and identify me with difficulty in the mirror. Peter is already awake, had breakfast and is waiting for the guys from Seattle to give him a lift back. I don't want breakfast this morning so we sit with coffee in front of our room and chat a bit. After Peter has been picked up I lay down again, later that afternoon I take my bike apart.
Monday evening I meet Foster. We stroll chatting through Riverside Park and listen to the music from the bandstand. We drink a coffee and go to the Japanese restaurant to have sushi and then we go to an Irish pub and drink a coffee again.
Foster is a passionate coffee drinker; I learned that last year in Boston. While we strolled through Boston he stopped at every corner to have a coffee.
Tuesday morning I have to leave already. I have ordered the cab to the airport for eleven. When it arrives Wolfgang is already sitting in it. We say goodbye, as my flight is called-up, since he is going back via Calgary.
Vancouver is ruled by chaos, due to a computer breakdown all boarding cards have to written manually. Thereby we have a 90min. delay at departure. As I'm flying business class I don't stand at the end of the long line but with two people in front of me it takes half an hour to check in. I have a snack and something to drink at the lounge until the flight is called up. We arrive at Frankfurt after a calm flight at hot and moist temperatures. I prefer the dry and hot temperature in Canada.
As I have some time to spend before I go on to Duesseldorf I walk down to the lounge. I check my emails take a shower and eat and drink something then I have to go to catch my plane to Duesseldorf. There I'm waiting unavailing for my luggage. A friend picks me up and drives me home. My luggage is brought to my home the next day.
Looking back on it, it all seemed like great fun. Actually I rode just a little over 53 hours which meant that I spent nearly 35 hours off the bike, eating, sleeping, or playing tourist.
© Michael Koth