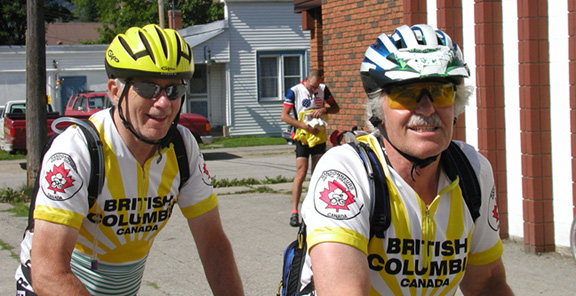 Gord and Manfred at Revelstoke in 2002 (908 km). Photo Doug Latornell
The Rocky Mountain 1200
by Gord Cook
As I sit here in front of the computer confused (my usual state) by the many memories that flood my mind and rather than have some clever opening paragraph I guess I'll just plunge in and hope that it all makes sense.
My ride with Manfred Kuchenmuller on his tandem started with the withdrawal from the event by another BC rando due to recent back surgery - obviously a valid reason. Manfred also had a valid reason to withdraw but those who know him also know he would have to be close to death to turn down the RM 1200. I was asked to accompany him on the tandem several months ago and I have to admit I vacillated between yes and no many times, although my communications with Manfred it was "maybe and probably". Since I could find no valid reason say no I said yes I finally said, "yes". And now, on reflecting, I'm glad I did.
The ride started at Kamloops going North on Hwy #5 to Tete Jaune Cache turning east on Hwy #16 to Jasper then South on Hwy #93 to Lake Louise. At Lake Louise we turned West on Hwy #1 to Salmon Arm then, via back roads South to Vernon. The final leg from Vernon to Kamloops was on back roads and Hwy #97 and back onto Hwy #1 to Kamloops for a total distance of 1204.3 km.
We decided to take the 10:00 PM start to take advantage of a longer period of cooler temperatures at that hour rather than the 4:00 AM start. It also gave us 90 hours rather than 84 to complete the course. With the sign in and the bike check complete we shoved off. Within a stones throw of the start we had our first flat tire. With the new tube in place we found the pump didn't work so Bob Boonstra went back to the start and borrowed a floor pump and got a small pump from Alex Whitfield to take with us which, thankfully, we didn't have to use. Luckily this all happened within the control boundary so support to the riders is legal according to ACP rules. Since we were last we would have been in big trouble if it had happened at, say, the 25 km mark. We then would have to wait about six hours for the 4:00 am riders to give us assistance.
The first 50 km or so went uneventfully but since Manfred is about 30 lbs. heavier than I it was difficult for me to properly captain the bike so he did the honours and I was to be the stoker for the remainder of the event. Our original plan was to swap ends every 100 km or so.
The first control was at Birch Island, about 10 km North of Clearwater on Hwy #5 and because it was called Clearwater control we were a little concerned that we had missed it when we had traveled well beyond Clearwater. It did, however, show up and needless to say we were relieved since I hate retracing my steps to find a control particularly on a long ride.
All went fairly well for the 443km to the control at Jasper but while trying to eat, Manfred felt very ill and the services of Dr. R. Prefontaine were put to use and I went to sleep for about three hours. Last rites for Manfred were not required and he subsequently recovered with a little sleep and nutrition and we carried on. We foolishly decided, because the weather at Jasper was good, we wouldn't need our rain gear. How wrong we were. About 25 km from the Columbia Ice Fields the rain was coming down rather hard and it was cold. We huddled at a trailhead in a small shelter for a while waiting for the rain to abate. The problem was that it was not abating and we were getting colder just sitting there. We made the decision to carry on to the Ice Fields Control and decide then if we should continue with the ride. Several years previously Manfred had been caught in a similar situation at this point in the ride and had suffered hypothermia, as had may others, and he was not willingly going to go through that pain again. This was probably his low point of the ride. My low point was yet to come.
The control at the Ice Fields was reached after a very steep climb up Sunwapta Pass. After eating and drying out our clothes under the hand dryers in the men's washroom (Randos are a resourceful bunch) we carried on in relatively clear weather. There were a few drops of rain but nothing serious. Saskatchewan River Crossing was reached and beyond that the serious climbing began. The climb out of S.R.C. is rather severe and according to Manfred there were a few more tough ones before we were to reach Bow Summit, the highest point on the ride at 2068 meters, about 6800 ft. While pushing forever up one of these smaller hills I ventured that maybe this was Bow, but Manfred didn't think so. Depressing to be struggling on a smaller climb with a larger one just around the corner. I spotted a glacier to the right and suggested it looked like the Bow Glacier and Manfred agreed it did. Maybe, just maybe, this is Bow Summit ascent. Michel Richard passed us a few moments later and confirmed that, "yes, this is the Bow", what relief for both of us. When we get to the top of this we have mostly down hill to Lake Louise. At Lake Louise we ate and departed for Golden. After a fast down hill past the spiral tunnels and across the Field flats it was into moderate ups and downs to the most dangerous part of Hwy #1, Kicking Horse Canyon. A rather fast descent ended with a grunt up hill and another descent then into Golden and food and a three hour sleep. We were 328 km from Jasper, our last sleep stop.
The next section to Revelstoke meant going up Rogers Pass and through snow sheds that are not the most pleasant places for a cyclist. We ate at the summit and had a pleasant descent into Revelstoke where it was VERY HOT! More food and an hour or so of sleep and it's off to Salmon Arm. A few km's out of Salmon Arm my left leg just above my knee started to give me trouble. By the time we reached the control I wasn't using it at all. More food and an hour of sleep and it was off to Vernon, a short 70 km leg via back roads. And speaking of legs, my left one was feeling not too bad, to start, but later started to give me pain again. These back roads very were pleasant to start with since there was little traffic, but when it got dark approaching vehicle high beams made it very difficult to see and my leg got very painful. This was my low point. I didn't see how I was going to make it to Kamloops from Vernon. So close yet so far. We had about four hours of sleep at Vernon, which is about 310 km from our last major sleep stop at Golden
I have learned from my years in Randonneuring that the later stages of a ride when late at night, tired and in pain things look bleaker than they really are and with this in mind I decided a go/no go decision after sleeping would be much better. And it was a go.
It took about 10 km along the route to Kamloops from Vernon for my left leg to go into pain again but with only 105 km to go I couldn't see letting Manfred down by quitting at this point nor letting myself down for that matter. We stopped at a small café in Falkland for more fuel and found that the Bag Balm we were using for sore bums had soaked right through our cycling shorts and when we sat on their upholstered chairs we left a grease spot. Oh well.
What is Bag Balm you ask? It's a preparation that is used on cow's udders to keep them soft and free from infection and it has the same effect on cyclist's posteriors. It doesn't, however, prevent soreness and even now, three days later, I'm careful how and where I sit down.
With the sore leg, sore butt, the ride to Kamloops was a long slog but it was brightened considerably by Bob Boonstra giving us encouragement while taking photos of the riders along this section. A few km's from the finish a car was parked along the highway and as we approached four people jumped out. It was Joe, Rainy, Sarah and John. What a lift. A municipal celebration was going on at Riverside Park where our ride terminated and the members of Kamloops Fire Dept. were greeting all who where attending. They were made aware of our presence and what we had done so were greeting all the riders as they came in - a nice touch. What a relief to be finished and because it was on three legs and two wheels it was a greater relief. Because Manfred donated two legs of those aforementioned three legs to the effort and me only one it's only fair to thank him for getting us to Kamloops.
I have a ritual that I do after a ride, it's not superstition, religious, however it can be called spiritual I suppose. I park my bike, dig out my control card, get it signed then open the back of my van and sit down and take off those damn cycling shoes I've worn for the past umpteen dozen hours and sit back, relax and savour the moment. I wasn't able to do that after this ride, but no matter, I was able to savour the moment with many others who had completed the ride also.
After a shower and a snooze at the Boonstra's we attended the wrap-up banquet and left for home. We were shown great hospitality at the Boonstra's both before the event and after and for this we say a heartfelt thank you.
The volunteers. What a great job they did! Typically, we would walk in the door; they would take our cards, sit us down at the table and ask us what we wanted to eat. They would then return with our cards all signed and deliver the food we had asked for. After eating they would show us where to sleep and as when we wanted to be awakened, then wake us at that hour and attend to our needs so we could depart. I take my hat off to the volunteers, without their willingness to help the ride would have been much more difficult. They did their job with as little sleep as the riders got, especially those at the later controls.
A ride of this magnitude doesn't happen without great organization either. My thanks to Danelle Laidlaw and her team of organizers for job done close to perfection.
Now, a note on tandem riding, I'm glad I did it even if our original plan of splitting the captains job 50/50 didn't work out, but would I do it again - no. There is little freedom to move around on the bike to relieve butt soreness - it increases the work of the captain. Since we had only about an hour together on the bike before the big one we had little time to practice standing while pedaling so again little relief for the posterior. When we did try to pedal standing I found it was additional pressure on the quads and after just a few meters they would load up on lactic acid and burn. It was also after only a few meters of standing we would be out of synch and we would be like a couple of drunken sailors staggering all over the place.
The following is a poem by Ted Milner who rode the back seat on a record breaking ride with this brother across Canada a number of years ago. This, fortunately, is not my experience riding with Manfred but could well be the result if the captain and stoker are not as well matched.
© Gord Cook