...yes, some additional miscellany & gossip - here's a brief, sometimes accurate, synopsis of the ride that I scribbled down on the night I got home from the event... (note: thanks to all of you who subsequently informed me about Othmar Altmann's win at the 2001 Furnace Creek 508.)
---
RM 12 In Short
by Eric Fergusson
On the first day a really nice guy named Lance slipped while adjusting his lights and cut off Ken Bonner - they both crashed and it looks like Ken has broken ribs. (Lance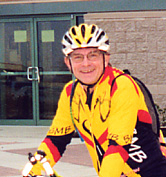 felt really bad about it later in Jasper when I saw him dealing with his own wounds.) One account I heard suggested that far from being upset with Lance, Ken got himself together and then encouraged Lance to get back on his own bike so they could continue riding together. In the end Ken finished in 57:22, only two hours off his record-breaking ride of two years ago.
On Day 2 rain fell on almost all the participants on the Icefield Parkway. Most of the rest of the ride was in the searing heat.
Somewhere after Revelstoke recumbent rider Richard Koch crashed. He was able to press on for a while but a little further down the road had to stop and was taken to the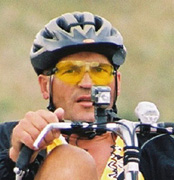 Salmon Arm hospital for medical treatment. But I guess DNFing doesn't come easy for Richard - with the help of Salmon Arm control captain Peter Mair, Richard found himself back at his abandon point still within the time limit, and eventually made the 200 km+ distance back to Kamloops with 90 minutes to spare (before needing more medical attention in the finishing control room.)
And speaking of courage, Barb Henniger battled collapsed neck muscles (I think), as well as the heat,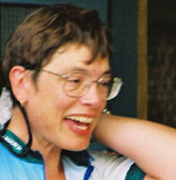 sleeplessness, a biting headwind, and a time limit that was biting even harder, to avenge her PBP 99 abandon. She was the last rider in - she finished with only a half hour to spare to heartfelt cheers and more than a few scattered joyful tears.
At other end of the field, some guy named Othmar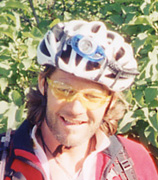 Altmann from Austria, whom nobody seems to know that much about, knocked the bottom out of the men's course record - with a time of 52:02 he manage to snip 3 and a half hours off Ken Bonner's 2000 record. The woman's course record fell even more dramatically - Nancy Pauw's time of 65:32 is almost 18 hours quicker than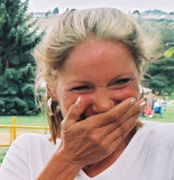 Sharon McCracken's 1998 woman's course record of 83:25. Despite this, Nancy was unable to catch her speedy husband Wim Pauw who was 5th finisher, 4 hours up the road.
The highlight of my ride had to be that moose I saw near Jasper. At long last I had finally come face to face with a magnificent example of this most majestic beast - a moment to remember. But it was a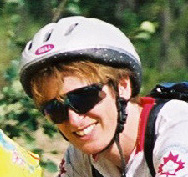 moment that was to be retroactively spoiled somewhat by Susan Leier who observed dismissively "Ya, we saw it too...it was just an elk". "They're a real nuisance in Banff" added Nancy. (Well I still think it was pretty neat.) By the way Susan Leier has announced her retirement from randonneur cycling. We were all sad to hear this, but later someone told me that this is just a ploy to help her negotiate a better contract. I guess we'll see in Zero 3.
July 29, 2002
---
Don Hollingshead: Photos 2, 3, 5, & 6
Dan McGuire: Photo 1
Unknown Photographer: Photo 4