Of Bears and Bikers

Personal Memories of ROCKY MOUNTAIN 1200 in July 2000
by Hubertus Hohl
ROCKY MOUNTAIN 1200 is a relatively young randonneur event in West Canada, which first started in 1996. It was held the fourth time this year from July 26-30th under the rules of "Randonneurs Mondiaux", a worldwide organization promoting long-distance cycling. Having participated at Paris-Brest-Paris in 1999, I got attentive to this long-distance ride, because corresponding invitations were displayed there. Since I looked for a similar challenge this year again, I was quickly determined to concentrate on riding Rocky Mountain 1200 this season. The announcement sounded very promising: many climbs and five major mountain passes up to 2000m altitude, spectacular landscapes and wildlife, besides deer, elk and moose also bears were mentioned. Hindsight, it's safe to say, these characterizations became true. But RM1200 also turned out to be a unique experience for several other reasons: meeting and riding with other randonneurs, getting excellent support on the route as well as mastering unforeseen imponderableness, which are typical for such an event.
The Route
Start and finish are set in Kamloops, the largest, but not very attractive city in the hot and dry interior of British Columbia, situated 365km north and east of Vancouver. In a large triangular loop, the route of 1210km runs through the Canadian Rockies of British Columbia and Alberta which offer breath-taking mountain scenery and wildlife to the riders. The first 300km of the route head valley upwards. The final 300km mainly traverse hilly farm country. The middle section of the route first passes through the heart of the Canadian Rockies, the glacier world of the well-known Icefields Parkway. Then, the route traverses Yoho National Park, Glacier National Park and touches Mount Revelstoke National Park; lonely wild-life reserves with evergreen forests, cyan gleaming mountain lakes and snow-covered peaks, which offer fascinating contrasts to the densely populated and often overcrowded European Alps.
Certainly, the two most challenging parts of the route are the long climbs to Columbia Icefield (2035m), an enormous glacier area 120km south of Jasper, as well as to Bow Pass (2065m), the highest point along the route. With 7865m total elevation gain the route appears relatively harmless at first sight - compared to PBP with more than 9000m -, but the distribution of the elevation gain on the chart below quickly shows that RM1200 is definitely not easier to ride from a physical point of view. While thousands of rolling hills are typical for PBP, RM1200 features some very long, but rarely steep climbs which cover large distances in elevation and which are interspersed with lots of descents and flat stretches. For European bikers touring the Alps this is a very new experience: While typical passes in the Alps usually master 1000m elevation gain with an average gradient of 8% or more in the course of 10km, the same elevation gain on a typical RM1200 climb requires a distance up to 100km long, but usually no more than 5-7% steep in the ascending slopes. Also, due to the downhills on this distance, up to 500m elevation loss are mastered additionally. Comparing the descents, similar considerations apply.

[Rocky Mountain 1200 elevation profile]
In the afternoon of July 26 registration and bike check take place in a recreation building in Kamloops. I meet a colored mixed field of participants with some well-known faces. 39 riders from 6 nations, 2 women and 37 men, present themselves: 12 Canadians, 17 Americans, 2 British, one Dane, one Australian and 2 Germans. I have met the other German rider, Andy Wimmer, at the 600k qualification brevet in Vienna. Andy is a young rookie who never did a 1200k event before. He is nonetheless in good shape and appears not at all exited. Stig Lundgaard, a young Dane, already participated in the Scandinavia 2000k this year and intends to also ride Boston-Montreal-Boston in August; in truth an extraordinary performance. 10 riders are "repetition culprits" who have already completed the tour up to 4 times.
Old Jack (Jack Eason) is here, too. At 73 years he is the oldest rider, an Englishman on an ancient, frog-green painted steel horse with a big fanfare horn. Old Jack is an old stager in the randonneur scene. He has already completed over two dozen 1200km events. With his age, his experience and his staying power, he surely is a model for many younger riders. Another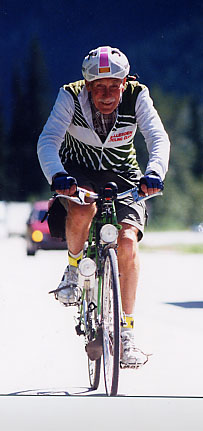 Englishman enters the ride in classical British style with a rigid rear wheel hub. Most other riders are conventionally equipped, many are using aero-handlebars which are permitted. For this route, aero-handlebars provide a very meaningful relief on long descents and flat sections.
Bike inspection and registration run without problems. Danelle Laidlaw, who organized this tour with great devotion, hands over my control card and the route sheet. I decide to start next morning at 4.00am, so do 17 other riders. I also deposit 3 supply bags, which are transported by the organizers to three freely selectable checkpoints along the route. Contrary to PBP, RM1200 is a "full board" event: showers and sleeping accommodations as well as refreshments and warm meals at the control points, bag drop service, the traditional post-ride party and commemorative plaques and medals for the finishers are all included in the registration fee (Can$ 250-300).
I can recognize by the labelled bags that most riders deposit their bags at three indicated checkpoints which offer adequate sleeping accomodations: at Jasper (km 455), Golden (km 783) and Salmon Arm (km 1035). Therefore, Danelle is surprised when she notices that my first bag is already intended for Tete Jaune Cache (km 338). Anxiously, she suggests that sleeping just after 300km would be too early to complete the event in time. Of course, she is quite right, but I plan to master the route according to the following personal strategy: Based predominantly on completely balanced liquid nutrition, mineral drinks with lots of carbohydrates, supplemented by additional meals at some checkpoints, I intend to cut the route into 4 sections of equal length (approximately 300km) and to deposit my bags at the corresponding controls: at Tete Jaune Cache (km 338), Columbia Icefields (km 571), and Revelstoke (km 933).
After the race, Danelle told me groaningly, how she knew immediately that she had one of my bags in her hands: these were definitely the heaviest ones! Well, that's not astonishing, because I have put the complete ration for the next 300km section in each bag: 1.5 liter of mineral water and 2-4 bags of powder for mixing mineral drinks, 11 cans of EnsurePlus (a liquid nutrition with 355 calories per 235ml), 5 PowerBars, 3 cans of Coke, honey cake (for me, not for the bears), various clothing to change and for cold and rainy conditions in the mountains. I knew that I would hardly need the whole food and beverages, but you never can tell... My bike is loaded with a frame bag containing 4 cans of liquid nutrition, some bags with mineral powder and PowerBars, with a water bottle filled with three more cans of liquid nutrition, with a second bottle containing mineral drink, with a large saddle bag containing extra clothes, and with a handlebar bag stuffed with various other things, such as a Petzl headlight, a reflective vest, a rain jacket, etc.
I plan to take the first sleep break after two sections at Columbia Icefields. Furthermore, the maxim applies: adequate sleep each night (approx. 3 hours), no hurry at the checkpoints, sufficient time to talk with other riders and with the volunteers who care for us. Being in the Canadian Rockies for the first time, I want to enjoy this ride and the breath-taking landscape as much as possible.
Reasonably almost all riders come without a support crew. Only two or three riders completely rely on a crew, among them Ken Bonner, the later winner, who wants to beat the current record time. Surely, you can ride faster with the help of a crew by minimizing the load on your bike and the rest breaks. Nonetheless, I think that support vehicles are generally unnecessary for this event in the presence of the complete service at the checkpoints and the bag drop possibilities.
While Andy and the other 10.00pm riders prepare for their start, I am trying to find some sleep in my pickup camper. Getting up at 3.00am, an amazingly warm western wind blows with 20 C, so that I don't need to put on my arm and leg warmers. After a short briefing into the route and some advice on dealing with wildlife, especially bears, we punctually start at 4.00 o'clock. We are still joking about the bears, although we all probably feel a bit ticklish to encounter one of this species, particularly at night. In principle, bears are very shy animals which avoid human beings. I didn't encounter a single bear the week before, when I toured some national parks with my camper and my bicycle. But soon, this should change...
The first section: Kamloops - Tete Jaune Cache (km 338)
The first 338km of the route follow the North Thompson River up-stream on Highway #5. This mighty river forces its way through a lonely valley with evergreen forest. No building, no sign of civilization within many kilometers. Just endlessly long freight trains drafted by the powerful redbrown diesel engines of the "Canadian Pacific Railroad" which runs parallel to the highway, drown the rustling river. After a few kilometers, a group of four riders constitutes to make a fast pace towards

Clearwater, the first checkpoint (km 122). Periodically, we are changing lead position, so time goes by quickly. Suddenly, 6 kilometers before Clearwater I discover a sneaking flat in my rear tire. It is of no use going on, so I let go the other riders who want to help me and start replacing the tube. Fortunately, the cause of the puncture is quickly found: a piece of wire from a damaged truck tire has pierced the tire tread. Unfortunately, such remains are encountered frequently on the shoulders of Canadian highways. Since I carried only two spare tubes, I now decide to buy another one as soon as possible.
My stop at the first checkpoint in Clearwater (the parking lot of a closed gas station) is very short: mixing a Gatorade drink, filling up a water bottle, and I am back on the road again. After a few kilometers the first raindrops touch my skin. I am riding straight into a threateningly black rain front spreading the whole valley. Although it's raining it remains relatively warm (18 C) and calm, so I can make a fast pace - mostly alone or chatting with some riders who I pass. The second
checkpoint, a motel room in Blue River (km 228), not only offers refreshments (bananas, cookies, juice, water) but also pasta out of the microwave. Short of the third checkpoint in Tete Jaune Cache (km 338), it stops raining. The rest of the day it should remain dry with temperatures around 20 C. Now, the North Thompson valley broadens and uncovers an impressing view of snow-capped mountain ranges standing up to both sides of the valley. The route running straight towards Tete Jaune Cache for the last kilometers has reached its most northern point here. It now turns south-east on Highway #16 entering the Rockies over Yellowhead Pass towards Jasper.
As I enter the checkpoint at 3.00pm, Ken Bonner who is on his way towards Jasper goes by with a wave. Ray Wagner, another rider of our initial group is already sitting in the motel room. I am looking forward to my first bag that is dropped here. The smiling volunteer who maintains the control is awfully curious about the contents of my bag which is so heavy. While packing my bike with a new load of liquid food and PowerBars, I explain my personal nutrition strategy. Nevertheless, he seems to be a bit disappointed that I prefer my liquid nutrition to his warm plate of pasta.
The second section: Tete Jaune Cache - Columbia Icefields (km 571)
The climb over Yellowhead Pass towards Jasper promises to be more strenuous but also more varied than so far. As I climb the first ascending slope out of Tete Jaune Cache, a stormy wind is blowing down the valley. The road is stepwise winding up the valley. Gradual ascents are interrupted again and again by flat stretches of road along the joung Fraser River. Then, the route enters Mount Robson Provincial Park. The entrance to the park is marked by the well-known stone monument with the white mountain goat pointing to Mount Robson, the highest peak of the Canadian Rockies (3954m). Unfortunately, as so often, Mount Robson doesn't show itself. Only the huge lower part of the clouded giant whose peak is covered with glaciers is visible. Yet this view is very impressive. I feel rather tiny on my bike in view of the giant standing up into the clouds.
Somewhere at Moose Lake I pass Old Jack who is slowly but steadily struggling for the summit. I encourage him and start catching other 10 o'clock riders who are appearing now and then ahead of me on the long straight stretches of the highway. Meanwhile, the sun is setting and only few vehicles are on the way. Suddenly, one hundred meters ahead of me a huge dog with bright pitch black coat appears trying to cross the road. Queer, I think, Canadian dogs seem to be much bigger than European ones. I have never seen such a big dog in my whole life. Like a blow, I realize that the dog in fact is a grown-up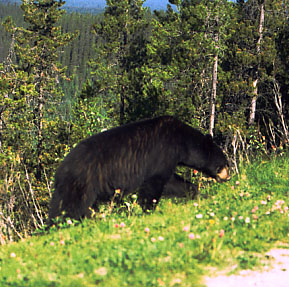 black bear. I slow down and stop, thinking of the rules that were told us in case we should encounter a bear: stay calm, talk to the animal, back away slowly, but don't run. The bear is observing me but doesn't dare to cross the road. Maybe he is just figuring out whether the species "skinny German cyclist" rather belongs to the "eatable" or "uneatable" category of food. But it seems the bear is more afraid of me than I am afraid of him. However, I just don't feel like passing by this muscle-packed animal, turning round is maybe the better choice. Still undecided what to do, a noisy car rushes by, the bear quickly turns and in big leaps races into the near wood. Alleviated, but also euphoric, I pedal as fast as I can. Wow, my first real bear in the wild! This is precisely what makes Rocky Mountain 1200 such a thrill. Some hundred meters further along the road, I can see a family calmly picknicking on a parking lot at the roadside. If they knew...
The Yellowhead Pass itself (1130m) is undistinguishedly embedded into a broad wooded valley with deepgreen mountain lakes. Just a sign marking the continental divide between Atlantic and Pacific ocean indirectly points to the summit. The Yellowhead Pass marks the border between British Columbia and Alberta. Also, the time zone is changing now to "Mountain Standard Time", one hour ahead. However, since all time specifications on the tour are generally based on "Pacific Standard Time", I don't need to put on my clock. Shortly after the summit, I am passing the entrance into Jasper National Park. There is a Can$5 per day charge for entry into the park, even for cyclists. The following descent down to Jasper is rather unproductive. The summit is only about 100 meter elevation above Jasper.
Located a few kilometers east of Jasper, a log-house made available by the park wardens is used as a checkpoint. Andy is totally surprised when I arrive at 7.25pm. "You are really a beast!", he is shouting, shaking his head as I confess having maintained a pace of nearly 32 kilometers per hour for the first 455 kilometers. Andy, having arrived one and a half hour ago intends to sleep in the lodge till 2.30am. So do the other 10 o'clock starters. Likewise, they declare me crazy as I intend to climb Columbia Icefield just after a short break. But I am used to being considered crazy, so I don't care much. My PBP experience last year showed me that after 15 hours riding time I am still too chirpy to sleep well to some extent. I suppose, Danelle would have preferred me taking a sleep break at Jasper, too. So now, she must drive to the cefield just to deposit my bag there. As I come to know later, Brian Leier, Ken Carter and Arvid Loewen who arrive at the lodge shortly before my departure, are also determined to ride up to the cefield at night.
In the meantime Ken Bonner leaves the control. He assumes that I will be heading out soon, but I want to make a longer break to relax, talk with other riders, fill up my glycogen stores, mount my headlight, and put on arm and leg warmers. It should be the last time on the tour that I catch sight of Ken. I eat a warm plate of lasagne and mix an obligatory drink with Gatorade powder which is available at all checkpoints. One and a half hours later, I'm ready to start. Bob who accompanies the riders with his heavy motor-cycle informs me about the weather conditions on the way up to the icefield. Meanwhile, dark clouds have gathered threateningly over the mountains in the twilight. But Bob thinks that it won't rain at night. And I should not be afraid of bears, he laughs, unless they are lying in wait for me in the bushes. And so I'm heading out on the 120km climb into the rising darkness.
Bob should be right. Except for some faint-hearted raindrops it remains dry. The bears too all seem to have gone to bed meanwhile. It should be a silent night ride up to the glacier. Shortly after Jasper, I am virtually alone on the highway. Hardly encountering cars that might dazzle me, I soon find a steady rhythm to climb the gradients along the Athabasca River. The night ride becomes varied because of the many signs marking attractions along the parkway. In the light of my headlamp, I can read signs pointing to Athabasca Falls, Sunwapta Falls, and Stanley Falls. Hearing the rustling water, I try to picture the corresponding scene to myself. So, time is passing quickly. At some time or other, Bob appears on his motor-cycle stating that I would still be doing very well. But, for some time I'm experiencing problems with my left knee. While extending my leg strain occurs in the outer tendon at the knee, especially when going out of the saddle. By increasing cadence and applying less force to the left pedal, I try to relieve my knee. However, although endurable, the pain remains. Anxiously, I wonder whether I have ridden the first 500 kilometers too powerful, but I never ever experienced strain like this before. I hope that the problem goes away of itself when taking a sleeping break at Icefield.
At midnight, half-way to Icefield, I pass a luxury and brightly illuminated lodge at Sunwapta Falls. Obviously, this lodge is the only inhabited place between Jasper and Icefield. I dispose of my empty cans of liquid nutrition and pedal on. Now, the parkway is stepwise winding up the valley. At some exposed places an astonishingly warm wind is blowing down the mountains. Suddenly, a short 10% grade appears blasted into the rock and the road sweepingly turns into a stony and windy high-lying valley hosting Icefield Centre (1985m), a huge building with restaurants and shops that serves as a starting point for guided tours onto the glacier. Unfortunately, it's so dark that neither Columbia Icefield itself nor its large tongue stretching out the basin of the valley are visible. Now, the planned sleeping break comes in handy, so I can cast a glance at the glacier by daybreak.
Riding through the huge but empty upper parking lot for buses at 2.40am, Danelle and her volunteers already await me with a warm plate of pasta inside the warm lobby. At this time of day, the lobby is empty except for some scrub women. As Andy tells me after the tour, the situation is totally different at 9.30 in the morning when he arrives at Icefield Centre. The parking lot is fully occupied and the lobby is crowded with Japanese tourists who are waiting for a bus trip on the glacier.
Wrapped up in a blanket, I lie down on a wooden bench inside the lobby. Fortunately, I have put some spare clothes and some foam pads (intended to be wrapped around the saddle in case of saddle sores) into my "Icefield" bag, so I can stuff the hard bench a bit. After 571 kilometers and exactly 20 hours riding time, I fall into a broken sleep...
The third section: Columbia Icefields - Revelstoke (km 933)
My body clock wakes me up shortly before 6.00am. I slobber a warm plate of oatmeal porridge offered by the volunteers and prepare myself for the second half of the tour. It is drizzling outside. Low clouds are covering the glacier's front which has taken on a dirty gray hue. I'm a bit disappointed because I have expected a more impressive view of the icefield. However, the huge and magnificient snow-white glacier can not be seen from the Centre even at good sight. You have to make at trip on the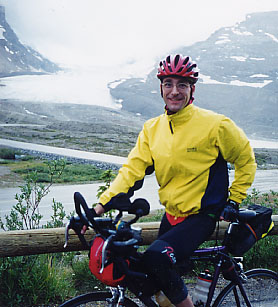 glacier with one of the special buses. All the well-known picture postcard motives of the glacier are taken from a higher point of view, too.
Dozing on a wooden bench next to me, Bob is astonished to see me yet. He thinks that I'm already off and away because Brian and Arvid who arrived some time after me, have already left the control without any longer sleep break. Telling Bob, that I absolutely wanted to see the icefield at daylight, he spontaneously takes a picture of me in front of the glacier scenery.
After riding some hundred meters the already forgotten pain in my knee becomes perceptible again. I'm rather frustrated. While passing Sunwapta summit (2035m) I ponder over the possible cause of the pain. Suddenly, I remember having glued a 2mm thin tape onto the inner part of the sole of my left cycling shoe two weeks ago. The tape should keep the insole in a fixed position. Immediately, I stop and remove the tape. And behold! The pain disappears like a blow. Apparently, the tape caused my left foot to tilt a little bit outwards. So the outer tendon of my left leg has been overstretched, causing strain after 500 kilometers. It is astonishing again and again how painful effects can be caused by minor modifications to shoes, saddle position, etc.
Relieved I start descending into a huge canyon. The road is winding down the rocky walls into the broad valley ground of the Saskatchewan River. After 50 kilometers at Saskatchewan River Crossing the river breaks eastwards through the mountain chain into the extensive plains of Alberta. Time and again I meet small groups of rider on their way going by with a wave. I assume, they belong to one of the organized Parkway bike tours offered by some local promotors.
At Saskatchewan River Crossing, the road is ascending southwards towards Bow Pass (2065m), the highest point along the route. This 36km long climb is particularly insidious. From a distance the summit seems to be located on a wooded pass apparently near at hand. However, approaching the presumed location I do not gain any considerable elevation. My altimeter oscillates at 1600m. The climb is dragging on and I am desperately looking for the summit which must be 400m higher. Finally, a few kilometers before the pass, the road is steeply winding up to its highest point, a sparsely wooded top. On this section I pass Arvid who seems to live through similar experience. Apparently, he is not in a good shape. He hopes to regenerate on the following 43km long descent down to Lake Louise Village (1535m). Arriving at the top, the magnificent view of picturesque Bow Lake and Bow Glacier compensates for the trouble. In wide curves the road is going down to Bow Lake, following Bow River down-stream along the main range peaks, passing the huge Crowfoot glacier, touching lonely turquoise lakes hidden in the evergreen forest and idyllically situated campgrounds with characteristic names, such as "Mosquito Creek". Shortly before the village, the majestic mountain chain surrounding Lake Louise, one of the most visited places in the Rockies, comes into view. Now, after 700km, the route turns westwards onto the Trans-Canada Highway.
Having rested for half an hour at the checkpoint inside a recreation center, I suddenly remember that I wanted to buy a second spare tube after my flat. The Trans-Canada Highway with a lot of commercial traffic especially seems to be suspectible to flats. To be on the safe side, I decide to buy a spare in a nearby bike shop. I am just entering the shop when one of the volunteers of the control who followed me hands over a spare tube. Arvid, who shortly arrived after me, carried one in his bag for Lake Louise. An obvious idea that I have overlooked entirely when preparing my bags.
Meanwhile it has become noon. The sun is burning big holes into the cloudy sky. Temperatures are pleasant around 19C. The next section to Golden (km 785) promises to be easy. A short and harmless climb to Kicking Horse Pass (1645m) is followed by a fast descent into the heavy wooded Yoho River Valley leading to Golden. However, traffic has increased noticeably. Many heavy trucks are passing by with a pace of 100km/h and more. Fortunately, there's a very wide and smooth shoulder I

can ride on, so I feel quite safe. Compared to the busy and fast paced Trans-Canada Highway, the Icefields Parkway represented an oasis of silence in the midst of cars and motorhomes pleasantly chugging along.
The steep descending slope of Kicking Horse Pass is announced by a "brake check zone". Heavy trucks exceeding a certain total weight must check their brake systems here before crawling down long and steep slopes with the warning flasher turned on. The Canadian Pacific Railroad which runs parallel to the highway spectacularly surmounts the difference in elevation by means of two spiral tunnels. The long freight trains can be observed leaving the tunnel at one side while the other end still enters the tunnel one hundred meters below in the opposite direction.
Some kilometers before Golden one more sign pointing to a brake check zone appears. The road is descending into a narrow canyon with vertical rocky walls. Deeply down below the railroad is twisting through tunnels and bridges along the valley floor. After traversing two bridges at the valley floor the highway is rising again. Unfortunately, there is no shoulder on this narrow stretch of road. I am forced to climb in the lane drafting a long queue of vehicles. Fortunately I am prepared for this sinewy situation since I travelled this section with my bike the week before the race. Shortly afterwards a great view of Golden and the Columbia River opens up. I can easily find the checkpoint in Golden following the big yellow "Tour BC" signs that have been set up by the organizers around all controls.
As I enter the recreation center in Golden, nobody seems to be present at first sight. Then the nice and drowsy volunteer who had a bit of shut-eye in her sleeping-bag appears serving me a warm plate of pasta. It is evident that this event demands a great deal of energy and lack of sleep not only from the riders but also from the volunteers. Sometimes there are 24 hours difference between the first and the last rider at a control. So many volunteers will not get a wink of sleep all night.
She informs me, that the first and second rider, Ken and Brian, are three and a half hours and one hour ahead, respectively. Meanwhile, the temperature is much warmer around 25 C, but the weather in the Columbia mountain range which must be traversed in the next section doesn't look well at all. A huge black rain front and a strong squally headwind point at heavy rain in the mountains. Nevertheless, I decide to tackle the 150km section over Rogers Pass (1330m) to Revelstoke and to set my mind on a rainy nightride. My traveler's guide states that the area around Rogers Pass in the Glacier National Park is noted for heavy rain even in summer. Statistically, it's raining or snowing 3 out of 5 days all the year round. Unfortunately, I seem to have caught exactly one of these rainy days. But staying in Golden is not a good alternative. It is not before 4.00am and my next bag is waiting for me in Revelstoke. So I set out quickly.
A few kilometers after Golden it starts raining steadily. I make a break to put on my rain gear. At least, the tailwind abates now. After a short time I'm dripping with water and dirt squirted by passing trucks on the busy Trans-Canada Highway. After 30km a series of four long grades leads the Highway over a wooded mountain-ridge into the Glacier National Park which is on Pacific Time again. Because of deep clouds and continuous rain I can not see much of the scenery. Then a sign and an open avalanche gate point to the final climb to Rogers Pass. This is a 6km long slope of 8-9% gradient without any noticeable curves. Some tunnels protect the road which is suspectible to avalanches in winter. Fortunately, the wide shoulder continues inside the tunnels, so they can be easily traversed even though the infernal noise of passing trucks is rather sinewy. Moreover, the second tunnel is bent in a smooth s-shape curve so I'm totally surrounded with darkness for a short time.
When reaching the Visitor Center at the pass around 8.15pm, it is not too cold with temperatures of 12 C. The area is like a ghost town. The center is already closed. Even the Columbian Ground Squirrels which usually pose on the grass in front of the center during the day have disappeared. Mounting my headlamp I set out for the 70km long descent into Revelstoke. Actually, the first 20 kilometers form a high speed descent into a deeply cut high-lying valley crowned by beautiful glaciers. But after some meters it is obvious to me that this descent will become very difficult today. It has become dark and the still strong oncoming traffic dazzles me, so I cannot see the road in front of me in the pouring rain. Actually I'm blind flying, because the light of the cars is reflected and broken by the raindrops on my glasses. For a moment, I strongly consider riding back on the pass to stay in the Best Western Lodge overnight. But then I decide to crawl down carefully. Fortunately, the oncoming traffic weakens more and more and it stops raining with time. Suddenly, I notice a very loud, clicking noise emerging from the real wheel hub or bottom bracket with every revolution of the crank. Great, I think, an irreparable fault in this god-forsaken region - it only wanted that! I must remember the 600km Vienna brevet in June, where I had to carry out the second 300km with just one sprocket available (17 or 19) because of a broken spring in my right-hand Campa Ergopower lever. But I made it amazingly well at that time, thus I decide to simply ignore the noise and its possible causes. Courageously, I keep stepping into the pedals, clack, clack clack... Actually, it helps: after a sinewy hour the noise is gone all of a sudden. I reach Revelstoke without further problems briefly before 11pm.
In the Canyon Motor Inn Motel I see Brian's bike standing on the thick filled carpet in front of room #24. I place my dripping bike near it. Peter and Mejbritt, the Danish girl friend of Stig Lundgaard are waiting for me inside the room. Brian is already sleeping in one of the beds. After having a great hot shower, I am very glad to slip into new and dry cycling clothes out of my bag. After having a warm plate of Lasagne, I decide to sleep for 3 hours. Peter communicates to me that Brian will already set out at 0.30am. Dozing off, I can hear Arvid arriving. Because of a wrong turnoff, he spent a lot of time trying to find the motel wandering around the deserted village. Besides me, Arvid is the only rider who dared to descend from Rogers Pass at night. Another rider abandoned the descent after some kilometers and turned around to Rogers Pass to stay in the Best Western Lodge overnight. As I get to know after the ride, all other riders stayed in Golden overnight. As Andy tells me later, the night was not very comfortable because the mats were extremely hard. He even things that he was absolutely shattered in the morning and much more exhausted than before. To compensate for the uncomfy night he could enjoy traversing Rogers Pass the next day without any rain in bright sunshine.
Shortly before 3.00am, I wake up. Arvid already prepares for setting out. We are served an excellent breakfast. In the meantime, Peter has covered the floor under our bikes with plastic foils to preserve the carpet. As I notice but now, Peter and Mejbritt have spent the night on the floor, since we had occupied the beds...
The final section: Revelstoke - Kamloops (km 1210)
When crossing the large steel bridge over the dammed up Columbia River, the road is still wet. The next section on the Trans-Canada Highway is mainly rolling hills interspersed with two larger ascents towards Salmon Arm (km 1035), a small town at the Shuswap lakes. The road is not much frequented at this time. I keep a quick pace that Arvid does not want to follow. So, soon again I am alone on the way. The route leads by a wooded valley along the transcontinental railroad connecting Atlantic and Pacific. Aside from two strange and kitschy attractions at the roadside, a ghost town at Three Valley

Gap and a fairy tale garden called "The Enchanted Forest", the area appears unaffected and lonely. Suddenly, 60km after Revelstoke, the route leaves the highway, turning right over an open crossing onto a small by-road with rough surface. Now, the route idyllically runs along some nice properties in the valley. I am wondering about this bypass particularly since the route sheet shows that this road will join the highway again 12 kilometers farther at Sicamous. Actually, the only reason seems to be a secret control somewhere along the by-road. But this control does not show up. As Danelle ensures me afterwards, she indeed planned a secret control here, but it had to be cut out because of a lack of volunteers.
Leaving Sicamous, the view opens onto Shuswap Lake and Mara Lake, which is bridged by the highway in its narrowest place. In the morning-grey, a multicolored variety of boats are resting in the harbour. Water sport activities seem to be very active in this region. The highway now runs in the forest above the lakeshore up to the bay of Salmon Arm. A two kilometer long section of road is freshly surfaced with asphalt and therefore must be passed on a gravelled surface. Arriving in the bay of Salmon Arm I fancy that the next control is very near. However, the town is located at the other end of the bay, without a direct connection. Turning landinward, the highway is endlessly running dead-straight uphill. Finally, a sharp bend and the hilltop is passed opening a great view on the town and bay of Salmon Arm. Shortly before 7.30am, I arrive at the control in the recreation center. Filling up my water bottles and inquiring about the weather in Germany (the volunteer had visited Berlin the week before the tour), I soon set out again.
The sky is cloudy and temperatures are around 15 degrees Celsius as I head towards the last control in Vernon (km 1093). On a small bypass road through the outlying districts of Salmon Arm, I have to master some heavy roller coasters reminding me of the streets of San Francisco (especially the very steep climb to the fire station). Finally, the route is descending on Highway #97b down into the upper parts of the Okanagan Valley, a long valley spoiled by sun which forms the fruit and wine garden of British Columbia due to the warm southern winds from the gulf of Mexico.
In the meantime it has become very warm and sunny with temperatures around 25 degrees Celsius. Except for a short bypass, the flat route is following Highway #97a towards Vernon. The last kilometers are travelled on a quiet side-road that leads to the control inside a youth hostel. Since I can not find the control much as I'd like to, I turn an additional two kilometer long lap of honour around it. That's because of the fact, that I am fully fixated on the yellow Tour-BC signposts. Unfortunately, they seem to have run short of signs right here. The last reference to the control has been placed on a sheet of paper attached to the motor hood of a car standing in front of the youth hostel. Too bad that the sheet of paper has flipped over, so I could not recognize the red lettering "Rocky Mountain 1200". So finally, I am rather desperately dependent on a passer-by who shows me the right building which I have passed already three times. I am glad to discover traces of bike wheels in the gravel of the entrance leading me to the back of the building.
I am completely surprised to meet Brian there who is just leaving. Since he had left Revelstoke almost three hours prior to me, I fancied him already off and away. While Brian drives off, I make myself ready for the last 117 kilometers. Meanwhile, it is so sunny that I decide to apply some more sun lotion. After 20 minutes break, I also tackle the last section of the tour.
The route follows Highway #97c on a less frequented side-road over a hilly terrain down into the valley of the South Thompson River. Meanwhile, my hunting feaver is aroused. I figure out to close up to Brian on the last 100 kilometers if he maintains his pace. Although the hilly farm land is very beautiful, I'm troubled by the extremely rough surface of the road which shakes my brain out of my head and lets my legs shake like jelly. Additionally, I can not ride on the shoulder which is covered with loose gravel. So I'm forced to balance on the white lane marking. After some time I discover that the road is less rough approximately one meter to the left of the marking. Here, a smooth trace has been formed by the car tires. From now on I keep riding in this trace. The result is a wild honking concert of the overhauling car drivers. They don't get that the shoulder is not passable by bikers. Cursing the honking drivers I fly along on my aero-bars supported by a light tail wind.
Reaching Falkland, the first larger settlement, I see Brian's silvercolored bike out of the corner of my eyes standing at a Petrogas station. He must be very exhausted to have another break so close to the finish. I'm decided to go on without further breaks keeping my rhythm. Shortly after Falkland, the road climbs up to Monte Lake, a beautiful lake that is nicely embedded into a poor wooded high-lying valley. Here, the speeding abruptly ends. Entering the valley, a strong head wind blows into my face. I struggle to maintain a 22km/h pace on the road along the right lakeshore. Ardently, I'm awaiting the descent down to Monte Creek in the South Thompson Valley. But I have to wait some more time for this descent. Eventually, after many smaller ups and downs a fast downhill leads me to Highway #1, a four-lane motorway that I follow westward towards Kamloops. Dry heat awaits me at the valley floor. I'm glad that I didn't fill up my second bottle with liquid nutrition as usually but with mineral drink. Because of the heat I have to fall back upon this bottle now. Fortunately, it is very calm and hardly anyone uses the highway around midday. The finish could almost be touched but I still have to ride 25 flat kilometers on the wide shoulder of the highway. Keeping a fast pace of 35-40km/h, the close finish sets free some extra energy. But the more I approach the finish the more I'm alarmed for the condition of the shoulder which is scattered by remains of damaged truck tires. Apparently, nobody ever clears away these scraps of tire. To avoid a flat on the last kilometers, I am weaving between the malicious obstacles.
Finally, after 1214 kilometers I reach the center of Kamloops at 2.20pm. Suddenly, all strain has completely disappeared. Turning onto the parking lot at the recreation center, Danelle welcomes me with her camera. She is surprised because she expected Brian to finish second. Whacked, but very happy I sink into a chair. Hastily, I take off my shoes which have pinched heavily on the last 100 kilometers. About 20 minutes later, Brian arrives. He is likewise surprised to see me already here. He didn't realize that I passed him at the gas station in Falkland. A good hour later, Arvid shuffles in, also whacked but happy. After exchanging our personal experiences and impressions during the last two days, we open ourselves up for the cold shower much longed for and the well-earned sleep.
Epilogue
Ken Bonner succeeded in setting up a new course record with 55:37 hours. Actually, he rode the tour nearly without any sleep breaks (except 40 minutes in a ditch at Monte Lake, where Danelle had to wake him up). This is a very impressive performance for someone who is approaching the 60ths. I finish second in 58:20 hours, including 44:30 hours riding, 6 hours sleep breaks and nearly 8 hours of other rest stops.
Andy finished his first brevet of 1200km courageously within 74 hours. He also gained his own special experience, had to deal with problems with his back and a hard mat, however, after all he was as enthusiastic as I and enjoyed the tour. Old Jack who participated the first time in RM1200 completed the ride in 86 hours. Only 4 out of 39 participants didn't finish, all others completed within the official time limit of 90 hours. And Danelle will be going to ride the tour next time too - she has enough of driving around the route.
After the ride I was often asked how RM1200 compares to PBP. Tougher or easier? Thinking of the big climbs and potentially extreme weather and road conditions, my spontaneous answer always was "Tougher!". Well, actually a more general answer could be: "Very different, but just as unique as PBP!". PBP is a social event of thousands of riders from all over the world, accompanied by enthusiasm and applause of spectators along the route, but also characterized by anonymous service at the checkpoints with partially dubious boarding. As opposed to PBP, RM1200 is a great adventure in a wild and breath-taking scenery, familiarly and well organized, no spectators along the lonely route except bears and other wild animals, and weather and driving conditions can always be severe. Therefore, careful preparation and planning is necessary: Contrary to PBP, I would not advise anybody to sleep in the open except for any unforeseen emergency. This year, the tour was favoured by good weather on the whole, in 1998 continuous heat prevailed, in 1997 it rained for 3 days and they had cold and snowy weather in the mountains.
My food supply strategy was successful, although especially the liquid food was too abundant. I used only 5-7 cans on each section out of 11 cans per bag (plus one can consumed immediately at each control). Thus and because of the warm meals at the controls, I could completely do without the PowerBars I carried along.
The traditional after-ride party given by the Blairs, a local randonneur couple, perfectly closed the event. In their elegant estate in the mountains overlooking Kamloops we could talk about the ride and exchange personal experience. The pictures Bob had taken on the tour were available as personal souvenirs. Every finisher was handed over a medal or pin by Réal Préfontaine, the President of Randonneur Mondiaux.
Finally, I hope my personal report encourages more European randonneurs to also participate in RM1200 sometime. For me, it was an unforgettable event embedded into a great vacation trip travelling West-Canada by motorhome.
Credits
First of all, many thanks to Danelle and all the volunteers who assisted us at the checkpoints and on the road. You did a wonderful job that made my ride very easy and relaxing! I hope there is no weight restriction for the bags next time because of me.
Congratulations to all the riders who finished RM1200 and - I hope so - also enjoyed it.
Special thanks to the brevet organizers Karl Weimann in Northern Franconia, Jürgen Amann in Munich, and Klaus Bäumel in Vienna, and to all the participants of these rides. I enjoyed their brevet series which helped me prepare optimally for RM1200.
Last but not least grumpy thanks to my bear at the Yellowhead Pass who helped this story to get its title.
Copyright © 2000 Dr. Hubertus Hohl
---
PHOTO NOTES: All photos (except the #4 - the bear) were taken by Bob Boonstra, July 27-30, 2000. Photo 2 is of Jack Eason. Photo 5 is the author. Photos 3, 6, and 7 do not have a direct correlation to the text. The inclusion of the bear photo, photo 4, is fanciful - it is not Hubertus' bear. The photo was taken on the Rocky Mt. 1200 route on the first year (1996) by Harold Bridge.