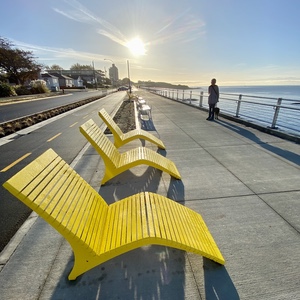 Announcing the Van Isle 1000: The Bridges and Ferry Tour
Ride Dates: August 13-16, 2022
by Gord Litster - Ride Organizer
Additional Info on Van Isle 1000 Website
ROUTE DESCRIPTION- This route has been designed to take in the best road cycling on Vancouver Island. We have been working on this route for about a year now. Tonight, as I was writing this article, I got a phone call about a 14 km stretch of new pavement (28km) as it would be an out and back. It would also eliminate a control... great pavement, lakeside beauty, few cars, flat and one less control. I have to check this out!!!
The Van Isle 1000km will be a brand-new route. Previous routes focused on the end-to-end concept that missed a lot of the best riding on the island. We are committed to bring to the participants the best possible route combined with some great sites and scenery. Also compared to previous routes that included a lot of wilderness highway riding this route will be mostly rural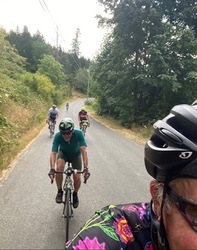 riding. The route includes some majestic vistas and beautiful scenery and 99% of the roads are in good or better condition. The amount of climbing closely mirrors Paris Brest Paris with mostly gentle grades and some nice long descents and flat sections to give the riders a reprieve from any rolling hills or climbs. Magical sites, great bakeries and coffee stops along the way add to the charm of this ride.
The many villages, towns and small cities we will pass through means hydration and food stops are a plenty. We will have manned controls at critical points to ensure everyone has what they need.
The Van Isle 1000 will start at the Waddling Dog Inn in Central Saanich at 5:00 am, Saturday August 13, 2022. The hotel is holding a number of rooms for our out-of-town participants. It is ideally located on the Lochside Trail and Pat Bay Highway. The route must be completed by Tuesday morning at 8:00 am (75 hours). We have planned the route for everyone to stop two nights at the Bluebird Motel in Nanaimo. This allows the organizers to provide drop bag service for the 2 nights. It also allows for a more social ride. The first day will take you over the Malahat, around Shawnigan Lake, Kinsol Trestle, Cowichan Bay, Genoa Bay, Lake Cowichan, Chemainus, Ladysmith and Nanaimo where your drop bag awaits with fresh supplies (365 km).
Day 2 takes you north on Northwest Bay Road to Parksville, through rural Oceanside, through to Comox Lake, the scenic Comox Valley and North towards Cambell River. Turning around at Willow Point we will make use of the less busy part of highway to hustle back to Nanaimo as quickly as possible where your drop bag awaits you with fresh supplies. (350 km).
Day 3 we make our way to the Mill Bay Ferry Terminal (95 km). We then take the quaint Mill Bay Ferry for a quick 20 minute ride to Brentwood Bay. This eliminates the need to climb back over the Malahat during the busy time of day (safety first). The final 190 km are on some of the best roads Greater Victoria has to offer.
Details:
RIDE DATES- Sat. Aug. 13 to Tues. Aug 16, 2022
ENTRY FEE- $295 up to June 15, 2022 and $395 after June 15, 2022
ENTRY DEADLINE- July 15, 2022
Later registration is possible but accommodation may have to be at another hotel where a premium may apply.
START/FINISH LOCATION- Waddling Dog Inn, Victoria, BC, Canada
DISTANCE- 1000 KM
TIME LIMIT- 75 Hours
QUALIFICATION- 200,300,400,600 KM series in 2021 or 2022
Or as approved by organizers.
RIDER LIMIT- 30
WHAT IS INCLUDED- 2 nights accommodation on route double occupancy, 2 night drop bag service, Mill Bay Ferry Ticket and Good Support
WEBSITE- www.vanisle1000.com
REGISTRATION- Coming in January on the BC Randonneurs website.
CONTACT US- gordonlitster@shaw.ca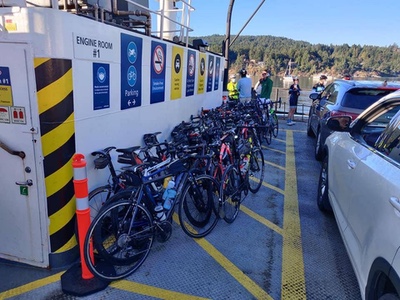 Mill Bay Ferry
---
Go to: VanIsle 1000 Web Site
Go to: Event Page (Database)

November 6, 2021