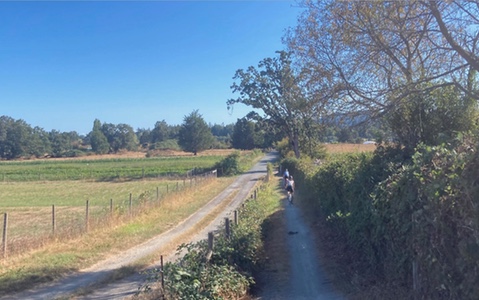 Explor-a-toria
VI ACP Centennial 200
Ride Date: September 11, 2021 (7 a.m.)
Pre-Ride Date: August 29, 2021
by Holland Gidney
Start/Finish: Windsor Park Pavilion (2541 Windsor Road, Victoria, BC)
https://database.randonneurs.bc.ca/event/5103
Because Victoria is located at the southern tip of an island in an area with a long-established road network, it can be challenging to design new brevets that don't just default to the same old roads. But in honour of the 100th anniversary of the first Brevet de Randonneur à Allure Libre (aka, the first "self-paced" brevet), we spent a lot of time looking at maps and have put together a route that feels entirely new. In fact, some of the roads it uses didn't used to exist before last year and don't even have street signs yet!
This special brevet includes some of Greater Victoria's latest cycling infrastructure while not neglecting some of your favourite roads and trails. We've also incorporated a few roads that have been there forever but which have never before been used in a brevet. Linking together some of the funnest riding roads we've ever ridden are clever cut-throughs and exciting unpaved sections, which may or may not require you to dismount your bicycle and walk.
We promise brand-new pavement and bumpy off-road paths, plus many kilometres on dusty unpaved regional trails. You'll want to leave your carbon frame at home and tackle this route with your widest tires. This route hearkens back to the old days before the invention of GPS, when Island Randonneurs used to ride their bikes on the Galloping Goose before the abandoned railway became the popular rail trail it is today (at least according to Stephen Hinde).
This is not your usual brevet but, if you approach it with a sense of adventure and a willingness to ride off-road, we think you'll have a ton of fun. If you need more convincing to sign up, please note that we've that the elevation gain is just 1425m and that one of the controls is at a winery.
Finally, in keeping with the historical theme, riders are encouraged to navigate solely off the route sheets that will only be distributed on the morning of the brevet. (We've double-checked the directions and we're convinced you don't need a GPX track.) As an incentive, if you finish this ride without using GPS, we'll do our best to make sure you get one of the fancy limited-edition anniversary rooster pins produced by the ACP.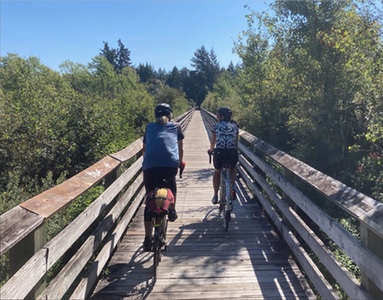 ---
Go to: Event Page (Database)


September 1, 2021