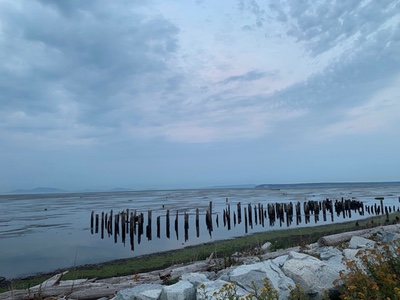 Tsawwassen Tsawwassen Tsawwassen 600
Ride Dates: July 31 - August 1, 2021
by Murray Tough
The ride description started with, "Yes, I know the Tsawwassen-Tsawwassen-Tsawwassen is not everyone's favourite route. It's too familiar and it lacks a sense of adventure…" I would have happily given it a pass except for the fact that my previous weekend attempt at the VI-600 was a fiasco that scored me a DNF. I really wanted a to complete a 600, with time to recover, before taking on the Kamloops Kootenay 1000.

My wife, Kathy, and I drove over from Victoria the night before and found a quiet place to park our campervan "Hillary" close to the start line. I set off at 4:55 but realized that my tires needed air. It only took a couple of minutes but I ended up leaving the start at 5:05. Bob, Anna and Shiro were also starting at 5:00 but I assumed they must have started on time. So now I would have to try to catch them.

As promised, the ride did indeed start with the familiar—a pre-dawn ride around Boundary Bay. Familiar doesn't make it any less spectacular.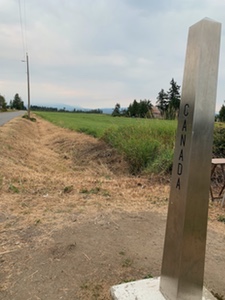 I climb through South Surrey. I'm riding on a hillside with farms below me, a train in the distance and a backdrop of mountains. This is why I ride! Before long I am on 0 Ave. After getting past thehills at the western end, it was a long flat straightaway on a quiet country road. The scenery is pretty and the riding was fast and easy. But it is a most bizarre place. Both sides of the road look pretty much the same, the same farmland, the same crops, the same scattered houses. But there is an invisible line that no-one is allowed to cross. I said, "Hello neighbour," to a pedestrian on the other side; only he would have spelt it "neighbor". The world's longest international border.

I rode past the Abbotsford Airport, which had a berry farm inside the perimeter fence. I guess if the Calgary airport can have pumpjacks and hay fields, it is fitting that the Abbotsford airport should have berry farms. In contrast to the freedom that an airport (and a bicycle!) brings, the next thing I rode past was a prison.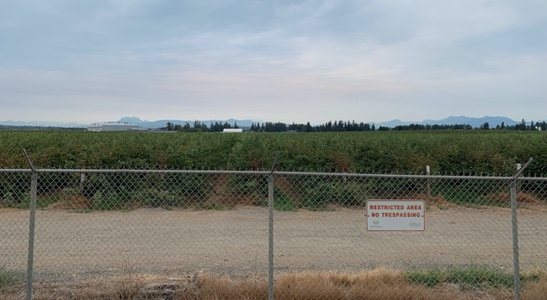 As I ride through Rosedale, the distant mountains are closing in. So is the haze, trapped by an inversion that is easy to see against the mountain sides.

The bridge across the Fraser River to Agassiz was billed as really bad. It is only two lanes with no shoulder and no sidewalk for over 2 km—there is nowhere to go if a driver gets too close. There is a walkway of sorts but it is dotted with lampposts. One would have to turn sideways to get past each lamppost without stepping into the traffic lane. Fortunately, traffic was light. The reward for making it across safely was a ride to Hope on the quiet and pretty Highway 7.

I stopped in Agassiz for a sandwich. As I eat a group of three riders go by. That must be Shiro, Bob and Anna. I pack up the remains of my sandwich and head out in the hopes of catching them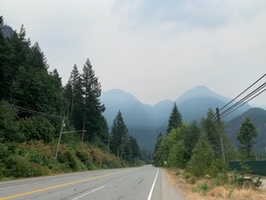 at the control. Shiro is still at the control doing some stretching but Bob and Anna are already riding off as I approach.

At Hope, I run into the forest fire smoke just as I start the longest, highest climb of the ride. The climb itself is pretty easy with gentle grades on both sides. At the top, I finally meet up with Bob and Anna. In case the hill wasn't enough fun the first time, we descend the other side then turnaround and climb it again in the other direction.

There is a 25 km section on Highway 1 west of Hope. It's busy and noisy but, wow, is it fast. The constant traffic creates an artificial tailwind that propels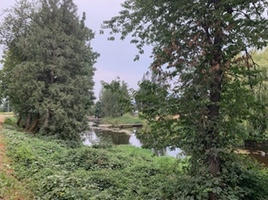 me forward. After the highway and a much-needed food break, the course meanders along a slough near Chilliwack.

Cruising through farmland is always interesting, I see berry farms with strange looking machinery. I see llamas, sheep, goats and horses. There are many malodorous dairy farms and chicken barns. Biosecurity signs are everywhere. I see rows of greenhouses and sprawling mansions.
As evening approaches the course returns to 0 Ave, which just got even more bizarre. Families that are not allowed to cross the border, which is still closed to non-essential travel, are lined up on opposite sides so that they can visit each other while staying in their respective countries. The US border patrol is out in force but seem to tolerate these visits even if they are sometimes a metre of two on the wrong side of the line.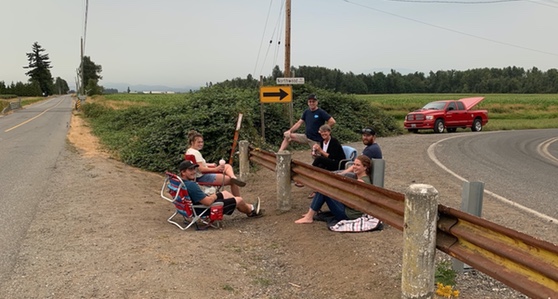 It's dark by the time I leave South Surrey for a flat, easy ride towards Tsawwassen. Past the Boundary Bay airport with its colourful lights, along the shores of Boundary Bay with the lights of US towns twinkling in the distance. A short, steep climb gets me to the Tsawwassen control and back to where "Hillary" is parked. I arrive before midnight for a shower and a few hours of blissful sleep.

After a (too short) sleep, I am back on the bike riding past the sprawling Tsawwassen Mills shopping centre, past Deltaport with its trains that go on forever and the massive warehouses that surround it. I ride through more farmland and onto Westham Island. I wasn't expecting it to be a habited island with more farms.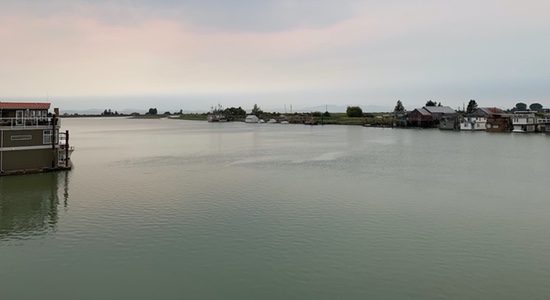 It seems I am the late riser. As I ride towards the control, I wave to Anna and Bob as we pass in opposite directions. I meet Eric at the control. He is leaving as I arrive. From there, I cycle through the village of Ladner under highway 99 and onto River Road. I like River Road. It's easy riding through the land of industry. There are places to watch the river and others to see all the various industries that line the shores.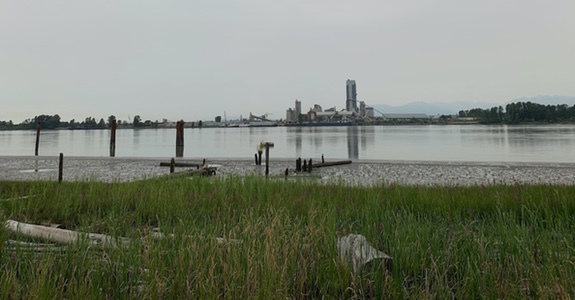 Highway 17 gets me around Surrey without all the traffic lights and hills. It's another busy highway. The shoulders are wide but in places, the shoulder debris forces me close to the traffic lanes. Still, doing the highway on a bicycle gives me time to take in the scenery. There is the river, the railyards and the towering bridges that feed the hustle and bustle of the city.

After that, I ride past golf courses and bogs, where they grow cranberries. I ride through parks and historic Fort Langley. I spend much of the day following the course but not really knowing where I am. We go through a light industrial area that, on a Sunday morning, is as quiet as a ghost town.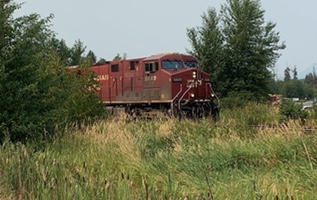 It's always fascinating to see the incredible diversity of industries and warehouses that occupy these places. At some point we ride by what must be a military communications centre with its arrays of antennas. I rode past an identical installation in Prince Edward County, Ontario a couple of years ago. I get stopped at a level crossing as an endless train rumbles by.

Sometimes you see an outstanding photo but don't realize it until after you are past. Such was the scene on the side of a hill with the rolling farmland below and the mountains in the distance. I wasn't going to take my weary body back to get the shot. Besides, the forest fire smoke would have made for a hazy, colourless photo.

I ride past homeless camps in downtown Abbotsford. I had planned a lunch stop but I realize I am not making great time in the heat. If I settle for Cliff Bars and Gatorade, we might make the 6:00 p.m. ferry. The climbing on Day 2 seems harder than Day 1. The hills aren't as long but they seem a lot steeper…or is this just the perception of my tired legs?

Eventually I am back on Highway 17 and the home stretch. I pass another cyclist and say hello. As I pass, I see a route sheet clipped on his handlebars. A dead giveaway that this is a fellow randonneur. The highway was not a safe place to stop and chat so I never get to meet Patrick who, like me, is nearing the end of his first 600.

In my mind I had pictured the last 10 km of the route, it is familiar territory. I expected easy riding on quiet, flat roads, the energy that comes from nearing the finish and the satisfaction of knowing that I had done it. Some of that was true but a strong headwind made the riding hard. I was hungry and tired. I had just finished the last of my water. It was type 2 fun; not the easy ride into the finish that I was longing for.

I roll into the finish; Kathy is waving frantically. It's 5:30 and the 6:00 o'clock ferry is not quite full. Deirdre is there to congratulate me. The last time I saw anyone at a finish line was in 2019! She shakes my hand; that too is something I hadn't experienced in a very long time. We chat briefly. By now Kathy is jumping up and down—it's time to go.

At the ferry kiosk, we are told it is a "possible wait". The ferry is a little late—it hasn't started unloading yet. Time for a quick shower. Showering in an RV with limited water means getting yourself wet, turning off the water while you lather up with soap, and…and that is when Kathy shouts, "We're boarding." I will say one thing about BC Ferries, they know how to load a big ferry in a very short time. When your lane starts to move, it MOVES. All I can do is sit in a slippery puddle of soap and water in the windowless, shoebox sized bathroom and cling to the edge of the sink. The loudspeakers remind me to buckle up. "Bump" shouts Kathy as "Hillary" hurtles over speed bumps, sways around corners, rumbles up the ramp and bounces over the lip and into the ferry.

Experienced ferry travellers are ready before they board. If you plan to eat, you jump out of your car as soon as it's parked and go straight to the cafeteria. I'm still in the shower, covered in soap! By the time we get to the cafeteria, the line is long. Kathy suggests we sit down and come back later. "No!" I moan, like a recalcitrant child. I have burned more than 7000 calories on this ride and haven't replaced half of them. Waiting is not an option!

I can see how Tsawwassen-Tsawwassen-Tsawwassen could get old for veterans but seen through the eyes of a first timer, it was a wonderful ride, with endless variety and plenty of adventure. Thanks to Deirdre and Colin for organizing an outstanding ride.
---
Go to: Results
Go to: Event Page (Database)


August 7, 2021