Two Masked Men Seen Cycling in Alberta
2020 Camrose 200
Ride Date: June 13, 2020
by E.W. (Wim) Kok
Introduction
Covid-19 changed everything. That is, everything came to a grinding halt. For most, things never went much beyond spring training (with or without the minors). In my case skating laps on the 400m indoor oval – where weather is never an excuse – and riding the rollers in the basement - where weather is not an excuse either. In terms of riding the rollers this is a very lonely task, where the basement wall depicts this wintery white image, except that the temperature is very bearable. To offset the boredom, I tapped in YouTube's Garmin cycling videos for indoor training again. Neat stuff and great scenery. It was not until May 1 that I hit the road. With some of the road paving activities that had gone on in the back country last season, I was able to design a new training route. The 31km loop served the spring training well. It had everything: flat, rolling, short steep sections, low traffic, head wind, tailwind, sidewind and - if luck will have it - no wind. That formed the basis for gradual longer distances, so by the time the Alberta Randonneurs started their delayed season late May/early June I had sufficient mileage in my legs. Incidentally, I used Eric Ferguson's sample training schedule for my initial spring training on the road. This one worked very well. For details, see:
https://www.randonneurs.bc.ca/toolbox/training/tr_sch_a.html
With a large window for each brevet, Jeff Shmoorkoff and I settled on the Camrose 200 as the first one for the season. It is a classic, which I must have completed at least four times. So, it was back on memory lane. We decided on a 6:00 am start from the vacant Edmonton Millwoods Shopping Centre. I was first greeted by a jack rabbit curiously (s)hopping around for early breakfast supplies. I then greeted Jeff and without much ado we got on the road, first through a few messy construction zones and then into the countryside. Traffic was very light, so were the winds. The temperatures were perfect. The course was near flat. In brief: a randonneur's delight. The countryside had nicely greened up as opposed to the usual mid April scene, when the landscape tries to shake its winter features: leafless trees, frozen ponds, the odd snowdrift slowly withering away and of course the chilly winds. None of that this time.
Our first control was New Sarepata (2016 population 522) a town which judging by the new housing developments, is definitely on the upswing. The settlement gained some fame way back when Edmonton Journal political cartoonist John Yardley-Jones described himself as its 'ornery mayor'. The community named a park in his honour and had a display of murals depicting his art. In 1991 Nick Lees wrote an article in the Edmonton Journal, featuring randoneuring, P-B-P, Jeff Shmoorkoff and Dave Oliphant. When I recently referred this article to Jeff, he wrote that Nick also did an article in 1987, while Yardley-Jones drew Jeff's caricature! I saved the 1991 the article, not knowing at that time that it would inspire me to get into randonneuring in 2000. Talk about a fluke of history. That's indeed what the rest of it is.
The next control was Miquelon Lake, which brought back memories, not the place itself, but for what did (not) happen between New Sarepta and Miquelon Lake back in 2011. We started with a group of riders, which soon got separated. Willi Fast and I cruised south, conversing about PBP and other matters. I will let Willi tell the story here:

"Wim and I struck up a great conversation, and talked about all things randonneuring, with a heavy emphasis on Paris-Brest, since that is a goal for each of us this year. Wim has completed Paris-Brest twice, and so I was using the opportunity to glean as much info as possible from this well-travelled ancient.
As we sped southward, with the aid of an increasingly strong tail wind, we spoke at length about route-finding on Paris-Brest. Wim indicated that route finding was generally not a concern there, since there was almost always someone that knew the route, and if someone made a wrong turn, others would quickly set them straight again with a verbal cue how to get back on course. We were continuing the easy wind-assisted pedaling, ` when Wim began to question why we had not yet reached the Miquelon Lake turn-off. We stopped, consulted the map, and with a growing sense of despair, acknowledged the realization that we had, indeed, missed the turn-off. And not by just a little. How ironic that as we spoke of route finding issues in France, we would commit such a rookie error here on our home turf, where I had driven the way to Miquelon Lake too many times to remember (literally !!). Our sense of denial weakened, as we admitted that we had over-shot the turn-off, and had ridden past not only Hay Lakes, but also Armena. We were 25 km off course, and now faced the prospect of a 25 km retreat to get back on route. Not only that, the retreat was directly back into the wind which had so easily pushed us too far to the south!"
Willi Fast's Ride Report – Camrose 2011 (Alberta Randonneurs)
(Mistakenly identified as 2010 on the AR web site)
Well, we did finish the 250 km brevet in 11:44. A few weeks later Willi passed on this web-link with a not so subtle message attached to it: "Click on this link – this is too funny – if only it weren't true"
OOOOOOOROLLING RANDOS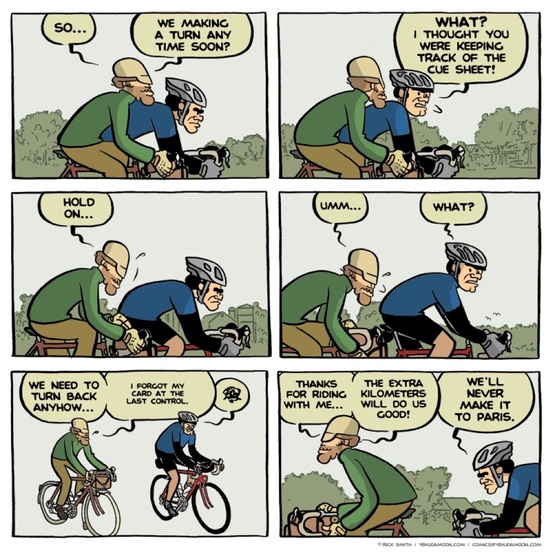 Source: http://yehudamoon.com/comic/2011-05-12/
I then explored the site and noted more cartoons about cycling, including some based on what must be insider information about randonneuring! Funny. So here are a few of them for further enjoyment.


Source: http://yehudamoon.com/comic/2011-05-10/


Source: http://yehudamoon.com/comic/2011-05-11/


Source: http://yehudamoon.com/comic/2011-05-16/
The section from Miquelon Lake to Camrose was uneventful and fast, as was the control stop and the leg to Wetaskewin. The only minor challenge was the coulee crossing between the two places, which is always good for practicing one's climbing skills.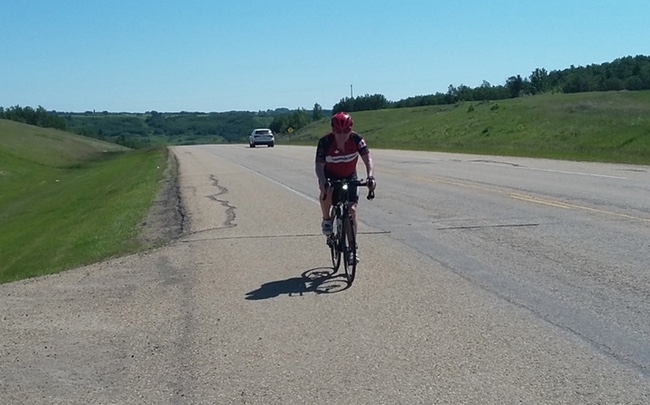 Jeff coming out of the coulee and rising above it.
The Tim Horton's near Wetaskewin's water tower was the next control. Many Randonneurs have visited this place during central Alberta brevets: Camrose 200; Stettler 400 and Devon 600. The water tower is an iconic landmark visible from miles away anywhere on the near flat prairie landscape. In recent years it has been given a high-level facelift: a white paint job with sharp blue lettering. Well done I'd say, except that every time I see this thing, I can't help but think that something is missing just like Tin Woodman in the Wonderful Wizard of Oz. The thing lacks humanity. In the play Tin Man did get his heart: "Now I know I got a heart, because it is breaking." To do a heart implant on the thing might be a bit much, but how about a smiley, one with a wink or one with tears from laughter. That would add a bit of humanity.
After the stop we continued North to Leduc on Hwy 2A, relatively quiet as we passed through Millet and passed by Kavanagh. The somewhat tailwind helped us nicely along at speeds of about 30 kph. Good for the average. When we arrived at the outskirts of Leduc it was obvious that things had changed. It was obvious that after missing the Camrose 200 for a few years, that the world had not stood still. It had changed a lot. What was farmland not too far back was now covered with high density subdivisions. The old 7-11 Control was gone; instead, there was a very big box liquor outlet. It served as the new control – no sampling -- and backdrop for a selfie.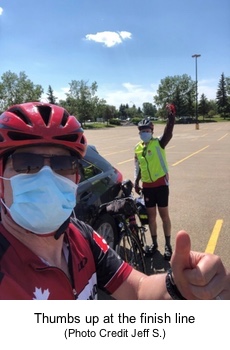 Another control done.
Thirty clicks to go to the finish with a bit of headwind when going east: first flat, then down the coulee, flat at the bottom, then uphill to get out of it, a left turn with another uphill. I began to lose a bit of steam. Then downhill toward Beaumont, which of course considering its name, did involve another short steep climb to get to that view on the beautiful mountain, which according to Willi-s report only takes 1m:30s (he knows, because he timed it). We continued toward Edmonton where at the Ellerslie Road intersection we turned left. What was once a quiet two-lane road through farmland, was now a busy artery through more subdivisions. Upon arrival at the finish we noted on our odometer that we were one kilometer shy of 200, so we completed the full distance by riding the remaining distance in the extensive parking lot. It worked out to 200.1km. Done in 8:49. Riding time 7:36, helped by the wind and a vertical elevation gain of no more than 593m, there was ample opportunity to keep the pace steady and high. Thanks Jeff, for the masked company.
---
Go to: Results
Go to: Route Page (BC Randonneurs Database)
Go to: Route Page (Alberta Randonneurs Web Site)
Go to: Wim's Source File (Word)

December 3, 2020