December Flatlander
Permanent Brevet #18
Ride Date: December 2, 2020
by Karen Smith
Permanent #18 with a Chilliwack start.
December 2
11 hrs 37 min
It was surprisingly warm at my start. Seven degrees Celsius! Wow!
The forecast was for 3 at start time, so I'll take 7. Good, no frost! Or so I thought.
Within ~ 2 km, I hit frost along Chilliwack Lake Rd. Frost on roofs, grass and in the shoulder but not in the lanes. Riding in the shoulder was fine, as there was enough "grit" to counteract any frost.
The air was much cooler there, you could feel it.
It stayed pretty cool the whole morning but the sun was out and it felt nice, once I was out of the shadow of the mountains.
The temp climbed to 5 degrees in Ft Langley and then 11 in Abbotsford at Yellow Barn. It was 7 degrees at the finish.
It was truly a gorgeous day!
I was never cold.
It was quite windy. Often the wind felt like it was from the north, or northeast, but many times I could see the leaves on the ground just swirling in circles. No wonder I couldn't always figure out where the wind was coming from.
I felt like the wind hindered me a lot of the day. That will be my excuse anyway...
I only had one experience (that I know of) where a driver didn't see me. This time I was on a very quite farm road in Abbotsford (Interprovincial Hwy).
A pickup truck was approaching me going the opposite direction, in his lane, when all of a sudden, he swerved into my lane and came within 2 ft of me and then promptly turned right into a driveway.
I veered into the soft shoulder and put my foot down. I had to take a moment.
He had come into my lane, head-on, so he could swing wide into his turn.
He saw me ONLY AT THE LAST MINUTE as he was turning. I waved my arm at him, and he apologetically waved from the property.
But WHY DID HE NOT SEE ME? It was daylight! I am wearing a NEON SAFETY VEST! My headlamp was on!
I was his oncoming traffic. He didn't see me. He didn't look!
There were 2 new Porta Potties right where Canadians and Americans have Covid visits on Zero Ave. They were both on the American side at the edge of a blueberry field.
There were a couple of new patches of pavement: on Gladys in Abbotsford, from Essendene all the way to the Homeless camp; and on Industrial Way in Chilliwack, all the way to Progress Way. Nice!
I had to wait for a train on Industrial Way, but only for a short time.
I had to stop for construction along Schweyey Rd in Chilliwack, again, for a short time.
I detoured off my route to avoid the dark farm roads with 16 km to go. I just didn't feel safe. I couldn't bare to ride those roads in the dark, solo.
I stuck to Old Yale Rd, then took the new bike route through Chilliwack. It cost me a couple of extra kilometres, but it was worth it for the less stress.
I rode solo.
I had no mechanicals, no flats.
Traffic seemed extremely light.
I didn't see any other cyclists all day! None on Zero, none on River Rd, none in Ft Langley, none anywhere! I can't remember ever Not seeing any other cyclists on this route!
My Garmin has been acting up lately, and sometimes I have trouble transferring data after a ride. I have been looking for a replacement but haven't bought a new one yet.
On this ride my Garmin stopped at 201.76 km, after 11 hrs and 26 min.
I still had almost 3-4 km left on my ride and another 10 minutes.
So until I get a new Garmin, it's clear that I will have to ride faster if I want to record all my data!
Yes, I was out there for a long time, longer than I wanted. But I felt pretty good when I was done, and Michel said that I didn't even look like I rode.
: )
Karen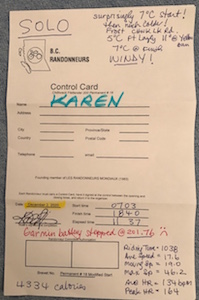 ---
Go to: Permanent Results
Go to: Route Page (Database)

December 8, 2020