Edgemont Views
Permanent #95, 201 km
Ride Date: October 7, 2020
by Mike Hagen
Well, that worked out very nicely. My inclination, normally, is to ride Sea to Sky and/or North Shore roads early, then head south to do the delta bits. But I wanted to enter the Edgemont Views course at km 112, which meant going to Queensborough and Steveston first. No views there as it was completely socked in by fog (though I'd had nice pre-dawn views of brilliant Venus in the east, the quarter moon overhead, and ruddy Mars bright in the west).
It was afternoon by the time I got on the Sea to Sky highway, and it was still cool and shadowed in places—quite reminiscent of an early summer morning, so I felt right at home. It was good! And traffic seemed lightish too. So it was quite pleasant.
Only one event: picked up a staple in my rear tire on the Upper Levels highway. So my recent streak of bad luck in that respect continues.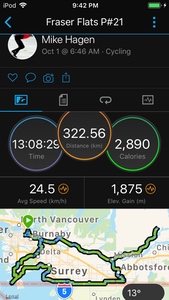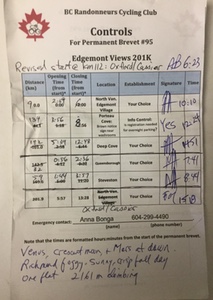 Just for fun, here is Mike's control along with his ride stats.
See how he modifies his card for his alternate start, and
scribbles down some ride notes and general observations.
---
Go to: Permanent Results
Go to: Route Page (Database)
October 8, 2020