****** DONE *******
Permanent #18: Fraser Valley Flatlander, 203 km
Ride Date: October 15, 2020
by Karen Smith
Did it! : )
Oct 15, 2020
Permanent #18 with a Chilliwack Start
203 km
10 hrs 45 min
It was 8 degrees when I started, and the temperature only climbed to 12. It was cloudy all day and it sure felt colder than 12.
Traffic was light most of the day, except for two areas: Townshipline Rd, which always seems to have heavy traffic now, ever since much of it was repaved, and then the always busy Sumas Way in Abbotsford.
Gladys Rd was all chewed up. Looks like the road is being widened.
There was a lot of debris in the shoulders of many of the roads. That's what you get for riding 2 days after a big wind storm.
I had at least eight or nine places where there was "single lane traffic only" due to road clean ups:
272 St, 56 Ave, 264 St, River Rd, 240th in two separate stretches, 248th, 64th Ave and I think a few more places that I don't remember right now...
At the 64th Ave cleanup, I chose to take a detour rather than wait the estimated 15 minute closure for a fallen tree. I just went over to 62nd and then up to 264 to get back on track.
The shoulders on Chilliwack River Rd were especially filled with both branches and gravel.
Again I felt good on the bike, and thought I would be faster. I don't really know why I am as slow as I am.
Getting old…
I rode solo.
No mechanicals, no flats.
I finished just as it was starting to rain.
I've attached my Control Card below.
: )
Karen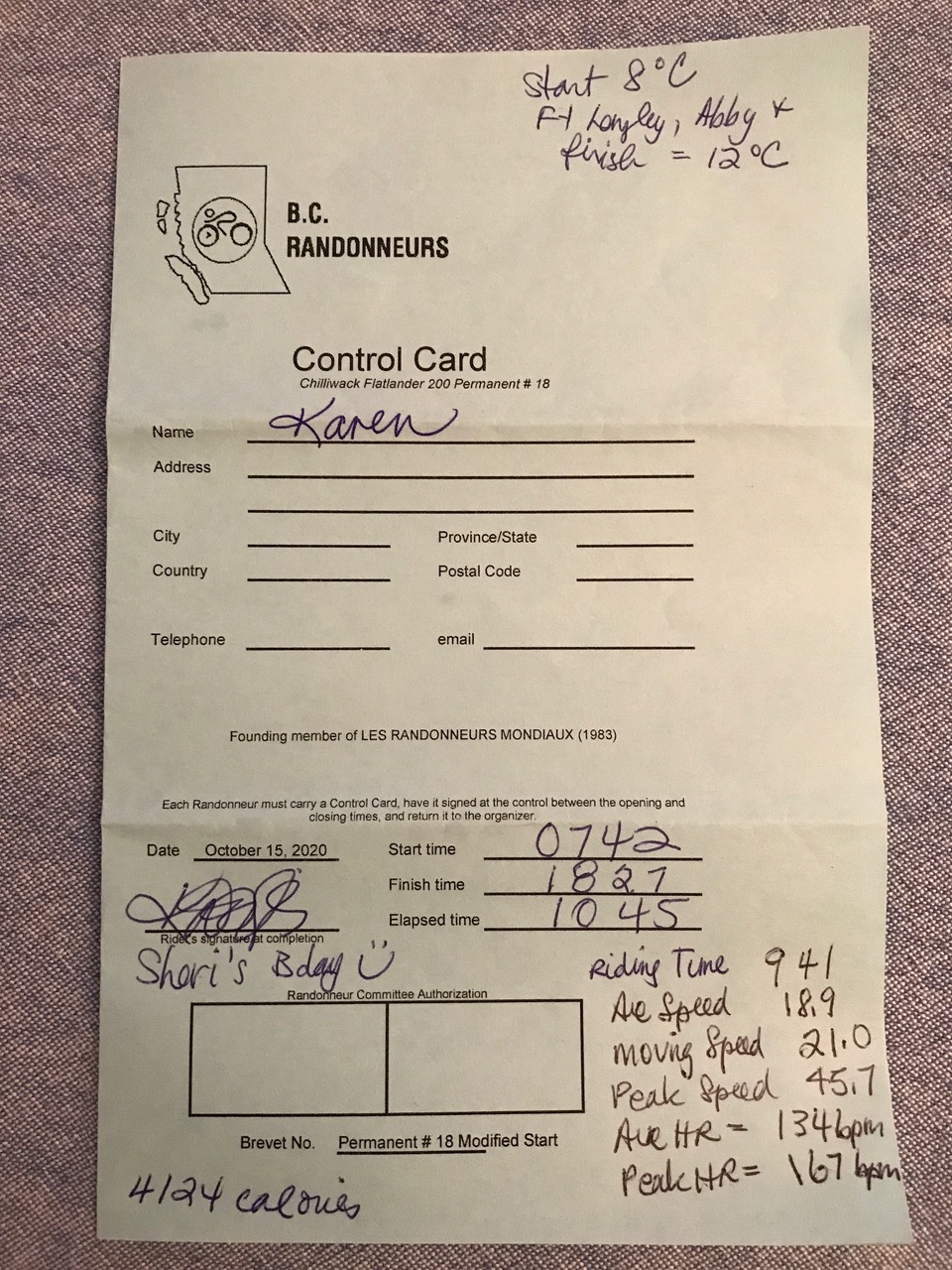 ---
Go to: Permanent Results
Go to: Route Page (Database)
October 18, 2020