Fraser Flats
Permanent #21, 307 km
Ride Date: October 1, 2020
by Mike Hagen
It was an eventful start. Those who know me know I don't like eventful on long rides. Sigh.
I forgot my Camelbak with most of my food and water. Went home to get it. Construction detour on Winston Slip (though I knew about that). Puncture coming off the Patullo Bridge. My fender and frame was slick with sealant; there was none left in the tire. I put a tube in. Tsawwassen Drive through the reserve closed to the public due to Covid. Backtracked and detoured.
By the time I got to the first control at the Tsawwassen ferry terminal, I had 66 km on my Garmin versus 52 km on the route sheet. I even checked the closing time to see if I was okay: 38 minutes to spare. Whew.
But after that it was a good day. Cool, but not cold; very pleasant to ride in. High cloud, hazy sunshine, and, wildfire smoke? I finally decided that, yes, it was smoky, but I didn't smell anything at ground level.
I'd read Karen's September permanent story. I can confirm: the cable "fence" along 0 Ave does look strange. Two parties visiting across the border. Three US border patrol vehicles, no Canada ones.
What else: Sieg Palme flyby in Abbotsford! He was walking his bike up Whatcom Rd. Stopped to chat for a minute.
With the flat course and no wind to speak of, I was clawing back 5 minutes or so every hour toward that elusive 25 km/hr average speed. Finally got it at 250 km with 9:58 elapsed, and promptly rewarded myself with an ice cream sandwich from the Hatzic Co-op.
Nice red sunset. Finished after dark. My light died, but I had a spare. Randonneur preparedness strikes again. Given the eventful start, I'm pleased with 12:46, especially with 322 km showing at the end.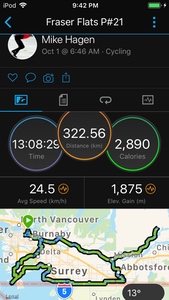 ---
Go to: Permanent Results
Go to: Route Page (Database)
October 2, 2020