Sasquatch
Permanent #19, 207 km
Ride date: September 3, 2020
by Mike Hagen
I was expecting a nice, relaxing, uneventful sashay to Sasquatch and back. That is not what I got.
What I got was three construction detours in the first 30 km, distracting shadows and the sun in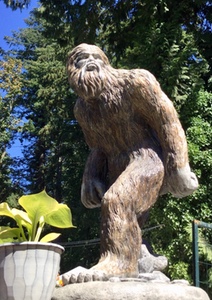 my eyes along 10th Ave, overshot Granville and got to Arbutus (huh?), a leaking Camelbak tube that dripped all over me before I figured out the problem (loose mouthpiece) and what to do about it (ensure there was airspace at the end of the tube). 'Course the chocolate malt concoction I favour gets really sticky when it dries. Sigh.
Then, at Ruskin, I picked up a honking big upholstery tack in my rear tire. Sealant spewed when I pulled it out; lost almost all my air pressure (but not the tire/rim seal, happily). I pumped the tire half a dozen times in the next hour, and was at Deroche before I was confident the tire would hold reasonable pressure the rest of the day.
Still got to the Sasquatch Inn by noon and had my lunch there (I packed a peanut butter and banana bagel). The trip back was indeed uneventful, though any hopes I had of making up time were put paid by the mild headwind.
Still, overall it was a pleasant day. I haven't been riding quite as much this year. I'm glad I got this one in.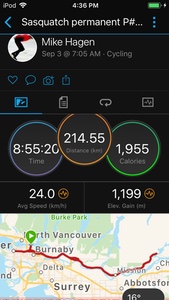 ---
Go to: Permanent Results
Go to: Event Page (Database)
September 4, 2020