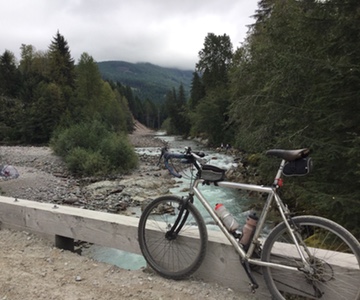 Journey of the Sorcerer (Mamquam)
Permanent #209, 201 km
Ride date: September 6, 2020
by Mike Hagen
Maybe, just maybe, Labour Day Sunday is not a good day for this ride. The Sea To Sky Highway was busy, even at 8:00 in the morning on my way up, let alone late afternoon on the way back. But the Mamquam FSR was busy too. Not just dirt bikes and quads, but also rock climbers accessing the Squamish Chief climbs. Lots of campers. And it turns out that the Mamquam River is a thing for white water kayaking. So people were accessing that. Constant traffic. Ugh.
It didn't help that the first 7 km was an almost unrelenting 5 to 6% grade topping out at 12%. With the traffic, that meant washboard and dust. It wasn't much fun. By the time I crested the aptly named Bonk Hill, I'd decided to bail for Plan B. That meant pushing on to 9-Mile Bridge (at the Km 13 sign) then branching up the Skookum Creek road for a couple of km (Plan A was to go to the last Mamquam FSR bridge over the Mamquam River 28 km up). The road after the first 10 km was pretty good, but I still had to get back to the highway, and downhill wasn't going to be quick. So I turned back.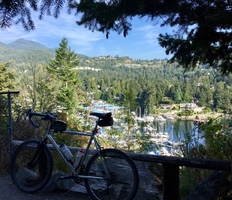 I took the Stawamus River dyke trail on the opposite bank from the FSR for the last three km on the way down. That was nice. I was 22 km short when I got back to the highway; I made it up by going north to Depot Road, then left to Government, and back to Squamish. I'll send a revised route sheet and control card to reflect this. I also got onto Seaview Walk in West Vancouver from Eagleridge Drive, just south of the golf course on Marine Drive out of Horseshoe Bay. It was great!
A couple of mechanicals on the way back: a slow leak in my rear tire that I couldn't be bothered to fix, I just pumped it up again every hour or so; and my chainring shifter jammed at 150 km -- I was stuck in my big ring for the last two hours.
So, a busy, dusty gravel road with 3000 m of climbing overall -- not my favorite Journey. I'm not unhappy with 11:46 considering.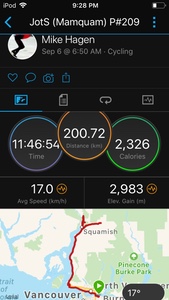 ---
Go to: Permanent Results
Go to: Event Page (Database)
September 7, 2020