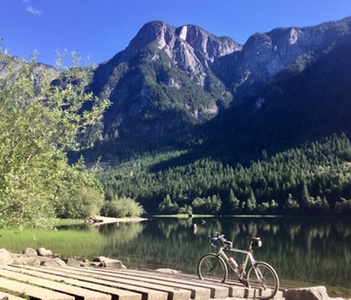 Journey of the Sorcerer (Silver Skagit)
Permanent #208, 204 km
Ride date: August 27, 2020
by Mike Hagen
Getting toward the end of August, and I'd not ridden a monthly brevet or permanent yet. I'd been sick for a week after the Ryder Hatzic Hill 300, then mid-month had been incapacitated by another issue. But now I was feeling fine, and I really wanted to keep my BCP streak going. Clearly, it was time for a Journey.
My Journey of the Sorcerer 200 km gravel permanent series makes use of BC Forest Service Roads to get to some new places. The first five had between 27 and 52 km of gravel (Norrish only had 15 km because my route was sabotaged by an unexpected gate at the entrance to the Norrish Creek Community Watershed). This latest one running south down the Silver Skagit Road from Hope Flood to Skagit Provincial Park and beyond to the Ross Lake reservoir at the border would be my most ambitious Journey yet: 120 km of gravel.
The route was pretty simple: from Rosedale, east on Yale Road to Popkum, then the TransCanada Highway to Exit 168, Hope Flood Road, another kilometer to Silver Skagit Road and head south. Return the same way. A mid-week ride seemed wise given the popularity of the park; perhaps the road would not be as busy. How about Thursday?
I parked on McGrath just south of Yale road, by the mill, figuring I'd blend in with all the other vehicles parked there at least until the shift ended (the car was pretty lonely when I got back, 'tis true). It was just before 08:00, so I'd missed my planned start time by about an hour. That is not too surprising given my aversion to getting up too early. Oh well.
Zipping down the highway with, if not a tailwind, at least a good draft from the passing traffic, I made good time to the Silver Skagit Road. And here was my first surprise of the day: I'd thought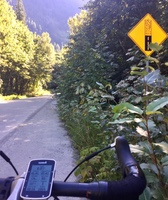 the gravel started right away, but no, the road was paved the first three kilometers, half-way up the climb to Silver Lake.
This was a Good Thing, as it turned out (but also not, as it also turned out), as this stretch between Hope Flood and Silver Lake is where the road has its highest grades. Consequently, the gravel was loose and stony, a bit washboarded, and not too pleasant to ride on. But past Silver Lake, the road turned into a dream; as good a gravel road as I've ever ridden. It was mostly hard-packed dirt/gravel, almost like pavement, albeit with some stones and often some pothole fields one needed to slalom through. The five km stretch south of the Skagit Valley Provincial Park entrance itself (37 km south of Hope Flood) was also loose and stony, but otherwise the road was pretty excellent. Best of all, there was very little traffic. I'd reduced my tire pressure to about 40 lbs once on the gravel, taking advantage of 26 x 2" rubber for some increased traction and comfort. And I really had a nice ride through a lovely area, passing numerous entreating trail heads along the way, wondering where they would lead.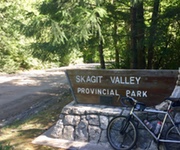 Now, my original plan for this route was to ride right to the end of the road at Hozomeen, which is about three km into the US. In a normal year, this is not a problem. But 2020, of course, is not a normal year. I suspected the border would be closed, and it was. So I needed to make up some kms. I took a side trip to the Silver Lake boat launch on the way in, but I was still short. Here I had my stroke of genius and added a late side trip to Hope on the return. This got me the chance to have a meal when I really needed it, about 165 km in, and with no services along the Silver Skagit Road, this was welcome.
While the in-bound trip went well (there is always some apprehension about what one will find along a new FSR), the trip out dragged. I was fatigued, and with the sun at my back it was much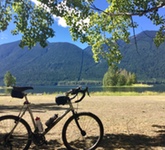 harder to pick out potholes. I ended up pounding through pothole fields instead of slaloming through and that slowed me down. Going slower meant getting buffeted by loose stones ratherthan knocking them out of the way, which reduced speed even more. It's a fine line sometimes between surfing over the rough stuff and bogging down in it.
It was a relief to get back on pavement at km 161 after almost seven hours on gravel, but here irony struck. Just a couple hundred meters downhill on pavement, I blasted into a pothole so hard my water bottle popped out. I checked tire pressure, fearful of a pinch flat (recall I'd reduced tire pressure earlier in the day), but it seemed fine. Four more km down the road on the way to Hope and, no, it was not fine. I had a slow leak in the rear tire. I pumped it up, hoping to make it to Hope.
At the Dairy Queen in Hope, first I had supper (a bacon quarter pounder with cheese combo and an Oreo cookie Blizzard). While waiting for it, I texted Anna that I was off the gravel, but my iPod's battery died mid-text. Sigh. I collected my supper and moved outside, put the iPod on external power to charge, and ate.
Text done, I turned attention to the tire. I've removed a rear tire maybe, what, hundreds of times in the past 50 years? Thousands? Maybe not a thousand, but hundreds surely. This time the chain twisted and kinked. How does that even happen? Tire fixed, I finally managed to straighten the chain again. Then, my hands now coated with oily dirt, I couldn't get the wheel on. After running through my repertoire of choice words, it finally slipped on, but now the derailleur and the chain did not look right at all. Running out of expressions, I wondered if I needed to Google a picture of a rear derailleur assembly to remember what it was supposed to look like, but my hands were dirty, and my iPod's battery would probably die anyway. I just rode, and it was fine.
This is what happens. One gets a little tired, the memory farts, the doubts creep in. Best to rest, eat a bit, relax, calm the breathing, and collect oneself. I was an hour in Hope getting myself together again. The last 40 km back to Rosedale was uneventful; a moderate headwind not being much of an event, cancelled as it was by the draft from passing traffic. All things considered, I'm pretty happy with an 11 hour Journey.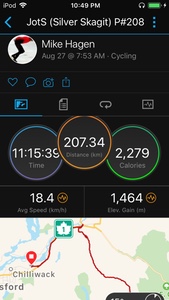 ---
Go to: Permanent Results
Go to: Event Page (Database)
August 30, 2020