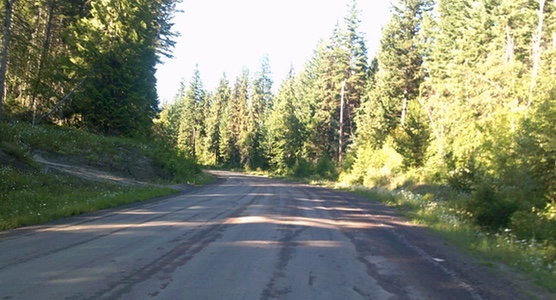 Crazy 8
Souther Interior Summer 300
Ride Date: July 18, 2020
by Bob Goodison

I did an unofficial preride of the Crazy 8 on June 14. It rained for approximately 11 1/2 of the 12 1/2 hrs. it took. The temperature topped out at 14 C and bottomed at 3 C. I carried the equivalent of 5 bottles, which was enough so that I didn't need to stop at any stores. How things can change in a month.
The ride started well enough. I was carrying 5 bottles of water, and lots of food. I had a target of finishing in under 12 hours. It was a beautiful morning with no wind, and the first 38 km were very flat and boring, so I hammered. (I have a set pattern that I follow religiously on solo rides: I hammer as hard as I possibly can, until I crack, then suffer through the rest of the ride.) This approach had me turning off the highway onto Chase Creek Rd. with a 35.7 kph average speed. If not for the big climb up from the highway I would have been early at the first control. This time the 6 km of gravel was hard and dry, and did not slow me down. By the time I got to Salmon Arm, about 130 km in, it was obvious I would be under 12 hours, and a personal record was within reach. Yeah, right. So I continued to hammer.
By the time I hit Vernon it was very hot and it was obvious that I was going to need more water, so I selected a less-busy store, put on my mask and bought 3 more bottles. As soon as I got through Vernon and started back towards Kamloops the headwind started. Did I mention it was hot? All was well, though, until I got to the hill on St. Anne's Rd. I could feel a bonk coming on, so I stopped in the shade for a few minutes to regroup. I got maybe 30 metres more before I noticed the flat tire (I have a collection of not-quite worn out tires i'm trying to use up). That fixed, I continued, but the efforts of the previous 200+ km had caught up with me. I stopped at the rest area south of Falkland and ate a sandwich, but still felt like crap. Another stop in Falkland for a Coke and another bottle of water- avoiding the very busy Petro Can in favour of the nearly deserted General Store- and I got going again, at a much reduced pace, and stopping to regroup every few km. Finally, just before Barnhartvale Rd, I started to feel human again. The final descent into Valleyview has been torn up for repaving, but it was smooth gravel, and at that time of day there was no traffic going down the hill.
I made a lot of stupid rookie mistakes, which I have no excuse for. Fortunately, I have done this often enough to know that I CAN recover from a total bonk, and I had the time in hand to allow the necessary recovery. Time goals don't matter, as long as I'm under the limit. Given my stupidity, I'm quite happy with my 12:51 time at 25.6 kph. But, as I'm a rather slow learner, I know it will happen again. I will end this now (I have another almost-worn-out tire to install).
b
---
Go to: Results
Go to: Photos (9 Images - flickr)
Go to: Event Page (Database)

July 19, 2020