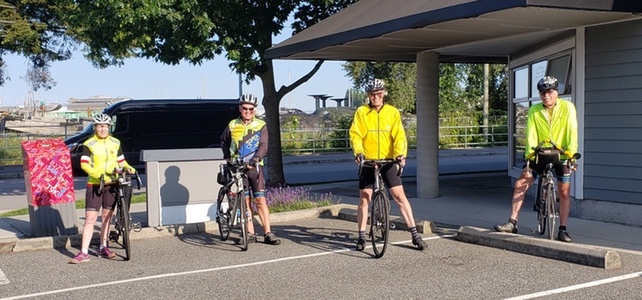 Two Trains, One Flat, and Tulloch Road
Buccaneer pre-ride 2020
Ride Date: July 5, 2020
by Alard Malek

At 8:00 A.M. four of us, megastar Deirdre and the three escapes from the elder hostel (Bob, Manfred, and I), headed out from the Sanctuary cafe for the Buccaneer 200 pre-ride. The Buccaneer is a favoured ride which Manfred designed a few years ago. It has little elevation, many back roads, and good food stops. A perfect early season adventure. Nigel Press had made a few changes to the route. These would help reduce some of the challenges imposed by Covid 19. We adopted a leisurely pace along the dikes towards number 5 road. A wonderful morning. The sun shimmered off of the Fraser River and a whisper of cool air caressed our cheeks. Loons and other water birds were in abundance. Cyclists gave us nods of rider camaraderie as they passed in the other direction. The beginnings of a wonderful day.
We reached the Alex Fraser Bridge and crossed over to Delta. At the Otter Co-op control we made a question for the control card, recorded our time, and rode towards the next control in Crescent Beach. Randonneur breezes highlighted the joys of riding the flats. We turned right off Hornby onto 112. Just before #10, we were stopped by a train, a long train, a very long train. Although I like the rhythmic clatter of the tracks as a train races by, 10 minutes seemed like a very long wait. Finally it passed and we rode towards the Crescent Beach control. At 128 and Crescent road, amidst the summer traffic, we began our descent into Crescent Beach. Another railway crossing was ahead. The lights began to flash and the gates came down. The empty coal cars from Robert's Bank rattled by. Once again the wait seemed endless. Ten minutes later we crossed into a summer play land. Cars seemed to wander aimlessly around, like a bumper cars at the PNE. We located a fire hydrant and used its number for the control card question. We headed back up the hill out of Crescent Beach. No train. Up the gentle hill we sauntered towards 128th street. What's this Tulloch Road on the route sheet, a turn before 128th? Where did that come from? Probably the results of recent road work. We turned.
Shut the door!!! A ninety degree wall! Nigel Press is a cruel Dude! The megastar Deirdre Arscott, nine times champion of the Paris Brest Paris, powered up and floated over the crest of the hill. For the three escapes from the elder hostel, life was different. Manfred's gears started to grind and snarl as did his vocalizations, but to no avail. He stopped. Bob managed to shift to his 36 tooth cog, uttered harsh profanities, and huffed and puffed up the cliff. I thought if my 24 tooth granny isn't low enough, it's time for an electric bike! Eventually I caught up with Deirdre and complimented her on her fantastic climbing. With a mischievous glint in her eyes she chuckled, "I wanted to get away from all the grumbling and moaning back there."
We rode on and eventually arrived at the top of the hill which leads down to the beaches of White Rock. It's a beautiful descent. One feels like a kid gliding down an endless tarmac. Wind in your hair, sailing through the long curves, and exhilarating at the beautiful shoreline. With the smell of fish and chips permeating the air, we cruised past the seaside cafes and ice cream stands. People, who had fallen off their fitness plans during the past few months, sipped their coffees under shady umbrellas or slurped ice cream cones as they waddled along the side-walks. Physical distancing a forgotten commitment.
The route continued along 8th avenue after we left White Rock. Flat roads and tailwinds. What could be better? We turned left at 184. Just before the 16th avenue turn Manfred's front tire imploded. An unscheduled rest stop. Manfred, well experienced in the art of tire repair, fiddled, faddled, and fumbled. Twenty minutes later Manfred crossed his fingers and we were off to Fort Langley. Nigel didn't seem like a cruel dude anymore. His route tweaks were minimal and required little refinement. Warm sun and mild breezes embraced us.
Fort Langley is Fort Langley. A destination spot for many, a bedroom community for others, and a habitat for mosquitoes. People lined the sidewalks and filled the indoor and outdoor cafes. Like the folks in White Rock, the Fort Langley visitors had fallen off of their fitness plans. We bought some food at Lee's Market and ate outside standing beside the cordoned off patio. Mosquitoes swarmed around us in a thick cloud. I noticed a few tanking up from blood vessels in my ankles. Swat and splat to the mosquitoes! I doubt I will ever move to Fort Langley.
The ride to Steveston was uneventful. Warm and sunny, light winds, and mostly flat. In early July the farmers' fields adjacent to fortieth avenue are picturesque: rich black soil, contrasted by straight rows of spring mix, and rusty farm equipment in the distance. The flight along Hwy 17 is always a treat. Strong tailwinds pushed us to the Alex Fraser Bridge. Bob shot ahead and disappeared into the distance. We met him again at the foot of the Alex Fraser Bridge. He was reclining against a tree, shoes off, and sipping fluids. Peddling up and over the bridge is a Zen-like experience of acceptance. The megastar flew ahead and the three escapees sought comfort in each others' company.
The kilometres quickly rolled by and we found ourselves once again riding along the dikes of Richmond. It wasn't as quiet as it was in the morning, but it was still tranquil. A few minutes later we arrived at the Sanctuary Cafe and finished the Buccaneer 200 pre-ride. If you subtract two trains, one flat, and Tulloch Road, (and the multitude of other stops) our ride took less than 9 hours. A most excellent day.
---
Go to: Results
Go to: Event Page (Database)

July 23, 2020