Back to P#18
Fraser Valley Flatlander - Permament 18, Chilliwack Start
Ride Date: July 16, 2020
by Karen Smith

Ok, I did my Permanent on Thursday as planned.
Permanent #18 with a Chilliwack start
July 16 203 km 10 hrs 51 min
I rode solo, so no other riders will be listed on my Control Card.
It felt really good to be riding a Permanent again! : )
I hadn't ridden further than 40 km from my house since the shutdown, and I usually stayed within 30 km.
So it felt like I was going on an adventure.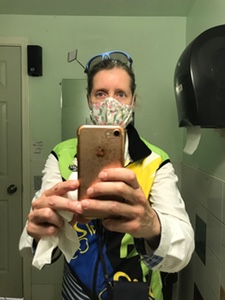 I started out in 17 degrees. The temperature peaked at 24, but it felt hotter.
Might just be that I'm not used to the heat, as we recently went through Junuary and Julyuary.
But now it seems that summer has arrived.
All appeared right with the world when I saw my 2 regular elderly walkers along Chilliwack Lake Rd.
I hadn't been out there since May and wondered if I would see them. There they were… : )
I didn't really expect rain, as my phone weather app didn't show any rain all day, well in Chilliwack anyway.
But I got light rain just as I was leaving Yarrow (which is still technically Chilliwack).
The rain lasted about 15 min but it was only an hour into my ride, so I worried that it was foreshadowing that there would be more rain in my day. After all, the skies were really grey!
It rained again as I was finishing up eating outside in Ft Langley at my turnaround point. Again I had steady rain for about 15 minutes including while climbing up 240th.
Speaking of the 240th hill, two women passed me going up. Uggh… I sucked on all the hills!!! : (
During the pandemic shutdown, when Permanents were cancelled, I was still riding, but all my rides were flat. Yes, I live in the Valley, but there are many options to ride hills.
But I stayed on the flats and it showed… Time to get serious about getting stronger...
There were lots of visible changes on my route since I last rode it in March:
Many new buildings both commercial and residential (including massive homes on ALR).
Lots of new pavement, beautiful smooth new pavement. : )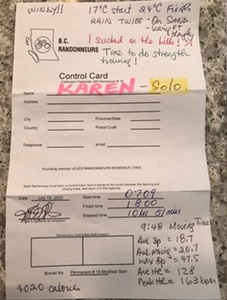 This was the first time I had ridden 272 north of 32 Ave since January, as it had been closed for construction. For months we had to detour on 264th. So now 272 was open and beautifully smooth.
On my March Permanent, 240th was closed due to rock slides. It was now open with beautiful new pavement, along with new rock wall, and a new wide shoulder. Nice!
There was also new pavement on Townshipline, Townline and a few other places that I can't remember now…
It's not brand new, but there's relatively new pavement on 272 just north of Zero. I still appreciate it.
One road that is in dire need of repaving is Chadsey. I wish that would get done.
I usually stop and have something to eat at Lee's Market in Ft. Langley, and if the weather is good, I eat outside on their patio. My plan was to do just that.
But the new Covid Restrictions meant that their patio was closed. That surprised me. I figured the inside seating would be closed or limited, but I expected outside seating.
I still ate outside sitting at the bottom of a lamp post.
I had another surprise while I was in Lee's. I was the only one wearing a mask!!! I saw someone in the parking lot with a mask on, but nobody inside.
While at Yellow Barn, there was only one other person wearing a mask.
Along Zero Ave, I saw 2 locations were people from the both sides of the border were visiting. The first couple was a pair of two older men, standing and talking.
The second was two women who had camp chairs, drinks and snacks.
Traffic was lighter than usual, except very busy on Hwy 11 and through the busy intersections of Abbotsford.
No flats, no mechanicals.
It was windy, which slowed me down on my way to Ft Langley, and helped me get to Popkum, and really slowed me down for the last 22 km.
When I finished, Michel and I ate Vegetarian Poutine from La Poutinerie Food Truck at the River. Fun!
I have attached my Control Card below, and a photo of me in the washroom at Yellow Barn.
No, I didn't wear my mask while riding.
: )
K
---
Go to: Permanent Results

July 19, 2020