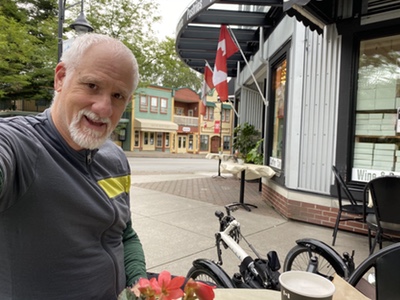 Rick's Solo Buccaneer
Lower Mainland Summer 200, Fort Langley Start
Ride Date: July 16, 2020
by Rick den Braber

The mosquitos at the start were voracious. I dressed with long sleeves and pants and wheeled to the start. The coffee shop was open so I treated myself to a socially distant tepid hot chocolate and a croissant. I still had time to spare so I toured around the Fort for a bit and got back for the 0800 hrs start. As you can see from the trike photo I had two panniers on. One for all the usual things and the second for the extra food and water. I carried 5 litres of water. I'm guesstimating about 80 to 100 pounds of trike. By the time I got to Brookswood (40th ave) I was overheating so I stripped down and carried on. At 40th ave and 192 St in Surrey I caught the tail wind that pushed me to Richmond and the 100 km mark in 4:16. At one point on 40th ave I was maintaining a 40 kph speed which impressed me as it was without effort. After the turn in Richmond I had some headwind but it was not an issue for the remainder of the ride. I started to lag a bit but that was partly solved with food from the trike. On the return trip the weather cleared and turned hot by the time I reached Langley. Suffered some cramps on 16th avenue which reminded me to drink more water. I was able to finish the rest of the ride without any more cramps but was tired and speed was starting to drop. I did push down 232nd St and into the finish to maintain an average speed of 20.6 kph. Total stop time was just under 20 minutes. Thanks to social distancing and no other riders to slow me or speed me up I maintained my pace and enjoyed the scenery. There were some scattered rain drops in Langley but not worth putting rain gear on. Looking forward to the next ride. The organization of the ride was amazing. So well do done to you all.
---
Go to: Results
Go to: Event Page (Database)

July 18, 2020