Solo Buccaneer, Pump Optional
Lower Mainland Summer 200, Fort Langley Start
Ride Date: July 15, 2020
by Morgan Taylor

My ride went well, save for the fact that I failed to pack a pump. On an average ride this wouldn't usually be a problem as a) I'd probably be riding with someone and b) there's likely be someone else behind me.
Alas, this is true self-supported riding, and despite packing a chain tool, spare links, quick links, two tubes, and having fresh sealant in my tubeless tires, a pump is not optional!
I picked up a piece of glass in my front tire on the last section of Westminster Hwy after the separated path ends. It sealed up quickly and I rode on without thinking too much about it.
Going up the bridge my nose started bleeding - allergies had me plugged up and irritated all day, this was a further consequence of that - and as I was soft pedaling River Rd trying to deal with that, the glass ejected from the tire and I now had two orifices losing liquid.
It was at this point I realized I hadn't brought my pump. The last time I rode this bike was on the 200k ride I did in December and I've moved my repair kit between a few other bikes in that time.
Riding into the cultural vacuum of River Rd with a tire intermittently spewing sealant was significantly more mentally burdensome knowing I didn't have a pump. The only place I could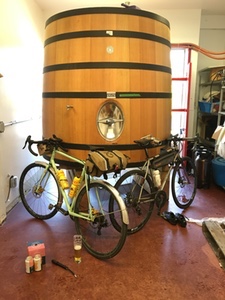 think of was the Four Winds brewery at 72nd St, as they have supported bike events in the past.
Their head brewer Kylo dropped everything to help me try to keep the tubeless setup, but the hole was simply too big, and he offered me a cold beverage while we chatted bikes and I put one of my tubes in.
He didn't have a spare pump to lend me but after hearing that their Nectarous was my favourite beer, he sent me along with four of those and a couple others, so I carried 2.7L of beer for the last 80 km.
After that, I slogged through the hot flats of Ladner and the evil hills of Crescent Beach and White Rock, and found a good rhythm for the final stretch. If you don't count the tire debacle and waiting for a train in Crescent Beach, I was within a few minutes of my 8-hour goal.
I quite enjoyed riding this route from the east - starting through the quiet roads of Langley was nice. Thanks for providing the option! It was definitely easier logistically for my wife who dropped me off and picked me up.
Control card attached. I accidentally wrote my wife's name in the ride day contacts - whoops!
---
Go to: Results
Go to: Event Page (Database)

July 18, 2020