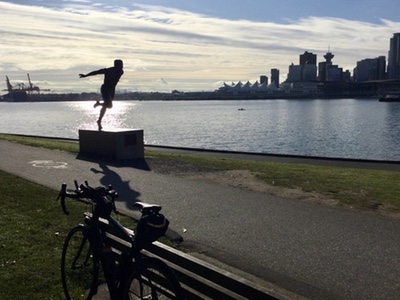 Paths to Pastures
Permanent #93, 203 km
Ride date: March 1, 2020
by Mike Hagen
I should have said I was starting at Km 190. It was always my intention to ride Stanley Park first. It's a nice route. Lots of gravel, greenways, and shared pathways; slows things down a bit, but that's okay. I deviated at one place: I rode west on Grandview Hwy because I wanted to collect the Wandrer points and what better time than early on a Sunday? Beyond that, I suggest riders could use Off Broadway along 7th rather than 10th Ave Bikeway both directions. I actually like 7th better. I think I got onto Fort To Fort trail too soon. Did you mean turn left then fast right at the top of the hill where Allard Crescent goes right? That's what I was planning, but I saw a Fort To Fort sign out of the corner of my eye when passing Derby Reach, and went that way. Why not! Then I missed the turn off the Langley Greenway onto the 214b St path. I was looking for an actual street and ended up at 216th. I'll get it right next time. You have an "L" on the route sheet there, which confused me sufficiently (not hard) that I was happy to go to 216 then right to 88th. I rode through the barrier at 240th. No work crews, nothing going on. Clearly there was a slide, and some geotech stability work is needed. Bit of rain at Fort Langley on the way back. Mostly it became too cold, so I put on my rain gear. Didn't see Barry.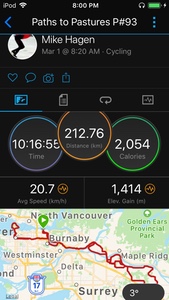 ---
Go to: Permanent Results
Go to: Permanent #93 Route Page (Database)
March 2, 2020