Chasing the Arrows: PBP 101
Paris Brest Paris 2019
Ride dates: August 18-22, 2019
by Jacquetta Benard
Rambouillet, France
Finally it's time to start the adventure of my lifetime. Something that I'd read about in the early 90's, never actually thinking I would find myself attending, let alone attempting, but suddenly (okay, not so suddenly) here I am. In Rambouillet, about to start the crème de la crème Randonneur cycling event, Paris-Brest-Paris!!
Getting to the start line was three years in the making.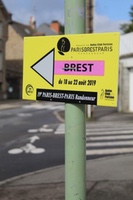 In the spring of 2016, I boldly told my daughter I had a bright idea. Get back into randonneur cycling, and ride Paris-Brest-Paris in 2019. Easy-peasy, I thought, and what seemed a lifetime away. So, the get back into part was rather misleading since I had only completed one Populaire and one 200km brevet, and that was in 1994, but hey, I still liked riding, and how hard can it be? I started testing my distance skills that summer, doing a one week bicycle trip that was about 500km. Not bad, I thought. I can do this. So, I signed up for my first 200km Fall brevet.
Well, let me just say this. I bonked at 50km, and the wheels fell off the bike so to speak, but I was able to finish that 200km, in 12 hours. Holy Moly. I was not impressed. I have a very special Howard Bridge 200km pin as my reward though.
2017. I researched for a new bicycle, because let's face it – a nice ride is just that. A nice ride. I showed up to the Interior Spring 200km pretty pleased with myself, and my new ride. That 200km was a great day, and I started meeting BC Randonneur members. 300km – bust. This was when I reminded myself I had a 'menu' for getting to PBP.
2017 ride and learn
2018 practice what I learn
2019 have fun.....

The ride and learn part took more than 2017. I tried another 300km and failed. In 2018, third time a charm, I succeeded. Okay, I've got this. Again. My success on that 300km was because I had created a ride plan for each of the segments, and when I realized I was riding well to the plan, that pushed me harder and I finished faster – with the biggest grin on my face. I completed my first Super Randonneur in 2018 pleased as punch, and excited that I had qualified to register for the infamous PBP 2019 !!!
And now, I'm crossing the first timing gate, in Rambouillet, France, crying.
I've got this!!!
I had examined the route closely prior to getting to France, and realized that the route is through the countryside, and that the trains to the communities I'll be riding through are limited. I see a warning on the route sheet, mentioning a highway crossing, and to be careful. "How dumb is that?" I think to myself. More on that, later. I also understand there are few escape routes from this ride – as in, ways to get back to Paris. It's all or bust. I don't have an escape plan.
Now the PBP 101 section, for a reminder to myself for 2023.
Leaving at 7 pm was fine. It was really very pretty, and the setting sun nice to ride toward. I was happily riding alone, enjoying the sights and sounds of other riders and the countryside, jumping on the fast wave of riders from the next letter of the alphabet once I realized what 'that noise' behind me was. I was able to enjoy the M and N sprint for about 5km each time. Darkness fell, along with the dampness, and I stopped to throw an extra layer of warmth on and have a quick bite. A train of lights on bikes whizzed past me, an endless stream. I joined the train and continued in the night, enjoying the scenery in the small, dark villages that I passed through, and wondering why so many riders were already stopping to enjoy the cafés..... or to sleep. And the route signage. Arrows glowing in the dark, marking our way to Brest. I became fixated with those arrows – racing to get to the next, racing to get a few kilometres closer to Brest. Following a stream of tail lights up a steep hill out of a village reminded me of the recent picture of mountain climbers making the final push to summit Everest, and how this ride was the same.... an endless stream of anxious cyclists ahead of me, in pursuit of the finish line. I rode my fastest 200km that night and celebrated in a bank's ATM shelter with a fellow rider, only a few kilometres from my first control, Villaines-la-Juhel.
With many things in my life, I imagine what the next adventure is going to be like, and I did have a very strong PBP Ride Plan in mind. In Canada. I really ought to know better by now. My imagination and reality are never in sync.
I arrived shivering and hungry into the first control, anticipating a yummy, keep me on the road breaky. The large bowl of hot milky coffee was welcomed onto my food tray, and then...... croissants, and other sweet delights were in front of me, for breakfast. Now, I don't like sweets much. I was crushed. I bought an eggy custard tart, trying to con my fatigued brain into 'it's a good egg breakfast'. I was a sulky brat when I sat down at a table, with other riders. The coffee was great. The tart, no so. Despite my disappointment in my breakfast (the first thing NOT imagined in my pre-planning), I was quite thrilled that my quick 200km had pulled me into the first control waaaay ahead of my ride plan. I lay down on some cardboard with some other snoozing riders and fell fast asleep.
I awoke after a decent nap. Still ahead of schedule. Well, this is going just swell, I think to myself. It's 7 am, the sun is rising, and all is looking great. I started out again, excited to be riding in the daylight, able to see the French countryside. The second control isn't too far down the road and I was looking forward to getting there, Fougères, and that's when I was hit with jet-lag. I could not keep myself awake at all. I struggled along the road, stopping every 30 minutes or so because I was falling asleep at the wheel and was afraid of falling off my bike. It was a wretched morning, and my segment time was depressing me. I stopped to nap. Eat. Sleep. Take pictures. Getting excited about a hill I was riding up, the road walled in with tall leafy ferns, "Surely I'm close to Fougères now!!!" I think to myself. Finally, I reach the second control, mad about everything. Just everything.
The randonneur mantra entered my groggy brain. Don't make any decisions about anything until I've eaten something and slept a bit. I slept an hour. Then I ate. And then wandered around the control mad at myself and my groggy brain. I didn't want to go any further, yet I had only made it to the second control, and although my body felt fine, my brain didn't. Ridiculous, I thought. And found a nice sunny patch of grass and lay down and slept another hour.....
When I woke up, I decided that I would just have to get to Brest. Get on the bike, and get to Brest.
And then I thought about riding through another cold night and also thought that wasn't going to be a good time, considering my day ride. I was discouraged but climbed onto my bike anyway, and left for Tinténiac, arriving in time for dinner. The control was quiet. I bought a ham and cheese baguette and juice for later, and then went to the kitchen and bought a delicious chicken and potato dinner. Eat, nap, carry-on. I ate and had a superb sleep on the carpeted floor in the sun, in the empty dining room.
I left in pouring rain and setting sun and rainbows. I felt awesome and more optimistic than earlier in the day. I was happy and on my way to Brest.

Up until this point, I had been chasing the arrows for the route, following other cyclists, sweeping through the countryside and small towns, not paying attention to road signage and waving at spectators and well wishers... and that's when I rode out onto the highway without stopping. Without looking. That piece of highway that was mentioned on the route sheet to be aware of..... yup. I rode right out onto the highway without looking left or right..... past the stop sign, and that's when I was really glad to have good brakes. I came to a rear wheel twisting around stop only inches from the door of the car that was zoom- zooming by. The kind people who had just wished me "Bonne Courage" were still gasping as I too, was still teetering on my bike, stunned. I sheepishly made my way across the next three lanes of highway. And was much more careful as I rode off into the dusk.
Night descended and the countryside was quite flat. My goal was Loudéac. I was surrounded by darkness so my bike lights went on. And then I woke up. Really woke up and rode hard and fast. I made Loudéac in reasonable time. I was quite pleased with my progress and knew I didn't have to leave until 2 am, so I lined up the wooden cafeteria seats to make a 'bed', took off my sandals and lay down on the hard seats, flat on my back. When I woke up I sat up, and was face to face with a fellow rider who was now sitting at the table. We both smiled and said "Bonjour". I noticed the other head-nodding rider who was still fast asleep sitting up. His helmet letter was J. "I'm doing better than him," I think. "I'm an L...." and pressed for time. I upset another rider while leaving Loudéac by noticing and saying, "Oh, I feel better about myself now, seeing that you are an H." He looked at me and replied, "Well, now I feel bad about myself......" Diplomacy is everything. Even tired. I felt badly. I hurry to leave Loudéac, knowing I have to be really quick to get to the next control on time. It's 2 am when I leave. Cold, dark.
And that night, there were some eerie red eyes blinking high in the sky. The beacons on the wind- turbines, but I couldn't see the blades twirling and blocking the light, just the red blinking eyes leading me along the dark road.
It was a darker ride than the first night too, since the riders were really getting spread out, and I had to sort my headlights out. The bumpier French country roads were not working with my BC Highways set- up and I was no longer able to mooch off other rider's lighting. I stopped often for roadside coffee and cakes to fuel myself through the night, leaving Canadian souvenir pins with shivering hosts under blankets at the stops. I had a great ride that night and really enjoyed myself.
The secret control was busy and I hadn't really banked time to be there. I snacked on my own nutri bar and carried on, making it to Carhaix-Plouguer with only a few minutes to spare, that was quickly lost when struggling to decide where to prop my bicycle. I was four minutes late on the control time, officially. Gah.
I had spaghetti for breakfast then slept, again, on the cardboard under a table with others. It was daylight. Might as well sleep. When I woke up, I was stoked. Brest was less than 100km down the road, and I was ready to get there, and back to Carhaix-Plouguer. Well, let's just say that was a challenging morning. I'm leaving the control while others are now on their return from Brest, on their way back to Paris, looking pretty haggard and miserable in the cold and wet morning. I asked someone, "How's it going?" "Awful" was their answer. I leave, trying to imagine myself back to this location by the evening – not even 200km to do it...... and it seems like an eternity, both the time and distance. And that's when I realize my right forearm is killing me, when I shift gears. All the hills getting to this point, shifting up, shifting down, shifting, shifting, shifting, to make it easy, was great until now. Now, I'm just in pain.
And I'm fantasizing about Brest, getting there, having a break, and getting back on the road to Paris. Except then the Paris-Brest pastry pops into mind. It's not called Paris-Brest-Paris, just Paris-Brest.

That pastry was the deciding factor. And the knowledge I had an escape route from Brest, called TGV.
I struggled on my day ride again. It took forever to get to Brest. Just forever. The scenery was amazing and towns, fabulous. I stopped and took pictures, rode with a young and obviously struggling rider for a while, and stopped for a really amazing baguette and coffee. I also arrived 1.5 hours late to the control. Now, while getting to Brest, I chatted once in a while with other experienced riders who said the control times didn't matter so much, just finish in the ride time I was committed to – the 90 hour ride. But I arrived in Brest with my mind made up – fast train back to Paris.
I gave away the last of my Canadian pins to the kind people at the Brest control. And I had the thrill of a lifetime zipping back to Paris at 300km/hour, rushing past the countryside that took me 40 hours to get across...
And this is what I learned:
1200km is a long way,
Daytime riding while under the influence of jet-lag is not easy – plan accordingly,
As much as I love riding with my own company, I think success at this ride might be easier if ridden with someone to prod you awake while riding,
1200km is a long way, and
Have an escape plan.
Back in Rambouillet, France.
Well, a fast Canadian rider beat me back to the hotel, so the next day, chummed up, we went to welcome other finishers back to the Sheep Fold. This is what I witnessed. Just how hard 1200km is on a person, many of whom crossed the final timing gate more miserable than happy, belligerent with fatigue.
And this is what I also know. While on the TGV, I laughed and asked my new friend fellow rider if he thought he would come back to ride PBP again. "No" he said. "Me neither," I replied.
Randonnesia sets in within 24 hours.
I will go back to have another go, and won't be disappointed if I only get another 300km further....
And, I still haven't had a Paris-Brest pastry.
--- I would like to say a huge thank you to everyone that I rode with over the last couple years while qualifying for PBP. It has been a remarkable experience and I am so honoured to have shared this with other like minded people, getting tips, tricks and words of encouragement. I could not have done it without your help and guidance.
I am also very grateful and appreciative of the Harold Bridge award that I received to participate in Paris-Brest-Paris 2019. This was a dream come true for me, and they were tears of joy when I crossed the first gate in Rambouillet. Thank You !!!
---
Go to: BC & Canada Photos
Go to: BC Randonneurs PBP Results
January 4, 2020