January 2020 Permanent *** DONE : )
Permanent #18 "Fraser Valley Flatlander" (Chilliwack start)
Ride date: January 8, 2020
by Karen Smith
My heart really wasn't in this ride. It was going to be windy, from the SSW which meant I would get a lot of crosswinds. Also Gary couldn't come today, so I would be solo. But I really wanted to get my January ride in before the cold and snow hit us, and today was forecasted to be the driest. So off I went. (Turns out the next day wasn't windy or rainy and would have been a much better day to go… ah, hindsight...)

I meant to leave at 7:30 but it was unexpectedly raining. At a temperature of around 4 (higher than expected), I decided to try to wait for the rain to stop, which it was forecasted to do. I finally went at 8:13 (now I would have more riding in the dark!). I only got about 500m before it started to rain. It rained on me for the next 45 minutes! Uggh! I chose not to bring my gortex pants, and my thighs got really soaked! My quads were cold and weren't working for me very well.

The whole way through the Sumas Prairie, I felt like I was battling the wind. I was also dreading go up 272 where Gary and I encountered the dog on our December ride. I was so freaked by this that when I got there, I walked my bike, using my bike as a barrier between me and anything that might come out of that property. Of course nothing did...

I refueled at Fort Langley and left thinking that I would get better winds on the way back. But they were still not my friend. I was riding steadily but was behind schedule. After a short stop at Yellow Barn I ventured out for my last 62 km with another 1/2 hr of daylight. As soon as the sun started setting, it started to rain, and then hail. Hey, this wasn't in the forecast!!! The precipitation stopped for about 15 minutes but then I had steady rain, in the dark, until the end of the ride (till 7:15 pm).

I got so cold in the rain, I could barely pedal. I really slowed down, which made me even colder because I wasn't generating any heat. It was a vicious cycle…. colder... slower... colder... slower... colder... slower...

When I finally got home I was so cold that I could barely get off my bike. Michel said I was moving like an old person. I think I was bordering on hypothermia. That's unusual for me but it was just a few degrees above zero in the rain. By the finish it was 1 degree. It's hard to stay warm when you get wet in those temps. It took me a long time to warm up. Sitting by the fire wasn't working. A bath finally worked.

Lessons learned:

- Don't go on a ride unless your HEART IS IN it!
- Always BE PREPARED, especially at this time of year! I think I would have been ok, if I just brought my gortex pants. I was wearing gortex socks, and my feat were fine the whole time... well until the end…
All the ditches were really full of water, and many fields were flooded. I wondered what they would be like next week with the forecasted rain and cold!

No flats, no mechanicals. Traffic was light.

: )

Karen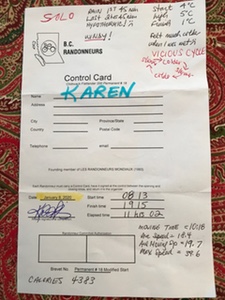 ---
Go to: Permanent Results
Go to: Permanent #18 Route Page (Database)
January 17, 2020