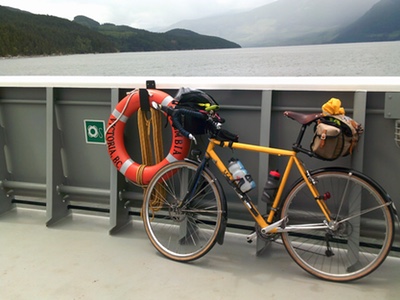 Hilly McHillface 1000
Ride dates: June 29 - July 2, 2019
by Bob Goodison
Bob Goodison - 57:52
Brent Tucker - 64:45
Barry Chase - dnf

Conditions- Day 1, calm, cool cloudy, some light rain. Day 2- variable light wind, 3C low, +-30C high. Day 3- Hot, sunny, headwinds in the early evening.
I was hoping for more riders, but perhaps I scared them off with the route name. It was an experimental route, much of which I had only seen on maps and Google Street View. Ride With GPS indicated 11145m elevation gain. Most large towns were avoided, so re-supply points were limited, especially after normal business hours. A true adventure 1000. As they should be.
Barry Chase, Brent Tucker, and I left my house at 05:00. I had calculated that if I did the 185 km to Shelter Bay at 26.5 kmh with no stops I could make the 12:00 ferry. There was a control in there, so I allowed 12 minutes for stops, meaning I needed to average 27.2 kmh. I was in time trial mode to Revelstoke, hitting the control at the Big Eddy Market with a 29 kmh average, and only one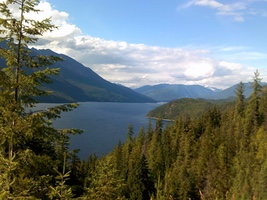 nature stop. A very slight tailwind and hitting every traffic light green had helped. Traffic was quiet until about 7:30, when it was like a switch had been turned on and the noise became an annoyance. Once off Hwy 1 and onto Big Eddy Road, the traffic was virtually gone, and would remain that way for the next two days. Big Eddy Road has a couple of railroad crossings, the first of which is very bad. The Big Eddy Market is a great store, and has excellent muffins. Should have bought more than one. I arrived at the ferry 10 minutes before the 12:00 sailing, a welcome rest when combined with the 20 minute crossing.

After getting off the ferry, the BIG climbs start, but the road is good with very low traffic, and the scenery, wildlife, and wildflowers are spectacular. I went through an unbelievable amount of food and water on the ride into Nelson. At the control in Nakusp, I bought a sandwich- looked at the label where it was made- surprise- Big Eddy Market. Fortunately I had done my homework. A few kilometres before Nelson, I phoned Thor's pizza and ordered a 12" 5-cheese pizza, half to be eaten when I got to my accommodations at the Dancing Bear Hostel, half to be saved for breakfast. I got to the hostel at about 9:30, balancing a pizza on my handlebar bag, and fiddled a bit for a while trying to find the room keys they had left for me in the lock box, and getting settled in the room. I had a bunk bed room to myself, which was great.

I left Nelson just before 05:00, wanting to be at the border when it opened at 08:00. There is a BIG climb out of Nelson, then a long, gentle descent to Salmo, where I stopped for a coffee and muffin, being a bit ahead of schedule. Many of the gas stations in the Kootenay/Boundary area have locally roasted, good coffee. The extra dark roast Backpackers Blend was what I needed.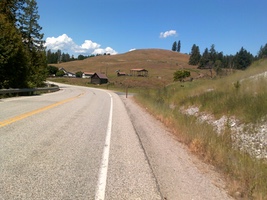 Also, I needed to warm up, as the temperature had dropped to 3C on the way down. Once I made the turn off 3A, I was on new ground. The road to the Nelway crossing is beautiful, and has a (surprise?) BIG hill. The crossing is in a beautiful setting, on the edge of the Colville National Forest. I had arrived 5 minutes early, and at 8:00 the friendly (yes, really) border agents let me go into the U.S. Most of the day followed the same theme- Climb a long hill, ride some rolling terrain, enjoy a twisting, turning descent into a small town, hit the local store for refreshments, repeat. The descent into Metaline Falls stands out as one of the most enjoyable downhills I have ever done. Another big climb out of Tiger, with switchback after switchback took me to the halfway point (distance-wise, anyway) of the ride. There was a control in Colville, and it was time for real food. I hit the Safeway, got my card signed, and sat outside with my macaroni and cheese, burrito, and donut.

OK, now for some real climbing. After crossing the Columbia River at Kettle Falls, it was time to tackle the monster of the ride- Sherman Pass, gaining just over 1200 metres over the next 40 km or so. How about spending three to four hours climbing the same hill? There are different ways to occupy the time- pick a point in the distance and try to guess what the elevation will be at that point, create a drinking game in which you take a drink every 100 metres of elevation gain or stop to take a picture as a thinly disguised excuse for a rest stop. Thankfully one does not lose all that elevation while descending to Republic, where I refueled and prepared for the Wauconda Pass. Leaving Republic it was hot, but starting to drizzle. Then it cooled off and started to rain harder and I put on my jacket and rainlegs. Near the top, it developed into a very loud thunderstorm, although I saw no lightning. The sky cleared and I saw a double rainbow on my descent to the Tonasaket control.

Back on familiar ground I took advantage of a slight tailwind back to the border. I really wished I had done as Brent had done, and booked a room in Osoyoos. I had wanted to book in Oliver, but no motels would do just the one night on the long weekend, so I had reserved a bed (not a room) at the hostel in Penticton. BAD mistake. The only quick food I could find in Oliver at 11:00 PM was at the 7/11, but their meatballs and potato wedges did the trick. I was a little pissed off when I saw two motels in Oliver with vacancy signs, and considered getting a room there after all. I wish I had. Got into Penticton at 1:00 AM. No room in the room for my bike, so I left it in the hallway. Three sets of bunk beds in a tiny room, only the top bunks still available. I showered, set my alarm for 5:30 and got into bed as quietly as I could. Every few minutes, someone was up- going to the bathroom, fiddling with stuff in the lockers, who knows what else. Not a quiet place, and I don't think I slept much. My alarm went off, and I got up and out of the room as quietly as I could. Why is it so dark? Check the time 3:30? WTF???? I had set my alarm wrong, but I was not going back to bed. It was not all bad, at least I would get to Kelowna before the heavy traffic. I tried to go to Denny's for breakfast, but apparently that one too is no longer 24 hour, so I settled for the Tim Hortons in Summerland which somehow seemed fitting on Canada Day. Lesson learned- no hostels on brevets unless I can get a private room.

Here is where the route sheet needs some help, mostly clarification. Crossing the bridge into Kelowna, Brent managed to get on the wrong side of the divider and rode across in the car lanes! TERRIFYING!!! I got through the park before it was busy, but Brent was not so lucky. The new multi use trail through Kelowna is excellent, but I screwed it up on the route sheet. I said left on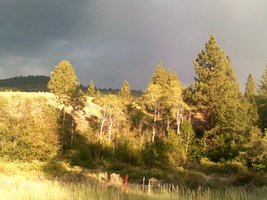 Pleasant. I could NOT find Pleasant. I found that turning on Gordon got me where I needed to go, so that is what the route sheet will say next time. Checking the RWGPS map, it shows that I should have turned on PHEASANT, (not Pleasant), just past Gordon, but there is no road to get to it. There or may not be a trail to Pheasant, but Gordon works, so Gordon it now is.

From here to the finish was pretty much routine- Okanagan rail trail to Vernon, then Hwy 97 and Salmon River Road, and Hwy 1 to the finish. Salmon River Road is in atrocious condition and in desperate need of repaving. Still. It took a while to make the left onto Hwy 1 at Salmon Arm because of the long weekend traffic, and then the traffic noise was horrible, especially after having spent the last two days on nearly deserted roads. I flatted just after getting onto Hwy 1, only 28 km from the finish, my first flat on a brevet this year. While I was fixing it, someone stopped their car to make sure I had a pump and everything I needed. How often does that happen? More often than you think. Barry had ended his ride in Nakusp, and riding back to Revelstoke he had a flat and his pump failed. Someone stopped, and gave him a ride all the way back to Sorrento!

Brent rolled into Sorrento at 9:45 PM, looking a lot fresher than I had felt, and from what he told me he had also had a good ride.

There are some riders in the club who should never do this ride, and some who need to do this ride. You know which group you fall into. I will definitely offer this ride again, possibly with drop bags to Nelson and Osoyoos. It would have been so much easier without all the extra weight of the crap I was carrying to ride it unsupported. The scenery is stunning, the roads are quiet and mostly in good condition, and it passes through some very old and interesting villages with very friendly locals.

Thanks, Bob
---
Go to: Results (Event Page - Database)
Go to: Bob's Photos (Flickr - 37 Images)



July 11, 2019