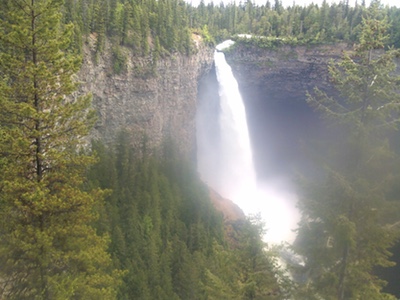 Highway to Helmcken with Batman 400 - Report
Ride date: May 25, 2019
by Bob Goodison
We had a mixed bag of weather for the Interior 400, but better than predicted. It started out dry, then dumped cold rain on us from just south of Barriere, up to the control at Barriere Forks Park, then back down to Barriere, ending before Little Fort. A few riders got brief showers after that, but mostly it was good. Temperature range was from about 7C to 25C, just how I like it. Winds were minimal, and pretty much a non issue. Six riders started, and six riders finished. The new (since last time we used this route) pavement on Clearwater Valley road was a real treat, especially on the fast descents coming back down. There was not as much wildlife as usual, and I only saw one bear and two deer. There was the usual parade of rental motorhomes, but the drivers were all well behaved. We even had a bit of a PBP experience- some Dutch tourists, who knew about randonneurs and PBP, cheering us on from the side of the road and taking our pictures! I got a few pictures, but the lens on my camera was very dirty (sweat? snot? peanut butter? don't want to know) so they are not the greatest.
---
Go to: Results
Go to: Bob's Photos (Flickr - 12 Images)
Go to: Rick's Video (Youtube - 13:16))
Go to: Highway to Helmcken Event Page (Database)



May 26, 2019