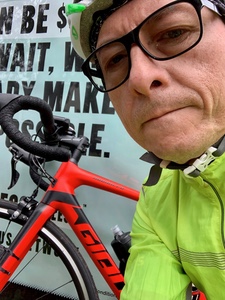 "Wannabe racer" J Guzman waiting
for the bus at the 2019 Populaire
A Minor Populaire Set-Back and 3 Weeks to Go
Pacific Populaire (100 km route)
Ride date: April 7, 2019
by Jaime Guzman
I am proud of my taste for old-school steel randonneuring bikes, but for the Populaire this year I decided to go full-on racing, neon colours and all. I wanted to check if my training was up to snuff since I will be riding my "personal 1200" across the Rockies in 3 weeks. Here is the link for my ride again:

https://ccnbikes.com/#!/ucanride4kids/pledge/1150
I brought along a neon red carbon Giant bike I got for cheap last year (much cheaper, and healthier, than a Red Ferrari for your midlife crisis!). It came with tubeless tires; tubeless is the new thing and with the sealant in you are not supposed to have minor punctures at all. In any case, if you are an amateur racer and you get a flat your race is over anyway, no matter what kind of tires you are racing.
I was riding a very nice pace chasing the alphas after the Spanish Banks hill and of course, you guessed it, that is exactly what happen: A flat and my first DNF ever!
Well, that is not exactly true, I had a DNF once because I forgot to answer the question at an information control.
The moral of the story is: Don't buy the hype, true and tested reliability is a must for randonneuring.
Enjoy the Ride. Never Quit.
---
Go to:
Pacific Populaire homepage
April 9, 2019