P23, Palms to Bombay
Ride date: February 27, 2019
by Stephen Hinde
I've been trying to get my BC12 for 3 winters. In 2016 I rode my November permanent on the Hawaii Ironman course, and returned home to snow, ice, more snow, and after 130km on Dec 30th, abandoned my December ride. In 2017, I started my series again in March, and made it all the way through to February when strong winds left me stranded in Campbell River, 11 ½ rides done. Well, I was touring in Europe this past summer, so I started again in August. I've been riding permanents with Rob Nygren, and during our January ride he said "oh, I'll be away in February so if you want to ride with me, it will have to be early". I enquired after his absence. "A couple of weeks in Palm Springs at the end of the month." Oh well, I had a whole month to figure something out, and it's not like I haven't done a solo ride before.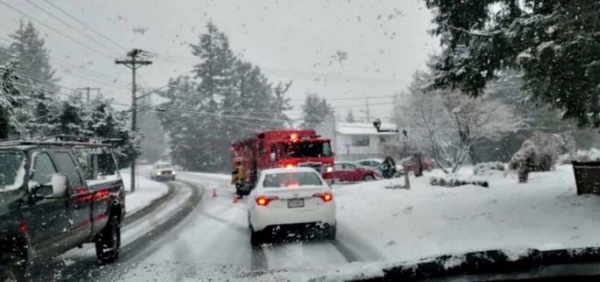 February 8th, Nanaimo.
Hmm, this isn't looking promising. Lucky Rob is going to Palm Springs—I bet he will be having a nice ride. Then the wheels in my head started turning—maybe I should go to Palm Springs too? And guess what, reading break is the last week of February (I'm taking courses at VIU) so I have time. And there is an established permanent P23 (thanks to Barry Chase and Tracey Barril) even if it hasn't been used in ten years. So I made plans to meet Rob in Palm Springs, booked hotels and other distractions (shows in Las Vegas to keep Carol amused). The next day…

Flash floods. Roads closed. Debris everywhere. Maybe I should brave the snow at home? Too late, Carol is expecting those shows.
So after finishing my midterm (rushed through to get out early) we headed for the ferry, and 2 days later, arrived in Palm Desert (a suburb of Palm Springs, sort of, and the real start of the ride). A couple of days to get ready—leg and arm warmers, winter gloves and coat packed but not used, food ready, camelbak full, and daylight start at 7am.
The first 10km was a little annoying with Vancouver style traffic lights every block, but after that, we had cycle lanes, low traffic, and good pavement, except for the sandy road that was closed, so we detoured the other legs of the square. I was expecting dull desert scenery, but I actually enjoyed the farms, the desert, the Salton Sea, the coyote, the roadrunner, and the other unusual sights.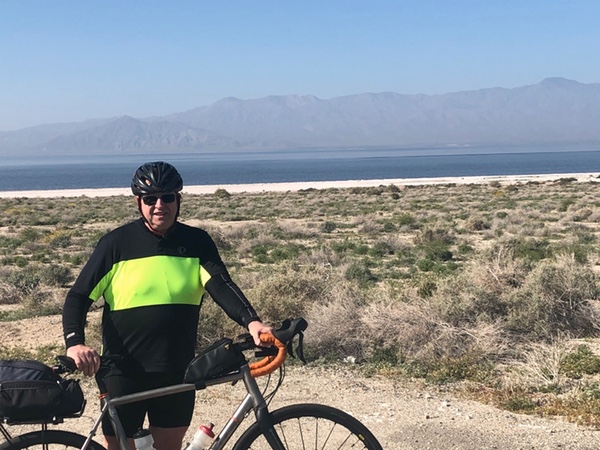 February 27th, Rob by the Salton Sea
The route is mostly flat, but our start town of Desert Palms is at 223ft above sea level, and our first control in Bombay Beach is at 225ft below sea level. I had updated the route based on advice from a cyclist who visits Palm Springs regularly, and as part of that update I put in a 250ft hill (75 m climb in 3km) at the 175km point, just so we could coast down the other side, the only coasting in the entire ride.
We had one more small problem after the hill—the original route took us through a gated community with a closed gate (and guards to enforce that closure) so we took another detour. I've updated the permanent information to remove the sandy road, the gated community, and a short but busy stretch of road. If you're interested in riding this route, it has great road conditions nearly the entire way, low traffic except for the first and last 10km where there is a good shoulder, and in February, is a balmy 25degC (locals tell me July and August get to 50degC, so pick your ride time carefully!). We had almost no wind south to our first control, but while at the control, a north-easterly sprung up, so we had a moderate headwind for 45km. Then we turned southwest, and we had a moderate headwind for 15km. Then we turned northwest and had a moderate to mild headwind for 15km. Then we turned west and had a hard headwind for 1km (I think this one was bouncing off the local hill). But overall, no issues, no mechanicals (despite the developing clunk in my drivetrain—free hub pawls are sticky from dirt ingress) and despite my bonus hill, only 400m of climbing!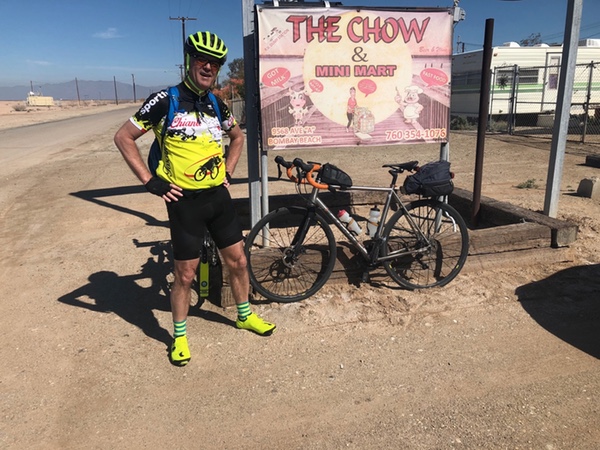 February 27th, Stephen at control #1
And if you need an added incentive to visit, the Ski Inn in Bombay Beach (just 2 blocks before the control) advertises itself as "the lowest bar in the western hemisphere). Rob and I decided it would probably be a bad idea for us to verify this claim in the early stages of our ride, so I may just have to go back next year.
Thanks Rob for a great ride. And yes, Eric, I think we were the smart ones.

---
Go to:
Permanent Results
March 7, 2019