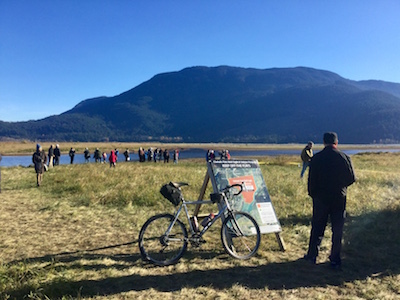 Journey of the Sorcerer
Permanent #186
Ride date: November 18, 2018
by Mike Hagen
Once again, I sat in front of the computer, brooding. I had the Strava Route mapping tool loaded, along with the VeloViewer add-on that shows where the tiles are—both visited and non. Where was I going to go? I was not enamoured by yet another ride on familiar roads; I wanted to go somewhere new, somewhere I'd never been before. But when one has entered every tile with a paved road in the Lower Mainland, Whatcom County, and well down into Skagit County, well, that is . . . problematic.
This past summer I took to riding old logging roads. They are a mixed bag. Some are quite steep, rough, eroded, and overgrown. One needs to be prepared to walk (and don't forget bear spray). But some, and/or some sections, are smooth, gentle, secluded rides through the woods, with unexpected vistas opening up, mysteries around every corner: a real treat! (and don't forget bear spray). Average speed is low, however, maybe 8 – 10 kph, and 70 km in a day is about the most one can do, if that. I wanted something longer. I wanted to do a permanent.
Last year, when the Tequila Sunrise permanent hit the Squamish Valley Road end-of-pavement, the Squamish Forest Service Road called to me. This summer, I rode the full length of the Florence Lake FSR which runs 24 km north from the Dewdney Trunk Road along the west side of Stave Lake. These main stem FSRs are wider, better maintained, and have gentler gradients than secondary logging roads. Long stretches have well-packed gravel with few loose stones and potholes—pavement quality. But loose rock and washboard may happen anywhere, especially when the road is highly trafficked. And traffic kicks up dust in the dry summertime. But late fall? When traffic is lighter, roads well-packed and dust free? Perhaps an out-and-back permanent running up a stretch of FSR would be just the ticket.
And Journey of the Sorcerer was born.
Permanent #186 starts at the Pitt River Bridge and runs east up Old Dewdney Trunk Road onto Abernethy, south on 232nd St, then picks up the Lougheed Highway east to Harrison Mills. The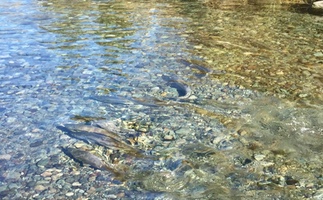 route bears left up the Morris Valley Road just before the Sasquatch Inn. End-of-pavement happens at the Weaver Creek Spawning Channels, 12 km up. The Sts'ailes FSR heads north from there (you can get to Pemberton) but turnaround is at the Wood Lake Recreation Site, 19 gravel kms past the hatchery.
I rode it Sunday, 18 November. It was cold at 7:30 a.m.; the puddles where I parked the car were ice-covered. There was fog along the river; but the roads were dry, and the sun soon broke through. By Deroche, I was getting quite warm and stopped to shed some layers. Finally on the Morris Valley Road, I saw that the private community beside the Sandpiper Golf Course was having some sort of community event. The gates were open and volunteers were inviting people in. It was the Chehalis Salmon-Eagle festival! I'd just read about this in the paper; reputedly, it is the largest collection of bald eagles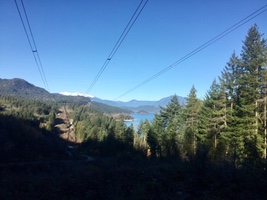 feeding on salmon in the world. I went in, but all I saw was people looking at people presumably looking at eagles. One needed a pretty big telephoto lens to see anything, and most people didn't have that. I didn't, but I got the tile.
Further north, I dove down the Chehalis Road to the Indian Reservation and all the way to the Harrison River. No salmon there but the view of the river and Mount Woodside was nice. Got the tile too. Then I continued on Chehalis Road further south, found a narrow trail heading toward the river, and came out on a small slough. The air reeked of rotting salmon. Huge heads had been hauled onto the banks. By eagles, I presumed; or was it the work of bears? Spawning stranglers thrashed away from me in the shallows. I felt guilty startling them into frenzy when they were already so weary. I got the tile, but time was a-wasting.
The gravel road after the Weaver Creek Spawning Channels is excellent, but soon climbs toward Grace Lake and deteriorates into a stony, wash-boarded mess. It turned out, though, that this first four km stretch was the worst of it. The road after that was usually pretty good. Except for one thing: it climbed. There was 800 m of climbing in the 28 km of gravel riding that I did. I really need to pay more attention to the elevation profile when designing a route! It was extremely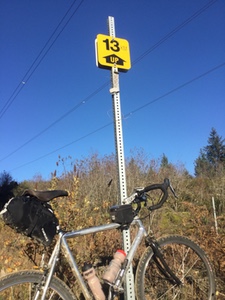 challenging, and I decided to turn around at the KM 13 post. I was still 6 km short of Wood Lake, and still 150 m of climbing to do. In all, the 28 km gravel section took 3 hours; not what I was expecting.
The ride out was uneventful. I took a couple more short side-trips (got the tile), but mostly hustled for home. By Dewdney, I sensed my front tire was softening; steering was getting squirrely. I stopped at the Sylvester Road Husky, and, yes, pressure was low. But my pump only succeeded in pumping air out of the tire! It was broken. No biggie, I was right beside the service station's air compressor. But it needed a looney, and I had no coins. So I went in the store to buy a buck, but couldn't get cash back on a credit card. The clerk just gave me a dollar—much appreciated! Unfortunately, the compressor only went to 40 pounds, but it was enough to get me back on the road.
By Haney, the tire was too soft again, so I stopped at the Petro Can at the start of the Haney Bypass. Compressor was out of order. So I rode, slowly and carefully, up the Lougheed to the Petro Can at 228th. Compressor was out of order. Ack! How about the Chevron at 225th? Yes! Rewarded with a blast of air.
I finished at 19:05, completing the permanent in 11:32. Due to my side-trips, I had 205 km on the Garmin, in-spite of not making it all the way to the planned turnaround.

But before the ride, and during the ride, I was thinking of this concept of incorporating FSRs into permanents. The Sts'ailis FSR probably isn't really suitable as it has too much elevation. It also had a lot of traffic: lots of quads (though it might have been the same three machines passing me multiple times, I'm not sure), several dirt bikes, many pickups, Jeeps, and other four-wheel drive vehicles, and one sedan! I wondered which was the odder sight along the road: a Chevy Malibu, or some old guy on a bike?
There are several possible routes that could incorporate gravel segments of varying lengths, and most of these FSRs are of good quality and less elevation than Sts'ailes. It could be a theme: Journey of the Sorcerer (route FSR). For example, the Chehalis FSR is also off the Morris Valley Road (Journey of the Sorcerer (Chehalis)). A couple of examples near Squamish are the Squamish FSR (Journey of the Sorcerer (Squamish)) and the Mamquam FSR (Journey of the Sorcerer (Mamquam)). Both could start at Horseshoe Bay and go 35 or so km beyond the end-of-pavement. Near Chilliwack, there is the Liumchen FSR, the Foley Creek FSR/Chilliwack Bench Rd, and the Chilliwack Lake road all the way to the border. The grand-daddy would be Journey of the Sorcercer (Skagit), which would start at Rosedale and go to Ross Lake on Silver Skagit Road -- 120 km of gravel. Ambitious, anyone?
One could ride these roads on a road bike with 700C x 28 mm CX tires, though I don't think you'd want to. Some of us already ride on 650B x 38 mm or so, with a bit of tread, these should be fine, especially with lower pressure. My gravel bike is just a mountain bike with drop bars and 26 x 2.25 CX tires. I usually run 60 to 80 pounds, though I've reduced to 40 pounds on really rough roads. A true mountain bike would work, but the flat bar is not aerodynamic and speed is slow on pavement. A suspended bike would be comfortable and easier to control in the rough stuff, but heavier and slower on hills. What's your trade-off?
Please let me know what you think about this idea and if you have routes like these. I'm always interested in new roads.

---
Go to: Permanent 186 event page (database)-
Go to: Permanent Results


November 22, 2018