Dick Nicholls Dies at 82
by Eric Fergusson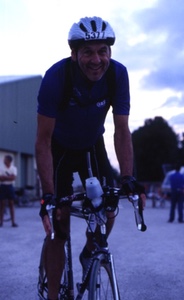 There's some very sad news for many long-time BC Randonneurs. Member 647 (link to database) Dick Nicholls was killed in collision with a vehical near Tsawwassen where he lived, on Tuesday, August 7. He was active in BC Randonneurs from 1997 through 2000. He participated in PBP 1999 and the photos you see here are from that event.
I hadn't spoken with him for a while and don't have a very full knowledge of his life, but here's what I remember about his life out side of the club. He was a career pilot. He raced his bike and I recall this included mountain biking. In the late 1990s he was pumped about participating in the World Senior Games.
He was strikingly fit in his early sixties when he was riding brevets. He really liked to move it on the fall flatlander 200 route with 3 times under 6h30. He also participated in the Y2K-2K, the 2000 km brevet celebrating the turn of the millenium in 2000. Dick wrote a ride report for the event - linked below.
More than all this, what people will remember about Dick was his energy, enthusiasm and love for life. His smile always lit up the room.
Thanks to John Bates for passing along the bad news and for finding the articles in the Delta Optimist's on-line newspaper.
Additional: John Bates has added "I believe he routinely cleaned up in his age category at the Seniors Games in cycling."
---
Two articles from the Delta Optimist:
---
Go to: PBP 1999 - BC Randonneur photos (in the PBP hub)
Go to: Y2K2K page (event hub page)
Go to: 2K in Y2K Unescorted by Dick "the kid" Nicholls (newsletter)


August 18, 2018