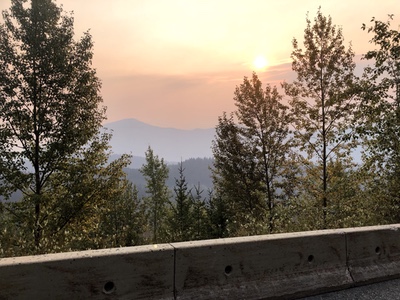 Loopy Interior 1000 - Étienne's Story
"Loopy Interior, Tried and True", September 1-4, 2018
by Étienne Hossack
Ride organizer Bob Goodison suggested that rather than his usual organizer's report, riders could send in their own stories. Here's the first one, Etienne's:
From my part:
The original idea for this ride for me was to ride straight through. I love riding highways at night and the terrain, winds and route seemed well suited to that.

The impending fog lead to a lot of last minute hmmms and hawwwws, but since the Epic 1000 gravel race was cancelled Nigel joined in.

Day one wasn't terribly challenging. There was some nasty smoke into Williams Lake. I wore my mask, Nigel wished he hadn't forgotten his, and we got to Quesnel in decent but not killer (read: sustainable) pace. The night was when things became hard.

Having ridden through lots of multi-day rides now, I expected no issue. But Nigel and myself were constantly dozing on the highway and struggling up tiny gradients. The cold was definitely a strong opponent. As were the winds, which to date, hadn't ever been in our favour.

We napped briefly in Prince George 7-11, and carried on towards McBride.

That section of the route was the hardest. Temperatures of 3-4°C. Rain. Headwinds. At one point when I was struggling to manage temperature (hot/cold) Nigel was too cold to wait and had to hammer ahead until the skies cleared and napped until I caught up.

We decided that given the weather/winds, no outstanding times were being set, and we'd rather enjoy the rest of the ride and a safer drive back home, so we would sleep the next night.
So after a last push into McBride (I ran out of food, and Nigel pulled me into town with seriously strong headwinds) we had a delicious meal at a café in the tourist center, booked a motel in Valemont, and headed south. We did exchange some brief words with Susan as we left (just before the vertigo), and told her we'd say hi at the finish.

Was nice to finally hit Valemont with a chance at some real food and rest. Tasty Chinese (more than we could eat!) from the Lucky Restaurant and a shower and we conked out for a solid 7.5 hours, just as the rainstorms started.

The final (second? :) ) day was much more pleasant. The highway actually had views beyond simple shrubbery. The winds weren't brutal. We stopped for a second breakfast snack in Blue River, a flat fix and chat with Bob L. DNF Bob K and DNF Peter outside of Clearwater, and lunch in Clearwater, before scooting down to Barrière for the finish and the drive home. (After a story exchange with Bob G. and Susan!!)

Memorable for the smoke, weather, working bowels (too well, with all the rumble strips shaking me), satisfying sleep, and lack of serious pain or tiredness at the finish!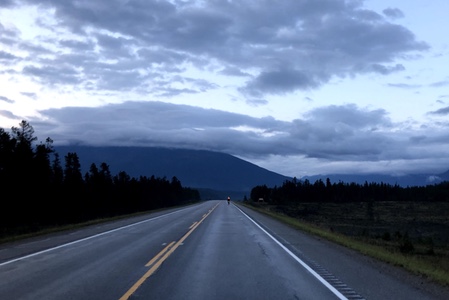 ---
Go to: Étienne's photos (Google Images)
Go to: Results (event page)


September 5, 2018