Chili Story
Chili 200, Ride date: March 10, 2018
by Lorraine Nygaard
When there is much gratitude for an amazing time we have to write about it. The Chili 200 2018 was that sort of time. 3 reasons, or 4, if you include 2 men as 1 reason.
#1. Brynne and Mike hosted. Thank you for once again putting it on the calendar.
Several days of preparation, emails, paperwork; an entire day of concern for riders; and finishing duties including financial reports and mailing. You rock.
#2. Co-worker and dear friend, Ann Henslowe decided in February that she really wanted to try randonneuring and suggested that we ride together. This nudging was a catalyst for me to start pedalling more in the month preceding the brevet. Fairly quickly however, it was obvious that Ann was much faster than I, so after assuring her all was well, she zoomed ahead.
#3. After passing Stephen Hinde, Maciej Szarecki and Rob Nygren as they fixed Rob's flat tire on W. Saanich Road, I tried to get a good pace happening. Even so, after the turnaround heading south on Highway 17, the men passed me. Stephen pulled up and suggested that we ride Lantern Rouge together. I don't like holding others back, but he assured me that riding together was enjoyable, and I appreciated the company. At the 66 km. checkpoint at the Shell station on Quadra, we met Maciej and Rob, and pulled out shortly after them. By the next checkpoint at Mount Newton however, the men recognized that Rob was missing and there was concern. Even so, the 3 of us now forged onto the second south-bound route along Central Saanich Road. I didn't know it then, but a delightful pattern was beginning. For whatever reason, Maciej, a strong rider like Stephen, had agreed to wait for Lorraine. I'd huff and puff to where they were waiting around a bend, and then not wanting to stop, I'd zoom by. After a while, I'd feel their presence behind me, and it nudged me to pedal harder. Stephen would ride alongside and chat, and then they'd be gone, just far enough that I'd work harder than I normally would alone, trying to catch up, but I never could. Another bend, again waiting, with Stephen's assurance "Oh, we're just talking".
Not wanting to say it out loud, because it was like a happy dream, but I didn't want it to end. They were supporting and nudging me to perform better than I had before. At the last checkpoint in Sidney, Stephen let me choose where we'd stop, and being tired of gas station junk food, we opted for Alexander's. Delicious and a wonderful break, it was the spot to take a photo of heroes. They were like patient big brothers, and I appreciated that they had given up their own personal fast times on a Saturday for my sake. Along Saanich Road, it was nice to hear their conversation behind me. As we drew closer to the finish, I suggested that they go ahead and I'd be fine. Stephen was firm, "We'll go in together". Along Wallace Road, they waited again, and I knew that was my cue to fly. I was elated to pedal solo hard till Interurban, where of course they passed me one last time. I couldn't catch them, though I gave it my best shot. At Colquitz overpass, they were waiting, as the sun was finally setting. "Let's get in before 6:30!" I yelled as I pushed past. They pulled into the Croy's front yard ahead of me, and I saw Brynne, Mike and Steven jumping around in their front window, just as they had in the year that I had done the dreadfully cold Chili a few years ago. (mildly hypothermic state that time). For fast folks, 11:30 will seem silly. But for me, it was a huge step and exhilarating. As I walked up the Croy's front stairs, the goddess Brynne opened her arms and said "Come to me, my child", and we laughed and shared a great hug. Remember that Brynne also greeted me in my first completed brevet in 2011, when I took 13:28.
Enjoying a delicious bowl of chili and hearing the day's stories, I learned that Ann had had a blast on her own, and couldn't wait for the next one. Someone mentioned that if she rode without 2 loaded panniers, she'd be even faster than her 10:10 time on her first brevet.
Before I close, I must also commend Mark Ford who did a similar thing in the Cowichan Valley Explorer in 2016, but I never got to writing about it. On that day, I was impressed that he was the organizer, a checkpoint host, and midway, suddenly riding next to me, nudged me to ride faster for a longer stretch than ever before. So here's a belated note of thanks Mark, for that gesture. In both these instances, it was done in such a way that it didn't feel like a coaching episode or pressure; but just a selfless act of support.
Many thanks for all these blessings. What a great group.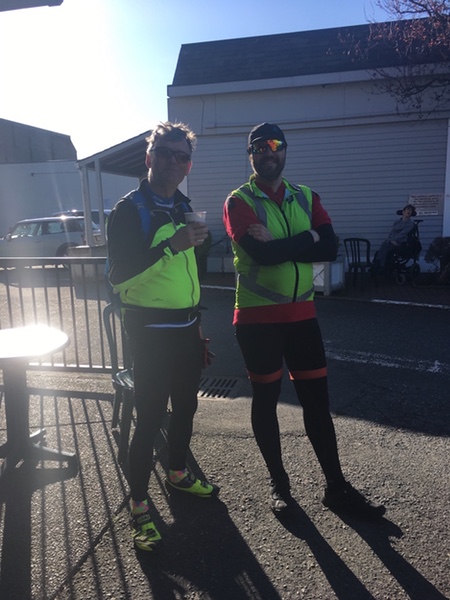 Stephen Hinde, Maciej Szarecki

---
Go to: Results
Go to: Photos (16 Images - flickr)


March 17, 2018