(Close to) Car Free 200 - Invitation
Ride date will be Saturday, October 14, 7 a.m. start
by John Oswald
On behalf of the volunteer team I'd like to invite you to join us for something different on this year's AGM 200km brevet: Pre-reg here. Inspired by the social riding experience of the Bridges for Harold and Vancouver City Limits 200km brevets, we have tried to design a local course with varied terrain and views along less stressful routes to allow for groups of riders to socialize in advance of the AGM. We've called it (Close to) Car Free and it will take in parts of Vancouver, Burnaby, Port Moody and North Vancouver.
In Vancouver we'll leave from JJ Bean at Cambie and 18th Avenue to visit the Stanley Park Seawall, UBC via the Seaside Greenway, cross Pacific Spirit Park on gravel and then head out of town on the Arbutus and Central Valley Greenways. In Burnaby, we'll be on the CVG and the Trans Canada Trail, and in Port Moody we'll pass through Rocky Point and Belcarra. North Van highlights include: Indian Arm, Deep Cove, Seymour Dam, Lynn Canyon and the Spirit Trail to the Lions Gate Bridge. The ride will conclude skirting Coal Harbour, Gastown and South False Creek before arriving at Biercraft on Cambie and 17th.
We would like to run the ride Audax-style where the spirit of the ride replaces Spirited RidingTM. We have designed the course with limited climbing in the first half to keep the group together. The organizer and some volunteers who have done the pre-ride will be riding with the group to help with the tricky navigational bits that come with connecting the various trails and low traffic routes. We are planning on full service controls at Belcarra and Deep Cove picnic areas and with additional zip-locks of take away food so well-prepared riders shouldn't need to stop for their own supplies. Every effort will be made to facilitate water stops and washrooms at public parks where the group can refill bottles as efficiently as possible.
That being said, there are some sacrifices people will need to make to keep a group together. Riders will need to come well stocked with water and food at the start as the first full service control is at around 90km. Please aim to be the rider with extra supplies--not the one who runs out 30km into the ride. Your bike will need to be in good repair as this is merely "Audax-style" and the organizers/ride leaders will not likely stop for you to change your tire or adjust your braking/indexing/tire pressure in the first half of the ride. We will have a better idea of realistic pacing after the pre-ride this weekend but at this point I think it is reasonable to set a 20km pace goal to at least Rocky Point in Port Moody and then consider splitting into two groups (climbers and clydesdales?) for the second part of the ride. Any reasonable pace goal will require some level of urgency on the open road sections and a commitment not to dawdle too much on the bike paths (but should not require anyone to go anaerobic for long periods).
Yes, there will be gravel. The Seaside Bikeway, Pacific Spirit Park at UBC, Cougar Creek Road (parallel to the Barnet Hwy) and the TCT in Burnaby/Port Moody are sub-epic, crunchy breaks from urban traffic. Wider tires will be more comfortable, less flat prone and recommended for this ride. That said, I have ridden most of the gravel sections of this route on 23mm tires without flatting. Of course, your mileage may vary!
Yes, there will be shared use bike paths like the Seawall, Arbutus, the Central Valley Greenway and the Trans-Canada trail. If you are out to set a course record you will be frustrated by these "diversions". However, they are early in the ride and hopefully will not be crowded at that time. Additionally, if leading riders communicate well regarding bollards and pedestrians, then these paths can provide ideal car-free breaks for riders to discuss pre-AGM scuttlebutt or share their fish-tales about all the legendary weather, DNF's and mechanicals during the past season's rides. Ask another rider about their experiences on P2P or the LEL!
Yes, there will be climbing. Riding in and around fjord-like terrain of Indian Arm is never going to be flat. There is climbing in Belcara to get to the picnic area control, there's (my personal 'favourite') the cement factory hill on Barnet Highway, not to mention the bridges, riding into and out of Indian Arm and riding up to Seymour Demonstration Forest past Capilano University. You will note most of this climbing comes after the 80km mark (and is why most veteran riders I have discussed this ride concept with have suggested two groups!).
Yes, there will be post-ride beverages. Biercraft is a block from the start and has delicious food and beverage options. Cambie Cycles is next door and has a bunch of bike racks (There are also some parking meters, and city bike racks on the sidewalk out front). You can leave your sturdy lock(s) at the start with the organizers and the lock(s) will be waiting for you at the finish allowing you to enjoy your just desserts with peace of mind.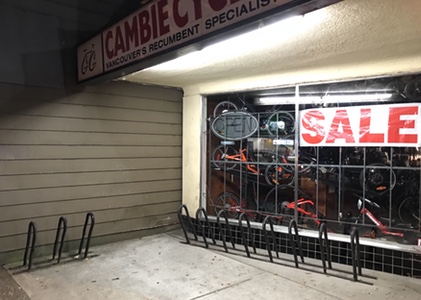 Yes, you can get to the ride without a car! Broadway/City Hall Canada Line Station is 9 blocks from the start. If you are driving, parking is a bit of a pain in the neighbourhood (but there are some non-resident spots along the Yukon Bikeway one block east of Cambie between King Ed and 17th Ave).
We will be pre-riding this weekend and will update this page with the final route ASAP.
Hope to see you all on the 14th!
JO
(+ V-team: Chris, Eric & Malou)
---
Go to: (Close to) Car Free 200 Event Page (Database)
-



October 6, 2017