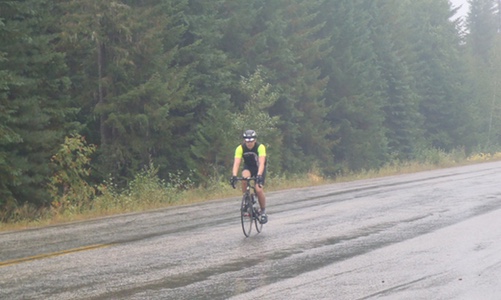 Dam to Dam to Dam 300
Ride date: September 9, 2017
by Bob Goodison
Flashback to 2014. Dam to Dam to Dam pre- riders got rained on from start to finish. Ride-day riders had virtually no rain. But, this is 2017. The pre-rider had perfect weather, with calm winds for most of his ride, and what headwind there was, was neither strong nor lasting. A few clouds were seen, but nary a drop of rain. What a difference a week can make.

It rained. And it rained. And it rained. And then it rained some more. The upside of the rain (apart from it being desperately needed), was that the smoke, and accompanying clouds of aphids? fruit flies? gnats? were gone. Wind was an issue as well, especially at the north end of the route. On an out and back route, one would expect that at least sometimes the wind would be a benefit, but not one rider mentioned having a tailwind at any time. The temperature was as predicted, with a low of around 16 C and a high of 17 C. The amazing thing was that most of the riders still managed to enjoy the ride. The Stoke Hotel was very cooperative and helpful, and I would not hesitate to use them as a base for future events.
A couple of interesting notes: Despite the weather, the slowest times on the 2017 edition of this ride were faster than the fastest of 2014. Also despite the weather, the organizer (me) had MUCH more fun pre-riding 2014 in horrible weather with friends Randy and Peter than alone in perfect weather this year.
---
Go to: Results (Event page in Database)
Go to: Bob's Ride-day Photos (8 Images - Flickr)
Go to: Susan's Ride-dayPhotos (20 Images - Flickr)
Go to: Bob's Pre-ride Photos (24 Images - Flickr)


September 11, 2017