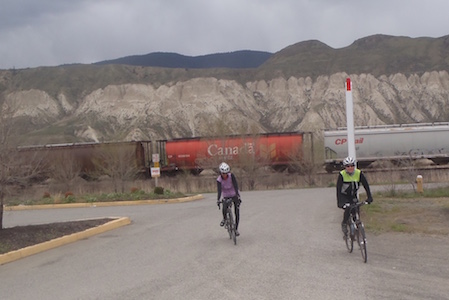 North Shuswap 200
Organizer's Report - Ride Date: April 22, 2017
by Bob Goodison
We had a good turnout for the Interior spring 200, with a few surprises. Despite the ride starting in Kamloops, we only had one Kamloops rider. A name I hadn't recognized on the Randopony list, and therefore assumed was new to the sport, Susan DeBolt, turned out to be a very experienced rider, having ridden the Rocky Mtn 1200 in 2002 and PBP in 1987 and 1991. Christine brought out a group of riders from Quesnel, and we had the usual good support from the Lower Mainland. Finally, note the higher than usual female participation: 35 %!

I was nervous about the weather' given what this spring has been like so far, but it was a beautiful morning. Winds were forecast to be 15 kmh east all day, meaning a tailwind for the second half. Afternoon winds were much stronger than predicted, and while earlier riders had a strong push to the finish, later riders were buffeted from all directions. Oh well, who said life was fair. The predicted late afternoon rain amounted to no more than a few drops.

Jacquetta's new bike obviously agrees with her- she knocked almost 2 1/2 hours off her time from last fall's 200. Wow. After spending a couple of days riding snow-covered gravel roads and trails between Princeton and Brookemere, Cheryl and Nigel enjoyed the new (last year) pavement. Fred and I managed to stay with Nigel- OK, let's be honest, he waited for us. Somehow, riding in a strong tailwind, drafting behind Nigel resulted in multiple personal bests on Strava. Go figure.

Two hundred km without a traffic light, smooth pavement, good friends, and decent weather. Everyone finished, and everyone seemed to have enjoyed themselves. From an organizers perspective, it doesn't get much better than that. Thank you to Susan and Carol for supporting us at the St. Ives control.