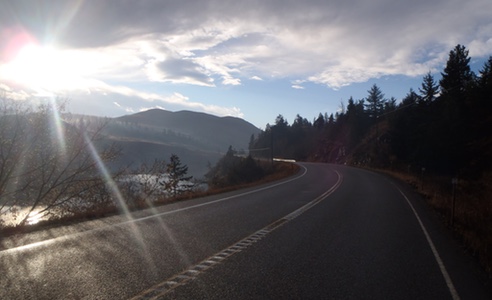 Douglas Lake Loop Permanent Report
Ride Date: November 12, 2016
by Bob Goodison

When I posted on Facebook that I wanted to ride the Douglas Lake Loop permanent on November 12 I didn't really expect anyone to respond. It was a stupid thing to be doing. To my surprise, Fred Menu decided to join me. I hadn't been through this road in a little over six years, and didn't know for sure what to expect. It was drizzling as I left Sorrento to drive to the Kamloops start, but, I reasoned, Kamloops is dryer. After all, they have sagebrush, and we have cedars, right?

The roads were wet, but it wasn't raining when we started at 06:50 (we had planned to start at 07:00, but there is more flexibility on a permanent- this proved to be a good thing). The Barnhartvale climb went well, and Campbell Creek Road was in surprisingly good shape. Still, we were happy to hit the pavement on 5A. It was a rare calm day in the Nicola Valley, and the sun came out as we made our way to the first control at Quilchena. After a brief break we turned back towards Douglas Lake Road, where a nice surprise awaited us- 18 km of brand new pavement! We speculated about what a great brevet route this would be if it continued all the way to Westwold, knowing how unlikely it was. When we did hit the first gravel section it was in great shape- dry, very little loose gravel, and relatively smooth. We were able to ride at normal pavement speeds, helped by a nice tailwind. When we arrived at the next control, the Douglas Lake General Store, a sign said they closed for lunch from 12:00 to 12:30. It was 11:50. If we had waited until 07:00 to start, we would have been out of luck.

Continuing on, the road was good until we got close to the Salmon Lake resort. Clearly, the East side of this plateau is the wet side. We were faced with potholes, puddles and mud. We still made surprisingly good time, and after a long, muddy downhill section we wer back on pavement. Control #3 the Westwold General Store, had a sign that said fresh hot donuts, but they were not made until ordered (now, that's fresh), and we decided not to wait. We had only a couple more little climbs to do - a good thing as our legs were pretty much done- before the long, smooth descent to Monte Creek. The last 10 km or so to the finish were quick, with another good tailwind. Fred's gps measured 2178 m of climbing, a couple of hundred metres more than ride with gps said. Mine registered much less, but I'm inclined to believe Fred's. My gps registered a low of 3 degrees and a high of 14, but we never felt cold and I never had to put on my jacket. The few drops of rain that did fall during the ride did not amount to much. Time for the ride was 9:02- almost half an hour faster than when I rode it in August of 2009. Wow.

Just before we went our separate ways after the finish, our final discussion was what route to do in December....