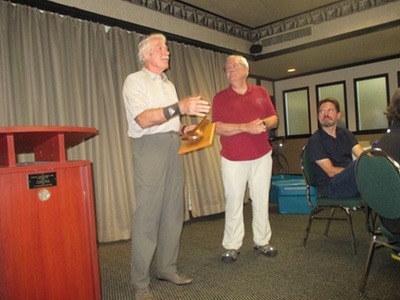 Manfred (left) with Ron Himschoot
Photos: Eric Fergusson
Manfred Receives 100,000 km Award
Event: 2016 Annual General Meeting Brunch: October 2, 2016
by Eric Fergusson

Manfred Kuchenmuller passed the 100,000 km event distance milestone on the "Station to Station 200", the 2016 Lower Mainland spring 200 on April 16. Manfred is a long time BC Randonneur. He is member number 175 and he rode his first brevet in 1987.
The award recognizes event distance including all Audax Club Parisien sanctioned brevets and Flèches, as well as Randonneur Mondiaux brevets. The award does not include Manfred's impressive 7843 km in BCR permanents event distance, a local program that began in 2008.
Manfred is the fourth rider to receive the 100,000 km award. Awarding the plaque to Manfred at the AGM was the third rider, Ron Himschoot. Eric Fergusson (me), was the second. The three of us are pictured in photo on the right below. The first rider to reach 100,000 km was Ken Bonner. Ken is now comfortably over 200,000 km in ACP and RM event distance.
------
Some bonus historical information:
When Ken was about to reach 100,000 kms we were unable to get our hands on a one of Ken's old saddles. Michel offered one of his old, but still beautiful, Brooks saddles, and he spray painted it bronze. He then passed in off to me and I arranged to have the award assembled. It was Ken who had the idea of passing the saddle along (mounted on a new base) each time a new rider reached 100,000.
In the first photo above, here is Michel with the saddle back in his hands. In the second photo... it still fits!