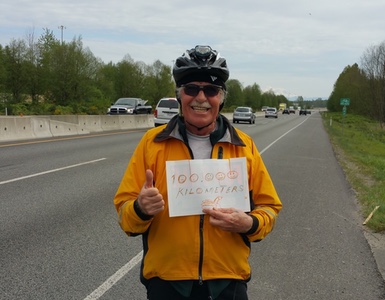 Manfred Hits 100,000 km
Ride Date: April 16, 2016
by Editor EF

On the Lower Mainland Spring 200 "Station to Station" this past Saturday Manfred Kuchenmuller passed the 100,000 km life-time event distance mark. The total includes all Audax Club Parisien and Randonneur Mondiaux distance ridden anywhere in the world. The moment where the distance mark was passed (photo above) was at the 147 km mark in the ride, on the South Fraser Perimeter Road.
Manfred is member #175 and started randonneur cycling in 1987. He is the 4th BC rider to pass this milestone.
He will receive the golden saddle award at the AGM ride and brunch in October.
---
Go to: 100,000 Award "Golden Saddle"


April 22, 2016