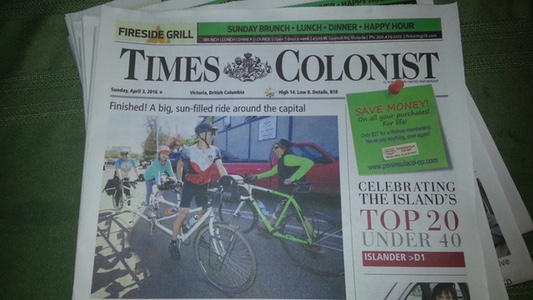 2016 Victoria Populaire Organizer's Report
Ride Date: April 2, 2016
by Steve Mahovlic

This is one for the books. Due to the BCR volunteers' promotional effort, this years VicPop was shaping up to enter the big leagues. With 141 CCN pre-registrants, a handful of internet challenged pre-registrants, and 10 pre-riders, we were looking to exceed past numbers. The fabulous weather leading up to and for the event brought riders out with smiles already applied. Velofix was on hand to keep them all rolling.
Melissa and I would like to thank the VicPop volunteer team for their support, ideas, innovations, and expertise. Success like this does not happen unless we all pull in the same direction. Opposing and critical views are important to keep us off the rocks as well. Huge kudos to; Joan Bennett, Norm Bennett, Buddy Bhandar, Dan Bodden, Ken Bonner, Brynne Croy, Mike Croy, Steven Croy, Trent Folan, Mark Ford, Sarah Gallazin, Holland Gidney, Mikael Jansson, Gordon Litster, John Little, Craig Lylack, Dave Macmurchie, Lorraine Nygaard, Mark Payten, Rob Scrimgeour, Linda Scott, Roxanne Stedman, Sandy Szabo and David White.
Every bicycle that started, returned to the finish on their own wheels.
The hard numbers: 204 riders completed
93 registrants for the 50 km route, 88 started, 88 finished, 1 Tandem, 1 quad
127 registrants for the 100 km route, 116 started, 116 finished, 1 Tandem
5 volunteer sweeps/ambassadors
The numbers do not tell the whole story. Unfortunately there were a few who finished very early having failed to fully appreciate the scenic route, but due to their exhilaration at the end of their ride it sounded like they had fun. Two young gentlemen (60+) rode the 50, as one put it, "lumberjack style", in blue jeans on commuter bikes. At the end I mentioned to one of them that they "showed the Lycra crowd how to ride a populaire" (2:21 and 3:25 respectively). "Spike", a local cycling celebrity was spotted playing "Sneak-a-boo" prior to riding off to complete the 50. Two smiling ladies finished the '100' and revealed they had "altered their route" so an appropriate time penalty was applied. Proving that he had the hard-man toughness required of Randonneurs, a future iron butt recipient (?) rode in with a bent front wheel, damaged helmet, sore ribs and a grin (time penalty was waived for route alteration). A liberal interpretation of the Fleche rules were applied to the 'Team Kopeck' quad, as one of their engines wore out.
We are in transition, no longer flying under the radar future Victoria Populaires will require more preparatory paperwork. A small misunderstanding with the CRD was ironed out on the last day. Jeanette Mollin of the CRD fast tracked our permit, moved another event out of our path, negotiated with our insurer and gave us the green light in less than two days. This highlighted the need to get permits from each municipality (to avoid conflicting events), review our clubs insurance, and the importance of alerting the emergency services. None of the proceeding is expensive, or onerous, if completed early in the planning (so the treasurer is not finalizing insurance with less than 15 minutes left in the work day).
Our host venue was the James Bay Athletic Association, where most riders partook of refreshments and shared road stories. While a good number of riders arrived on two wheels, parking became an issue later in the day. Save On Foods donated a substantial portion of the sandwich trays. The pre-registration prize (Gift Certificate donated by Straight Up Cycles) was won by Fran Collins. Keith Kendal took home our top door prize (Basket of assorted Cycling items donated by Cycles West). Paul Lang received 2nd (Gift Certificate donated by VeloFix). Helen Koziol pocketed third (Gift Certificate donated by Straight Up Cycles). Most riders received a 2 for 1 pass to Esquimalt Recreation centre with their Control Cards. "The Nest" not only provided a space for our control but gave every rider a free coffee card. This years VicPop team worked very hard to grow our event, setting a standard for the future.
Thanks to all the support I received going in to the event and the "hundreds" of smiling participants I recommend this experience to other organizers.
---
Go to: VicPop Home
Go to: Results

April 3, 2016