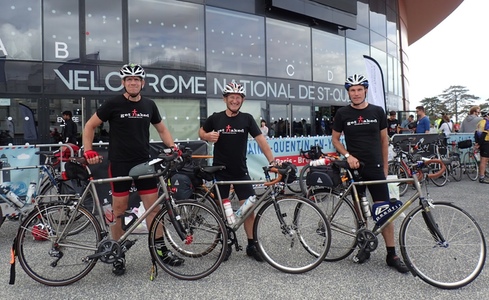 Jim's PBP experience...
Paris Brest Paris 2015
Ride dates: August 16-20, 2015
by Jim Runkel
This story really starts back in December of 2014, when Sam Whittingham, the world renowned bike builder of Naked Bikes, agreed to have a new Naked bike ready for both Graham Fishlock and I. And with that promise it was decided that we, along with Philip Lennox who already had his new Naked Bike, would ride the 18th edition of PBP together as "team Naked"!.

The three of us have enjoyed a good riding relationship that has developed into a strong friendship based on many miles ridden together, including the Van Isle 1200, a number of full series, some Hell Week events and a 1000 k ride as well. So it was that we looked forward and trained for PBP 2015…and waited for our bikes from Sam.

As a runner, there is a rule that I follow...never try anything new on race day...gear, food, nothing new....it must all be tested well before on training runs...but in the case of PBP I broke that rule in a big way....

On July 25 Graham and I picked up our new Naked bikes from Sam. I was leaving for France on Aug 9th and Graham a few days later… and so I only had the opportunity to put a measly 275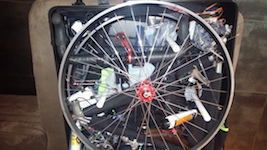 kms on this brand new bike. This did give me the opportunity to fine tune the seat height and angle....that is the only adjustment I made...

And so it was that on the night of Aug 5th I basically took apart my brand new bike and fit it into its suitcase ready to fly.

So many questions were left unanswered in my mind at this point. I suppose it was "faith" in the ability of Sam and his excellent reputation, as well as the good reports from my friend Philip who already had tested his Naked over the last year, that allowed me to do this thing...take a brand new bike to a ride in France...PBP....that would test both machine and man over 1235 kms and 38 000 feet of climbing.

I now know what is meant by "range anxiety" as experienced by those buyers of electric cars...I had a similar feeling because I had never done a long continuous ride with the Di2 electronic shifting installed on my bike. I had many reports from Sam, Philip and others that said it "should be fine" for the 1200 kms but no proof that MY Di2 would be fine...What if the battery from factory was a dud or wiring was not quite perfect....

If you are considering Di2...have no fear....it easily accomplished the task at hand...In fact my battery indicator after the ride said I still had 25 % of the battery left...and it was a hilly ride so I shifted frequently...

Besides range anxiety other things on a new bike that could go wrong are numerous...newly built wheels have let many a rider down when a spoke breaks; And all the other electronics on my bike including the generator hub and usb charger...etc etc...
When travelling with my bike to France minimizing any chance of damage or the bike getting lost was paramount. We had really great service from Air Transat in 2011 and so chose them again…direct flight from Vancouver to CDG in Paris. The bike goes in on the oversized luggage but always comes out on the regular belt as the S&S hard case gives no indication that it's a bike. We were heading to Normandy for few days before the ride so stored the bike and some extra bags at Blue Marble in Paris.

After a great time visiting the D-Day landing beaches and touring Normandy, finally on Friday we arrived at our apartment in Paris. In 2011 we learned that the best train station from Paris to Saint-Quentin-en-Yvelines was Gare Montparnasse. So this time we stayed relatively close by in a district close to the Le Louvre (less than 5km cycle).

Opening the bike box for the first time is always a bit nerve racking…and more so since I really had very little time to get to know my new bike. All was good and the bike had travelled well. Assembly took time especially because of the wiring for the lights usb charger etc…but eventually all was in order and ready for Saturday and bike check.

--------------------------------

The event:

First thing was Bike check and package pick up on Saturday Aug 15. We cycled from our apartment navigating the cobbles on round about by the famed Louver … and found Gare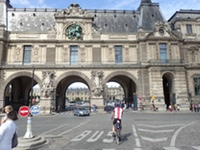 Montparnasse with out to much difficulty. The trains to Saint-Quentin-en-Yvelines were plentiful and we got one right away.

From the Gare Saint-Quentin-en-Yvelines, it was easy to navigate to the Velodrome as signs were plentiful. We found Graham who was finished already. After the bike check and package pick up was done we stayed around for the Canada Picture and then headed back to Paris to pack the bike and get ready for the ride.

I slept well and awoke around 9am Sunday morning. Our family was coming out to see us off but we left earlier as we had paid for the lunch offered during registration. Graham met us and we had a nice lunch…

PBP organizers did a stellar job this year with the start. When you signed up you chose a start time. The number you were issued reflected that time and so like in many of the half marathons I have run they placed you in a corral of that time. We started at 1745 in H group. We waved goodbye to our family and began the 1235 km journey.

I was worried about the very dark clouds gathering, but to no avail. We headed the opposite direction and except for the last 60km experienced no rain. Sun was abundant and winds were minimal. Nights had some fog and temperatures did dip to as low as 4 C….weather certainly was not a negative factor for this edition of PBP.

The ride can be seen in the pictures I took…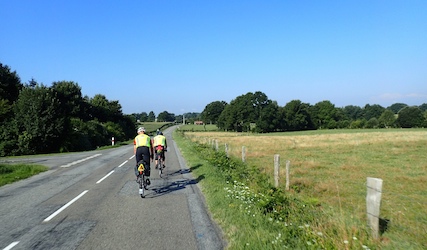 • SLEEP or lack of, was the only thing for me that could have made this ride better. We rode at a pace that put us directly in the middle of "bulge" of riders. When we got to our planned sleep stop at St NICOLAS DU PELEM @ 493.5 we found long lines and no beds available. So we joined other riders on the floor in cafeteria for a sleep of sorts that was less than restful…I calculate that from the time I woke up Sunday till sleeping again at the apartment in Paris I slept for 5 hours give or take in 100 hours of being awake. Those who rode faster would have had a different experience but the additional 1000 riders this time also made a difference.


• FOOD: As usual food at the controls was plentiful and delicious. I think my MEAL at every stop regardless of time day was Fish, Mashed Potatoes, Vegetable, Coke, and a few times a beer…

• ROADS/DIRECTIONS: I inspected my tires on my return to Canada…not a cut, no imbedded objects or glass…nothing…just smooth and clean like roads. I referred to my route sheet only for interest sake and never needed it for actual routing…the arrows pointed the way.

• Abundance of amazing people along route giving out coffee, couches to rest on, smiles, clapping, music…all makes this ride that much more special
And so it was that 88h 42m later we finished 1235 km.

And this is the true testament to Sam and his craftsmanship....and why you go custom....after all that distance and long hours in the saddle...what I felt was normal ride fatigue...Did I have sore shoulders....NO...did I have sore knees....NO...did I have numb hands or feet...NO...was my neck sore...NO

For the first time over a distance this long, I got of my bike and besides needing lots and lots of sleep, the usually sore bits I would have were gone...EVEN my sit bones where not unbearable....amazing.
Could we find thing to improve…absolutely…

• PBP did such a good job of the start but the end was just silly with the long lines to hand in the control cards and tracker.

• Making our own arrangements for sleep by booking a hotel would have made sleeping so much better.

• Next time it's the 84 hour group we choose…
Things I would not change….the friends I rode with. Graham and Philip were the best riding companions and I am so fortunate to have done this event with them….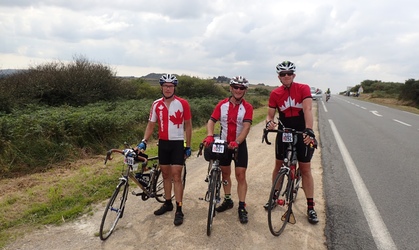 ---
Go to: Jim's2015 PBP Photos (Picasa 354 images)

Go to: BC Riders' PBP Stories Hub Page

October 8, 2015