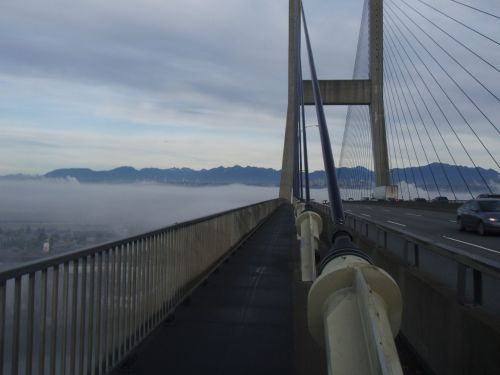 Bridges for Harold - Primer
200 km - October 3, 2015
by Ron Stewart
Kevin Bruce and I were trying to come up with a brevet to honour Harold Bridge, and this is my submission.
I prerode the Bridges for Harold 200 on yesterday. Karen Hossack completed her first brevet, and her son Étienne, Roy Neifer and Jacques Balinski joined us.
We encountered a number of minor issues with the route, which was not unexpected. I had set aside this evening to patch them up. What I did not expect was to find our route was 6 km too short! Ride With GPS route planning can object to too dense routing, so it miscalculated a 100 metre stretch as 7 km! We did a lap of Tsawwassen to make up the distance at the end. I have some serious changes to make, and so won't be able to publish the route sheet or GPS files for two or three days. I am sorry about that.
So, what kind of route breaks Ride With GPS? A route that Crosses Every Single Bridge On The Fraser River From Golden Ears To The Mouth. Every. Single. Bridge.
In order:
Port Mann
Pitt River (bonus bridge!)
Golden Ears
Barnston Island Ferry
Patullo
Queensborough
Knight Street
Canada Line
Oak Street
Arthur Laing
Bridgeport Road over Moray Channel
Moray Channel (Sea Island Way)
Dinsmore
Number 2 Road
Queensborough Connector over Annacis Channel
Highway 91 over Annacis Channel
Derwent Way (swinger!)
Alex Fraser
Westham Island
The ride starts at 8:30 on Saturday at the South Delta Recreation Centre, 1720 - 56 Street at 8:30 am. There is a McDonald's across the street. Riders from the Island who take the 7:00 sailing will be able to start a bit late, and easily make the first control on time.
There is a fairly strenuous climb from river level to the Port Mann access early in the ride, and a couple of other hills, but mostly the route sticks to river level. From the Port Mann to Barnston Island the ride is very scenic. There is a control at the café at the Pitt Meadows Airport, but there could be a long wait for a fresh-made sandwich. They have muffins for a quick bite, and Roy will let you know how the service is on the day. That is your last food service until New West, although those with local knowledge can make short diversions in Langley or Surrey to find food and drink.
If you cycle briskly on Barnston Island, you will catch the ferry back with no delay. There is a sailing every 20 minutes or so. There is a toilet 7 km into the 10 km loop of the island.
There will be a control at the Steel & Oak Brewery in New Westminster. The beer is excellent, and there is often a food truck there. A few km later, the route passes the many fast food options of Queensborough Landing.
The cluster of bridges connecting Vancouver, Sea Island and Lulu Island is, admittedly, a bit tedious. I have done what I can to keep you from the worst of the traffic, and there are a couple of manned controls to assist you with navigation.
You get to stop at Andy Reimer's house, where Cathy will greet you, and then there are just two bridges, brisk riding and pretty farmland between you and the finish.
The finish will be at my house in Tsawwassen. I will have snacks, and will have Randonneur beer in the fridge (cash bar). It is a couple of downhill kilometres back to the rec centre.
I hope that you'll come and try this unusual route.
Volunteers: My computer is dead. I am using the wife's. I'll contact you all on Tuesday.
Out-of-towners: I have a couch available, as well as sleeping room for two or three in my travel trailer for Friday and Saturday nights.
Ron Stewart
ron at moonset dot ca
Top Photo:
Alex Fraser Bridge
(Eric Fergusson, 2008)
---
Go to: Event Page (Route, etc.)

September 28, 2015