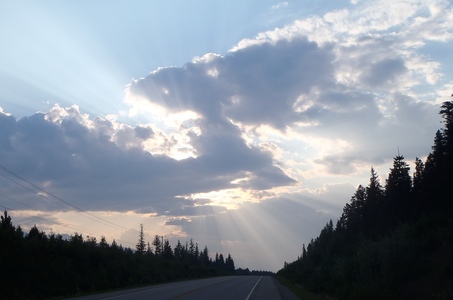 Photos: Bob Goodison
Loopy Interior 1000
Ride dates: July 4-7, 2015
by Bob Goodison

My plan for the Interior 1000 this year was to prepare riders- myself included- for PBP. I chose the Loopy Interior route, run counter clockwise, because of easy navigation and the rolling nature of the route. It features many, many hills, none of them extreme. It was also my intention to ride this with a different approach than my usual, fine tuning my approach to PBP. Four of us- Richard Blair, Ken Bonner, Daniel Simpson and me started the ride on a relatively chilly Barriere morning. Nigel had planned to join us but was turned back by a fire on the Coquihalla.
Daniel and Ken rapidly disappeared into the distance. Richard and I rode together into a slight breeze to Clearwater. My ride plan was for a sustainably fast pace and lots of rest time, so I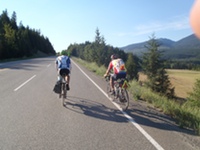 pulled ahead of him at that point. I was surprised to catch Ken, and then Daniel came up behind, having stopped for something. Daniel and I rode together to the Messiter, where I watched him pull ahead, not wanting to burn myself out as I had on the 600. He was just leaving the Blue River control as I arrived. After Blue River things got ugly. The slight headwind became a strong and gusty. I guessed the gusts at around 40 kmh, and it took it's toll on our bodies. I was a little concerned about Richard, because when it comes to headwinds, he is not a big fan (see what I did there?). Ken later told me he had considered abandoning the ride at Valemount. I got into Valemount feeling pretty rough, just as Daniel was pulling out. I went to a little restaurant and had a hamburger a Mountain Dew and a good sit down. I couldn't finish my enormous pile of fries, so some went in a zip lock for later. An ice cream bar from the gas station, and I was on the way again, feeling, if not great, at least much better.
Fortunately, the wind diminished north of Valemount, and all but disappeared once we turned onto Hwy 16 at Tete Jaune. This section of road is much hillier than I remembered, but the road is smooth and has virtually no traffic. A billboard as I approached McBride announced "Mcbride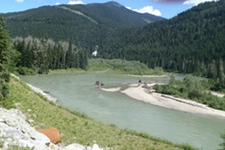 Hotel- only bar in town". I found the hotel-Daniel was already there and in his room. They told me his room number which I promptly forgot, so I left him in peace. "Do you serve food in the bar?", I asked. "No, but there is a pub four blocks down." Only bar in town, unless you count the pub. The pub's soup of the day was an excellent chicken curry gumbo, accompanied by a mug of excellent Swamp Donkey brown ale from a brewery in Valemount. I have to remember to look for this in stores. Back to the hotel for a shower, and to bed by 9:30. Up again at 3:30 AM for a quick first breakfast of beefaroni. By the time I left at 4:00 AM I had no time left in the bank.
It was really cold the next morning heading towards Prince George. The lowest I saw on my computer said 4.5 degrees. Ken and Daniel's both registered 1 degree. Highway 16 is a real pleasure to ride. The scenery is beautiful, the road has smooth wide shoulders, and there is very little traffic. It also has hills. Lots of hills. However, we were blessed with a tailwind that stayed with us most of the day. I got to the Purden Lake restaurant where I had planned mysecondbreakfast. Someone outside the restaurant commented " You sure have a lot of water bottles (5). I just talked to a cyclist who's doing a 1000 km ride. He left five minutes ago." I figured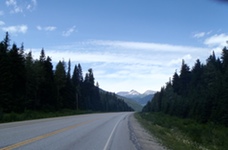 it was Daniel, but it turns out it was Ken. Old Bob would have quickly filed bottles, grabbed a muffin and given chase. New Bob overruled and went inside for an omelette. I also got an excellent rhubarb muffin for the road. Great place.
Highway 16 carried on with roller after roller. Old Bob took over and wouldn't let New Bob stop and eat the carpet of ripe wild strawberries that smelled sooo good. At the Prince George control,one of the problems that arises from using maps and Street View to lay out rides reared its ugly head. The Chevronthat was the control was now a Petro Can. The road sign said Bounday Road, not Boeing Road. Following Boeing Road, which I knew to be right, I came to a new traffic circle, one of the exits being Boeing Rd. Since I had told the others that once they had the control near the airport it didn't matter how they got back on Hwy 97 towards Quesnel, I told myself there was nothing I could do, confident they would figure it out. Fueled by an ice cream cone, it was on towards Quesnel.
The shoulders of large portions of Hwy 97 are atrocious at best. Between the debris, frost heaves,potholes and chip seal they are all but un-rideable. I found this even more irritating having just come off the pristine surface of Hwy 16. I found the ride south on 97 to bemuch hillier than I remembered. Coming to the top of a big hill south of Hixon I found a cyclist and a car on the side of the road. Ken was there, enjoying a Coke provided by Christine Kraayvanger who had driven out to provide whatever support she could. She had seen Daniel just south of us, but he had said he didn't need anything. I had a Coke, and munched on blueberries while chatting with Ken and Christine. Ken picked up a piece of wire and flatted a few kms later, a delay not much appreciated as he had a long way to go to his next sleep in Williams Lake. I controlled in Quesnel, and continued 20 km south to my overnight in Kersley. After a shower I went for a pizza at the cafe, then enjoyed a bottle of Hound of the Barkerville brown ale, while watching a Flintstones re-run (the one where Mr. Slate won't give Fred a raise), and preparing for the final leg.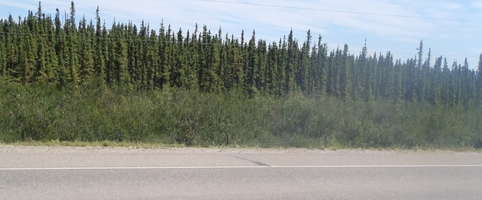 I had a breakfast of leftover pizza and instant mashed potatoes and rolled out at 3:08 AM, anxious to finish early as it was Susan's birthday- VERY bad planning on my part. This was the day for Old Bob, and I kept my stops to a minimum. Ken and I crossed paths a couple of times on Hwy 24. I finally lost sight of him climbing the McDonald Summit We could feel an extreme rise in heat as we descended to the North Thompson. Another ice cream stop in Little Fort was required to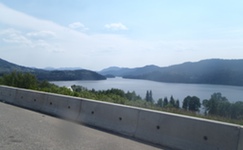 finish the last 30 km. Ken finished about 20 minutes ahead of me, Daniel, almost 2 hours ahead of him. Richard was not so lucky. The route sheet issue in Prince George had caused him some issues that cost him time and energy. Disorientation resulting from fatigue and dehydration resulted in an ambulance trip from Soda Creek and a night of I.V. rehydration in Williams Lake. He's fine now.
My ride plan worked well. Not worrying about my time, stopping whenever I wanted for as long as I wanted, kept my energy levels up, and resulted in a time probably just as quick as my old method, only more fun. I had close to 20 hours of off the bike time, for a very enjoyable ride. Onward to Paris!
---
Go to: Event Page (Route, etc.)
Go to: Results
Go to: Photos (21 Images - flickr)
July 7, 2015